Kishore Kumar was the youngest brother of Ashok Kumar. Ashok Kumar were four siblings. Ashok Kumar was the eldest among the siblings followed by sister Sati Devi. Anoop Kumar was almost 16 years younger than Ashok Kumar and Kishore was 18 years younger than the elder Kumar.
Sita Devi was the mother of Rono Mukherjee, actor Joy Mukherjee, Dev Mukherjee, Shomu Mukherjee (father of Kajol and Tanisha), Shubhir Mukherjee, and Shibani Mukherjee.
Ashok Kumar and Kishore Kumar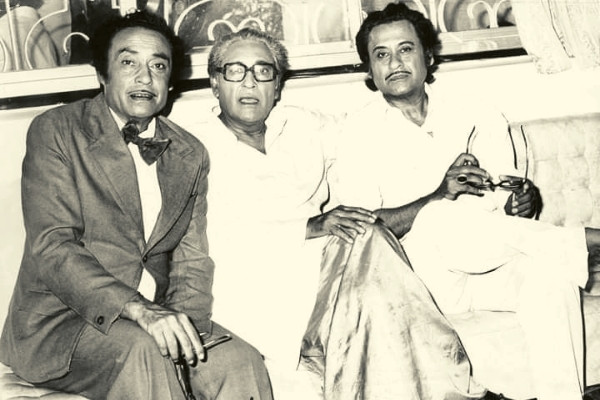 Ashok Kumar was born as Kumudlal Ganguly on 13 October 1911 in Bhagalpur. He started his law studies at Presidency College of the University of Calcutta, Kolkata but he failed in exams. He went to Bombay to stay with her sister who was till then was married to Sashadhar Mukherjee. Mukherjee was an important part of Bombay talkies which was owned by Himanshu Rai and his wife Devika Rani was the lead actress of the movies studio produced.
Kumudlal Ganguly requested his brother-in-law to find him a job at Bombay Talkies and soon he started his work as a lab assistant at Bombay Talkies.
During the shooting of Jeevan Naiya in 1936 the male lead Najm-ul-Hassan eloped with his co-star Devika Rani. Rani eventually returned to his husband but Himanshu Rai did not allow Najm-ul-Hassan again to enter Bombay Talkies.
One day when Himanshu Rai saw Ashok Kumar, he was very impressed and decided that instead of Najam-ul-Hasan, he would complete Jeevan Naiya with Ashok Kumar. And thus Ashok Kumar's film career started as an actor.
"Jeevan Naiya' was released and proved as a superhit. So Ashok Kumar was the leading man in all the Bombay Talkies movies. He rose to stardom and everything was going fine but in 1940 Himanshu Rai died.
After Himanshu Rai's death, there was a conflict between Sashadhar Mukherjee and Devika Rani. There were two groups and both groups were producing films individually. And soon Ashok Kumar and Sashadhar Mukherjee started a new studio 'Filmistan'.
In 1945 Devika Rani got married again to the Russian painter Svetoslav Roerich and retired from the film industry. After Devika Rani's departure, Ashok Kumar and Sashadhar Mukherjee again took up Bombay Talkies and tried to revive it producing films like Milan, Ziddi, Mahal, etc.
Ziddi and Mahal were special because these two movies gave some future superstars. Ziddi was a measure break for Dev Anand, Pran, and Kishore Kumar. Dev Anand and Pran were recognized as stars after this movie. Kishore Kumar got his first chance to sing a solo song for Dev Anand "Marne Ki Duayen Kyon Mangu".
Kishore Kumar Journey
Kishore Kumar was the youngest of his four siblings and also the most naughty. His real name was Abhas Kumar Ganguly and he was born on 4th August 1929.
In Kishore Kumar's life, number 4 had a significant role. He was born on 4th August, was the 4th sibling, had 4 wives, and died on 13 October (1+3=4).
Kishore Kumar did not have much interest in studies and from childhood, he had a special fascination for music. He considered K. L. Saigal as his guru and tried to imitate him. He did not have any formal training in music.
When he was young, Ashok Kumar had become a star, and many times he used to go to the film studio with his brother. Kishore Kumar always wanted to become a singer but Ashok Kumar wanted Kishore to become an actor like him. Due to Ashok Kumar's insistence, Kishore Kumar also played a small role in a film in 1946. But his heart was never felt in acting.
Then came the year 1948, in the film Ziddi sponsored by Bombay Talkies, Kishore Kumar got a chance to sing a solo song for the first time for Dev Anand. After that in 1951, in the film 'Andolan' sponsored by Bombay Talkies, Kishore Kumar was made the leading actor, but the film flopped badly at the box office.
Kishore Kumar initially sang mostly for himself or Dev Anand. Later it was Rajesh Khanna for whom Kishore Kumar sang a major chunk of songs.
Kishore Kumar sang a very few songs for Dilip Kumar, one of the most famous ones is ' Saala Mein To Sahab Ban gaya'. Can you believe that in his initial days, Manna Dey gave voice for Kishore Kumar?
Kumar was very particular about his fees and he even used to refer to fees as Tea.
Why Ashok Kumar barred Kishore Kumar from Bombay Talkies
In 1949 Kishore Kumar moved to Bombay and started working as a singer. He met his future Ruma Ghosh who was also a singer then. Soon both were in love and decided to marry. But this marriage was not acceptable to Kishore Kumar's family, especially to Ashok Kumar because Kishore Kumar's family belonged to a Brahmin family while Ruma's family was Bengali Kayastha.
But Kishore Kumar was adamant about his marriage and the couple finally got married in 1951. Ashok Kumar was so angry with his younger brother that he angrily copied Kishore Kumar from Bombay Talkies. Then Kishore Kumar was new in the film industry and he did not have much work. At such a time, he was supported by the music director S.D Burman. He gave work to Kishore Kumar, which gave Kishore Kumar an identity as a singer in the film industry.
But eventually, Kishore Kumar's family accepted the marriage, and his relationship with Ashok Kumar was restored. Later even three brothers appeared in movies like 'Bhai Bhai', 'Chalti Ka Naam Gadi' etc.
Kishore later divorced Ruma and then married Madhubala who just broke up with Dilip Kumar then.
He died on 13th October 1987 due to cardiac arrest. In the afternoon he suddenly felt pain in his chest and at 4.45 PM he died. His dead body was taken to his birthplace Khandwa, where his last rites were conducted.
He was just 58 years when he died. He has two sons from his first and last marriage. His elder son Amit Kumar is a playback singer and his younger son is Sumit Ganguly.
Also Read-