Guru Dutt is counted among the best directors India ever had. CNN included him in the list of "Top 25 Asian actors of all Time". Many in the film Industry still regard him as a perfectionist, a fine artist, and even a better director. He achieved almost everything a normal man craves for but still, he was not happy. Before his death in 1964, he even attempted suicide two times.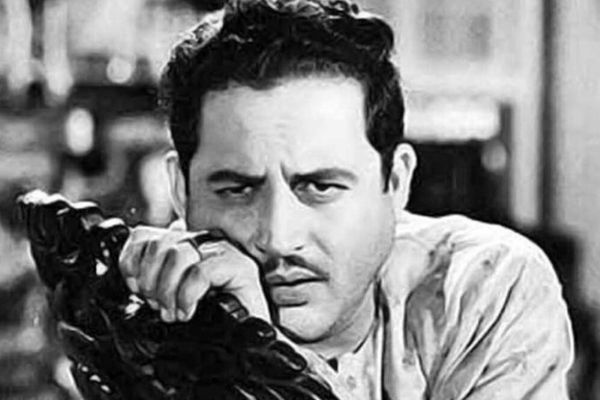 Even after 56 years, the question remains, "How Guru Dutt died?". Was it an accident, or did he finally succeed in an attempt to kill himself?
| | |
| --- | --- |
| Name | Vasanth Kumar Shivashankar Padukone |
| Screen Name | Guru Dutt |
| Date of Birth | 9th July 1925 |
| Place of Birth | Bengaluru (Bangalore then), India |
| Father | Shivshankar Rao Padukone |
| Mother | Vasanthi |
| Religion | Hindu |
| Caste | Saraswat Brahmin |
| Education | Matriculation |
| Siblings | 4 (One sister and three brothers) |
| Wife | Geeta Roy Chaudhary (Geeta Dutt) |
| Children | 3 (Tarun, Arun, and Nina) |
| Died on | 10 October 1964 |
| Cause of death | Suicide or accidental overdose |
| Age at the time of death | 39 |
Awards
| | | |
| --- | --- | --- |
| 1963 | Sahib Bibi Aur Ghulam (BFJA Awards) | Best actor- Won |
| 1963 | Sahib Bibi Aur Ghulam (Filmfare Awards) | Best Film- Won |
| 1963 | Sahib Bibi Aur Ghulam (Filmfare Awards) | Best Actor- Nominated |
| 1963 | Sahib Bibi Aur Ghulam (National Film Awards) | Best Fil- Won |
The Birth Of Guru Dutt and Early Life
Guru Dutt (Vasanth Kumar Shivashankar Padukone) was born on 9th July 1925 to Vasanthi and Shivshankar Rao Padukone. His parents belong to a Mangalore Saraswat Brahmin community. His parents got married in 1920. His father was a headmaster of a school but later resigned and joined a Bank in Bangalore.
Guru Dutt did not have a happy childhood. The relationship between his parents was not that good and even at a point, her mother wanted to join Mahatma Gandhi at his ashram.
Guru Dutt's father even left the Bank job and then worked in a printing press. he was very much attracted to poets and writing. His father finally settled for a clerk job in Calcutta and Guru Dutt's considerable childhood was spent in Calcutta.
Guru Dutt started his education in a South Indian medium school but later his uncle put him in David Hare's English-medium school.
Her mother also started resumed her education and passed her matriculation exam in 1940, just one year before her eldest son Guru Dutt passed his.
Dutt had one younger sister, Lalita Lajmi, a well-known Indian painter, and three younger brothers, Atma Ram (a director), Devi (a producer), and Vijay.
After Matriculation he took up jobs like telephone operator and job in Hindustan Lever's. But this was not the thing he wanted to do and soon left these jobs.
Dutt was always attracted to dance and joined Uday Shankar's dance academy in Almora. S.R. Hemmad gave him a 75 rupees scholarship. It was not a pure dance academy, and rather it focussed on the all-round development of the artist. This is the place where Guru Dutt learned his first lessons of direction.
In 1942 his father was transferred to Bombay. He rented a flat in Matunga where the family stayed, and Guru Dutt spent some memorable years there. In 1944 the Dance academy was shut down, and Guru Dutt returned home.
Start of Filmy Career
Prabhat Studio
After sitting at home for some days depressed, his uncle arranged a job for him in Prabhat Studio, Poona (Pune was called Poona those days). His uncle knew Baburao Pai, who was a partner in the studio.
Guru Dutt was primarily hired as a dance director, but he did other jobs there, like assisting the director and even appearing for a small role.
This is the time when he developed a friendship with Dev Anand and Rahman that lasted a lifetime.
Heartbreaks
During his job in Prabhat Studios, he fell in love with a dancer called Vijaya. Both even visited Guru Dutt's family in Bombay but soon he had to break his ties with her as a senior lawyer threatened him with a court case. Then he got engaged to another girl who was a distant relative of them but the marriage did not occur. These things left young Guru heartbroken.
1947 and Aftermath
This was the time of 1947, and the country was going through great turmoil. He tried to get a job in any production house in Bombay but failed ( his work with Prabhat Studio was ended ). This is time he started writing "Pyaasa," though mostly it was an ordeal.
After much struggle, he joined Gyan Mukherjee as assistant director. due to his surname "Dutt", many assumed him as a Bengali.
The first movie as Director
It was 1950 and Dev Anand was known in the film industry to keep his promise. He told his old friend to direct the film "Baazi", which was the second movie under the "Navketan" banner.
This was the time when he met his future wife Geeta Dutt or Geeta Roy. Geeta was singing stars that time and Dutt was a struggling director. Geeta was born on 23 November 1930 as 23 November 1930 in Faridpur (now in Bangladesh).
During his first film as director, he met another character who secured a permeant role in his upcoming movies. The name was "Badruddin Jamaluddin Kazi," or famously known as "Johnny Walker."
The writer of the film Balaraj Sahani discovered Kazi during a bus journey as Kazi, or Johnny Walker was a bus conductor then with BEST. He asked him to give an unannounced audition for his role to Guru Dutt. One day Kazi went to the studio and acted as a really drunk man in front of all.
But when studio staff caught him, he disclosed that he was not drunk and was performing. Impressed with his acting immediately Guru Dutt signed him. It is also said that Guru Dutt gave him his screen name "Johnny Walker."
Raj Khosla assisted Dutt in the movie, who became one of the top directors in the 1960s and 1970s. He directed hits like "CID," "Woh Kaun Thi," "Kalapanai," "Mera Saya," etc.
Aftermath of Baazi
Baazi was released and proved to be a huge hit. This changed the lives of many. Dev Anand, who was seen as a rising artist till now, was now called a superstar. Guru Dutt is now being counted as the big director. Johnny Walker has now become a well-known comedian of the industry.
Guru Dutt and Geeta Roy marriage
Also, with all this going on, there was a parallel story of Guru and Geeta's love which finally got sealed by their engagement in 1952. The couple got married next year on 26 May. It was a grand function, and many stars, including Dev Anand, Chetan Anand, Lata Mangeshkar, Talat Mehmood, etc., attended the ceremony.
Initially, everything was fine, and they were more than happy. But slowly, things did not remain the same, and there were differences. The couple had three children, Tarun Dutt, Arun Dutt, and daughter Nina Dutt.
His elder son Tarun shares his birthday with his father, he was born on 9th July 1954.
First movie as lead actor
After the success of Baazi, Guru Dutt made two more movies named "Jaal" and "Baaz." In Baaz, he launched himself as the main lead opposite Geeta Bali. But the film flopped, and the film magazines heavily criticized Guru Dutt.
But Guru Dutt took it with a pinch of salt and started planning his next movie, "Aar Paar." The next film he did with Madhubala and was a romantic comedy movie. Mr. & Mrs. '55 is the only movie in which Madhubala was paired with Guru Dutt. Both the movies were box office successes, and it established Dutt as a lead actor now.
Guru Dutt and Waheeda Rehman
Guru Dutt's story is incomplete without the mention of Waheeda Rehman. Born in Tamilnadu on 3rd February 1938 to Mohammed Abdur Rehman and Mumtaz Begum. her father was a district commissioner and she had no filmy background.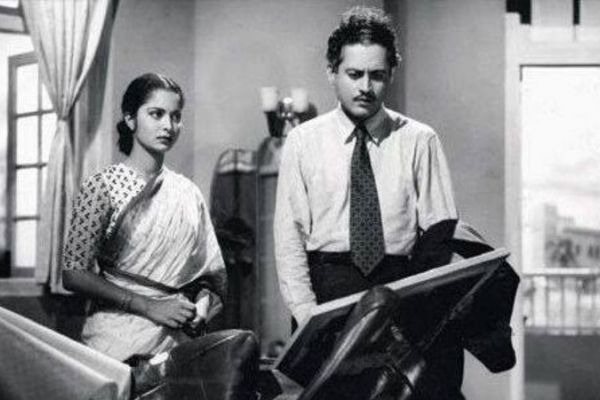 But she lost her father when she was 13 years in 1951. She was the youngest of the 4 sisters and was trained in Bharatnatyam. After her father's untimely demise, the family went through monetary hardship, which forced Waheeda and other sisters to start their careers early.
She appeared in a Telugu movie Rojulu Marayi as a dancer, and the film was running a packed house. One of the distributors of Guru Dutt from Hyderabad invited him to see the movie, and Guru Dutt liked Waheeda Rehman in the movie.
In few days, Waheeda Rehman and her mother met Guru Dutt at his office in Bombay, where his team was present, like Abrar Alvi, Raj Khosla, etc. Guru Dutt asked her to change her name to something filmy, but she disagreed, and finally, it was decided to keep her original name. Her mother, Mumtaz Begum, signed the contract as she was not an adult then.
He was cast in his next movie "C.I.D" opposite Dev Anand as the second lead. He was then cast in his next film "Pyaasa", "12 O'Clock", "Kaagaz Ke Phool", "Chaudhvin Ka Chand" etc.
There were talks in town that both were involved in a romantic relationship, disturbing his married life. But Guru Dutt keeps her casting in his movies.
Once Geeta Dutt wrote a letter to Guru Dutt pretending to be Waheeda Rehman and asked him to meet her at Eros at 9 PM, she wanted to talk about something very personal. After reading the letter, Dutt understood that the letter is not from Waheeda as he used to meet her almost every day in the studio.
When he inquired, he found out that it was Geeta. The couple fought, and for the first time, Guru Dutt raised his hands on his wife. The marriage was never the same.
Sahib Bibi Aur Ghulam was the last movie in which Waheeda Rehman and Dutt worked together. The movie was based on a Bengali Novel of Bimal Mitra. The film also starred Meena Kumari as the female lead, and Waheeda was in the second lead.
Guru Dutt Death
Guru Dutt was a hard taskmaster all his life, but his personality was exactly the opposite. He never had a happy personal life except for the 2 or 3 years after marriage.
In 1963, the alteration between the couple increased so much that Geeta Dutt left their bungalow with children. Dutt later demolished the house at Pali Hills and shifted to a rented apartment in Pedder Road. Once his friend and writer of "sahib Biwi Aur Ghulam" asked him why he demolished the home, he answered something philosophical.
On 10 October 1964, Guru Dutt was found dead in his apartment. As per doctors, he took an overdose of slipping pills with whisky, which caused his death. But it was almost impossible to tell whether he took it knowingly or accidentally.