By and large, Rajesh Khanna is considered the first superstar of Hindi cinema. There may be some contradiction as some may argue that the first superstar was Ashok Kumar or Dilip Kumar or Raj Kapoor. Known for his own style of romance and charmingness, he ruled hearts for years.
Rajesh Khanna Biography
Real Name
Jatin Khanna
Nickname
Kaka, First Super Star Of Bollywood
Profession
Actor, Producer, Politician
Height (approx.)
Centimeters- 173 cm
Meters- 1.73 m
Feet Inches- 5' 8"
Weight (approx.)
Kilograms- 88 kg
Pounds- 194 lbs
Eye Colour
Black
Hair Colour
White
Date of Birth
29 December 1942
Date of Death
28 July 2012
Age at the time of death
69 Years
Birth Place
Amritsar, Punjab, India
Place of Death
Mumbai, Maharashtra, India
Death Cause
Cancer
Zodiac sign/Sun sign
Capricorn
Nationality
Indian
Hometown
Mumbai, Maharashtra
School
St. Sebastian's Gaon High School, Mumbai
College
Nowrosjee Wadia College, Pune
K.C. College, Mumbai
Educational Qualifications
B. A.
Debut
Film: Aakhri Khat (1966)

Playback Singing: "O Mere Sajna, O Mere Balma" in film 'Baharo k Sapne' with Lata Mangeshkar

Family
Father– Lala Hiranand (Biological Father, Headmaster), Chunnilal Khanna (Adoptive Father)
Mother– Chandrani Khanna (Biological Mother), Leelawati Khanna (Adoptive Mother)
Brother– None
Sister– Kamla
Religion
Hinduism
Address
Aashirwad, Carter Road, Bandra, Mumbai

Hobbies
Reading Horoscope, Cooking
Favorite Actors
Guru Dutt, Dilip Kumar
Favorite Actress
Meena Kumari, Geeta Bali
Favorite Colour
Red
Marital Status
Married
Affairs/Girlfriends
Anju Mahendru, Fashion designer and Actress
Tina Ambani, Actress
Anita Advani

Spouse(s)
Dimple Kapadia

Marriage Date
March 1973
Children
Daughter– Twinkle Khanna, Rinke Khanna
Rajesh Khanna Early Life
Rajesh Khanna was born on 29 December 1942 as Jatin Khanna to a railway contractor Nand Lal Khanna and his wife Chandrani Khanna. His family moved from Lahore to Amritsar and then from Amritsar to Bombay.
His father had two more brothers named Munni Lal and Chunni Lal. Nand Lal had four daughters and two sons while his brother Chunni Lal had no children. So Chunni Lal and his wife Leelawati adopted Jatin at a very young age.
He attended St. Sebastian's Goan High School where he met Ravi Kapoor aka Jeetendra. He then moved to Wadia College in Poona to complete his B. A, and after two years he returned to K.C College, Bombay.
He was attracted to acting from his childhood and often took part in stage dramas in his Mohalla, school, and college.
Struggle and Film Career
After returning to Bombay Khanna joined theaters and till then was not so keen to join films. In meantime, he met Anju Mahendru with whom he devolved into a love relationship.
Jatin was not interested in films until a chance meeting with Geeta Bali changed his mind. Khanna told a magazine how he met Geeta Bali, who had her production office in the same building where Khanna was rehearsing for one of his plays.
Geeta Bali asked him that why don't try for movies and offered him a role in her next film ' Ek Chadar Maili Si'. But Geeta Bali died soon due to smallpox and the project was shelved. The movie was later made in 1986.
Although Rajesh Khanna's film career could not start, but Rajesh Khanna was now determined to start his career in movies. After the incident, he gave many auditions. There was a special thing about Rajesh Khanna that in those days when most of the strugglers were finding it hard to even get proper food, Rajesh was visiting studios in his sports car for auditions.
Though Rajesh Khanna's parents supported him and provided him with the financial cushion he needed, his father gave him a deadline.
The real change came when he entered the talent hunt organized by Filmfare and United Producers. The panel of producers consisted of B.R. Chopra, Bimal Roy, Devendra Goel, F.C. Mehra, G.P. Sippy, H.S. Rawail, Hemant Kumar, Nasir Husain, J. Om Prakash, Mohan Saigal, Shakti Samanta, and Subodh Mukherji.
Those were huge names in Hindi cinema then and the winner was supposed to get a lead role in the movies of all producers.
Not only his application was shortlisted even he was among the six finalists of the contest. Though there were six finalists in the contest for the final spot, the real contest was between two extremely good-looking boys: Rajesh Khanna and Vinod Mehra.
Rajesh Khanna beat Vinod Mehra by one point and was crowned as the winner. Farida Jalal was crowned as the winner in the ladies part while 15-year-old Leena Chandavarkar finished as the runners-up.
Though Khanna had 12 films in his hand as a result of winning the talent hunt but practically no producer had a ready script for a newcomer at that time. In the meantime, Khanna signed Chetan Anand's 'Aakhri Khat' opposite Indrani Mukherjee.
The low-budget movie released in 1966 did not make it big at the box office.
His next two movies Raaz and Baharon Ke Sapne did not do that well at the box office. Both the movies were part of his talent hunt contract.
Then came the year 1969 which Rajesh Khanna never forgot neither Hindi film lovers. Shakti Samantha's 'Aradhana' was released and overnight Rajesh Khanna became India's first superstar. The film achieved tremendous success at the box office.
Aradhana initially had a different story and Rajesh Khanna was supposed to play the character of the father. Samantha was looking for a second actor for the son role. But at the last moment, the story was changed as Samantha felt that the climax matched with 'Ek Shrimaan Ek Shrimati'.
After the change in the story, Rajesh Khanna played the double role. Though Sakti Samantha wanted Shaker-Jaikishan to direct the music but he could manage S.D Burman and R.D Burman.
Subash Ghai also shared the screen with Rajesh Khanna in Aradhana, he was also part of the 'Talent Hunt' organized by the Filmfare.
After this, Rajesh Khanna gave 15 consecutive superhit films one after the other, which is still a record.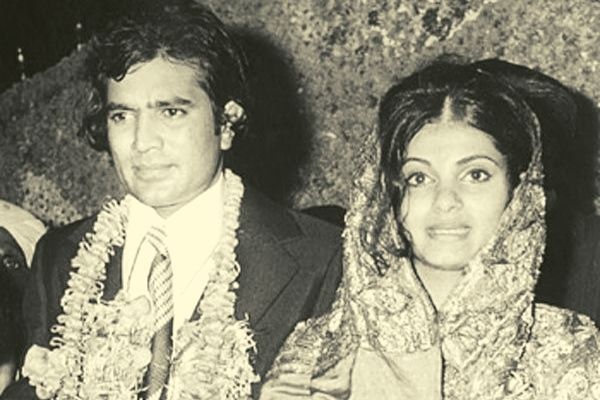 Khanna gained so much popularity that Film Magazines reported that girls used to put the car dust on their heads and even some married his photo. He used to get mobbed wherever he went and some female fans sent him letters written in blood.
Rajesh Khanna also bought the bungalow of Rajendra Kumar which he later renamed as 'Ashirwad'. He lived there till his death.
Rajesh Khanna Marriage Date
Rajesh Khanna was a superstar and had many female fans following. Once he met a girl during a flight and the girl could not believe that Superstar Rajesh Khanna is sitting beside her.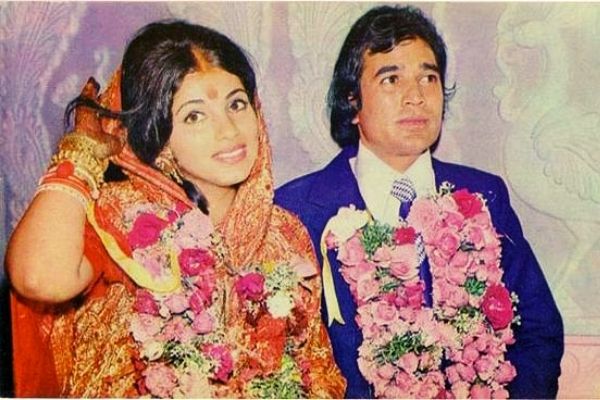 The girl was Dimple Kapadia and at that time she was shooting for Raj Kapoor's Booby. Even Rajesh Khanna's wedding procession passed in front of ex-girlfriend Anju Mahendru's house. Many media houses claimed that it was Khanna's idea as he wanted to grab as much attention as he could from this marriage.
Dimple and Rajesh got married in March 1973. 'Bobby' was a superhit when released in September 1973 but Dimple left Hindi cinema as Khanna did not want his wife to act in films.
The couple has two daughters Twinkle and Rinkie Khanna. But soon after the arrival of their younger daughter Dimple left Khanna's home with her daughter.
She blamed Rajesh Khanna's flamboyant nature and infidelity for this separation. She started her acting career again after leaving Rajesh Khanna's house.
Late 70s and 80s
Though Rajesh Khanna was still a superstar but in the late 70s and early 80s, his career was not at the pick where it used to be in the early 70s. With the arrival of Amitabh Bachchan, Kaka was not the only superstar in the industry. In the early 80s, Hindi cinema saw some new generations coming in and especially star sons like Sanjay Dutt, Kumar Gaurav, and Sunny Deol.
In the early 80s though Rajesh Khanna was giving hits but by then he has shifted from his lover by role. He was then doing a mixed bag of movies that included social or mature roles.
Khanna was closely associated with Kishore Kumar and R.D Burman. Most of his songs were sung by Kishore Kumar. Khanna did a number of movies with Mumtaz and then with Tina Munim.
Tina Munim and Rajesh Khanna acted in 11 movies and soon there was news of both dating each other. Tina even moved into Rajesh Khanna's bungalow as Dimple already left the place. But soon she realized that Khanna was in no mood to give divorce to his wife.
'Aap Ki Kasam' was one of Khanna's last big hits before his downfall, and the director blames his failure on fate. Four beautiful Lata–Kishore duets were featured in the film's music.
Politics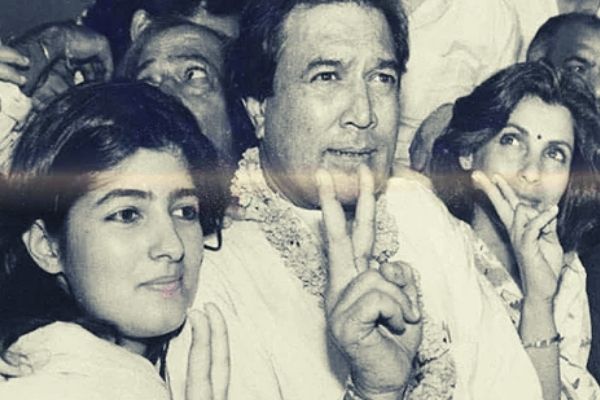 In 1991 Congress fielded Rajesh Khanna from Delhi against L.K Advani but Khanna lost the election. Though the fight was quite close and the winning margin was very small.
Rajesh ran for the by-election on a Congress ticket in 1992, while Shatrughan was a member of the Bharatiya Janata Party (BJP). There were over 100 candidates, the majority of whom ran on their own. Rajesh defeated Shatrughan by more than 28,000 votes and retained his seat until 1996.
Rajesh Khanna Death Reason and Date
His liver became infected. After a certain point, he was unable to digest his food. He couldn't eat solid food in his final days, so he had to rely on liquids.
He lost a lot of weight in his last days. On 18th July 2012, Rajesh Khanna took his last breath. In his last days, his wife Dimple Kapadia was by his side. Also, Akshay Kumar and twinkle Khanna were seen many times with Rajesh Khanna in his last days when he was hospitalized.
Rajesh Khanna's age at the time of death was 69 years.
Even after his death controversy never left him. His live-in partner in the last days Anita Advani claimed her stake in the iconic bungalow, Ashirwad at carter road. Anita even claimed that Khanna's last wish was to convert the bungalow into a museum for the public.
But his family denied being aware of any such wish and even Anita was not allowed in Kaka's last rite. Finally, the court ruled in favor of Khanna's two daughters and they sold the property for more than 90 crore rupees.
FAQs
Amitabh Bachchan and Rajesh Khanna movie list?
The measure two movies are Namak Haram and Anand. In Bawarchi, Rajesh Khanna was in the lead role while Amitabh Bachchan gave the voice-over. In Naseeb, Amitabh Bachchan was in the lead role while Rajesh Khanna appeared in a guest role for a movie as himself.
List of movies of Rajesh Khanna and Mumtaz?
Movies are
-Do Raaste
-Bandhan
-Apna Desh
-Dushman
-Sacha Jhutha
-Roti
-Aap Ki Kasam
-Prem Kahani
Rajesh and Vinod Khanna in which films get together?
-Aan Milo Sajna
-Kudrat
-Sacha Jhutha
-Rajput