Madhubala, considered as one of the most iconic Indian film actress to grace Indian cinema, faded too soon. Known as the Venus of Indian cinema, Madhubala was known for her beauty and smile.
It was like Madhubala was in some kind of hurry. Like she knew she doesn't have time like others and wanted to accomplish everything in a short period.
She started her career when 9 years old and was one of the highest paying actresses when her age doubled. And when her age doubled for the next time, she was gone.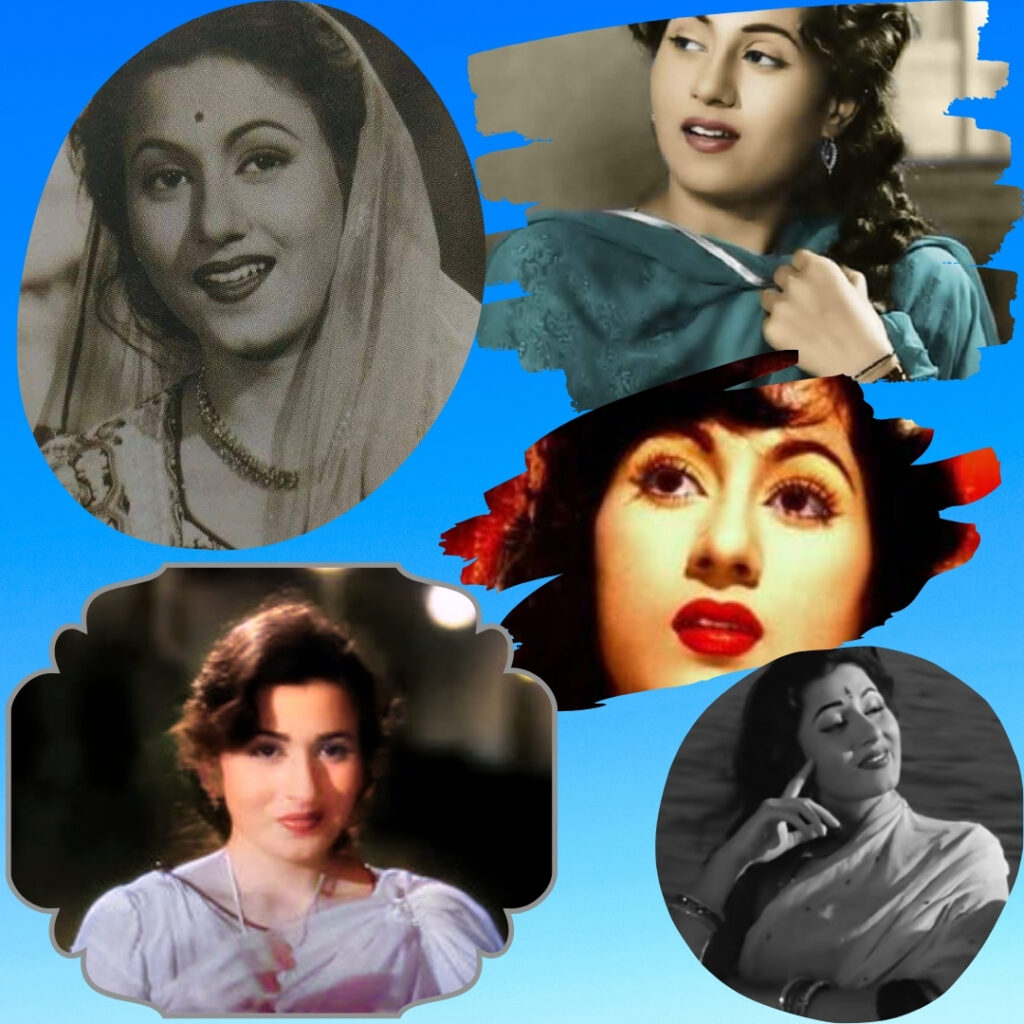 She was called India's Marilyn Monroe, and somehow her fate also met the same kind of sad ending as Marilyn. Both rose to success that everyone wanted, both had crores of fans who went crazy even at a small smile, and both died at the age of 36. Both Marilyn Monroe and Madhubala were almost the same height, and both had three men who came into their lives one after another.
Whether you call it funny or sad, during the 1950s, 3 big superstars of Hindi film Raj Kapoor, Dilip Kumar, and Dev Anand fell in love with their own costars. And it was a matter of coincidence that these three stars also used to be superstars of their time and all were Muslims. The similarity between these three love stories is only one that all three have been unsuccessful love stories.
Also Read-
Madhubala and Kishore Kumar were prominent figures in the Indian film industry. Madhubala, whose real name was Mumtaz Jehan Begum Dehlavi, was a highly regarded Bollywood actress known for her beauty and acting skills. She appeared in numerous successful films during the 1950s and 1960s.
Kishore Kumar was a legendary playback singer, actor, and filmmaker in India. He was known for his versatile voice and has sung in various genres, including romantic, peppy, and soulful songs. Kishore Kumar and Madhubala were married from 1960 to 1969.
Both Madhubala and Kishore Kumar made significant contributions to the Indian entertainment industry and are remembered as icons of their time.
Madhubala Biography, Height, Weight, actress and Family
| | |
| --- | --- |
| Name | Begum Mumtaz Jehan Dehlvi |
| Stage Name | Madhubala |
| Other Names | Venus of Indian cinema, Marilyn Monroe of India |
| Profession | Indian film actress |
| Date of Birth | 14th February 1933 |
| Religion | Muslim |
| Father | Ataullah Khan |
| Mother | Begum Aisha |
| Siblings | 8 Sisters and 2 brothers (3 sisters and 2 brothers died in childhood) |
| Age Death Husband | |
| Affairs | Prem Nath, Kamal Amrohi (Rumoured), Dilip Kumar, Kishore Kumar |
| Husband | Kishore Kumar |
| Marriage Year | 1960 |
| Death | 23rd February 1969 |
| Cause of Death | Prolonged disease and heart attack |
| Age at the time of death | 36 |
| Children | No |
| Compared With | Marilyn Monroe, Kate Winslet |
Early Life and career
Madhubala was born on 14th February 1933 to Ataullah Khan and Begum Aisha in Delhi. Her original name was 'Begum Mumtaz Jehan Dehlvi.' Her parents had 11 children (9 daughters and 2 sons), and Madhubala was 5th. She lost her 3 sisters and 2 brothers when they were kids.
Her father only left with six daughters. She was the third and Kaneez Fatima and Altaf were elder to her while Chanchal, Zahida, and Sahida were three younger sisters of her. Her younger sisters used to call her Majhili Apa.
Her father, a strict Pathan, lost his job at Imperial Tobacco Company as a driver in the early 40s. The family shifted from Delhi to Bombay in search of a job.
After coming to Mumbai, the family started their life as tenants in a chawl in Kandivali. But there were so many family members and no one was earning. In such a situation, her father visited different film studios throughout the day with little Madhubala so that his daughter could get work in a film and run the household. She got her first opportunity as a child artist in a film in 1942, and the film was "Basant". Madhubala was only 9 years old then.
Though Madhubala wanted to study but her father being a strict Pathan was not keen to send his daughters to school. Her youngest sister Sahida says " I was only fortunate among sisters that I was sent to school."
When Madhubala was 14 years old, she got the role of lead actress for the first time in Kidhar Sharma's film Neelkamal. The film was released in 1947. Her co-stars in this film were Raj Kapoor who was also making his debut with the movie, Begum Para, and Shantha Kumari.
But she got recognition after the movie Mahal was released in 1949 and there was no looking back. In the movie, she appeared in the lead role with Ashok Kumar, one of the leading actors in those days. This movie was a thriller drama directed and written by Kamal Amrohi, and it also got a lot of success at the box office. She was then counted as one of the most successful actresses.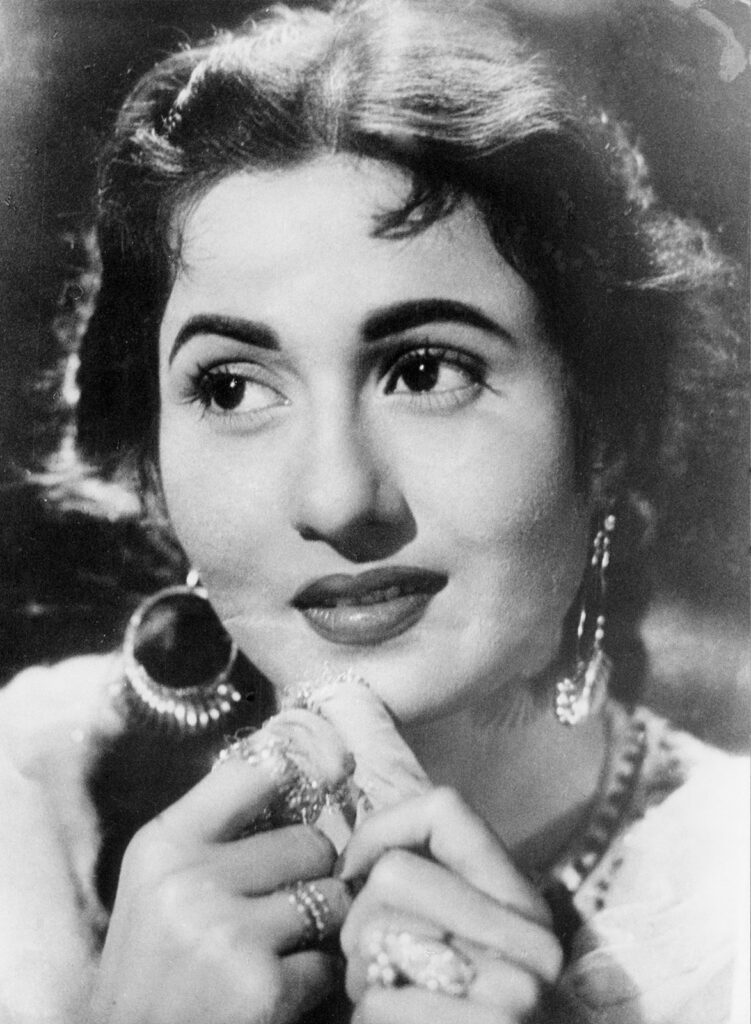 The movie made Kamal Amrohi the costliest director in India. It is said that Amrohi was given 1 lakh Rupees at that time for Mahal.
Madhubala appeared with Guru Dutt in only one movie. Mr and Mrs 55 released in 1955 was a romantic comedy movie.
When famous American director Frank Capra came to India in 1953, he saw a magazine cover featuring Madhubala. He was so impressed with her beauty that he asked his Indian organizer to fix a meeting.
The Indian organizer contacted Madhubala's father to fix a meeting but her father refused to meet Frank Capra citing that she can not eat with a knife and fork.
Books
Here is an interesting book on Madhubala's life. If you want to know more details about Madhubala, her affairs, and others then I highly recommend reading the book.
Relationship With Prem Nath
Prem Nath and Madhubala met in 1950 when both were doing two movies together (Aaram and Baadal). The beauty of Madhubala made Prem Nath go crazy and she also started liking Prem Nath.
But the relationship did not last more than 6 months. While giving an interview to Filmfare, her youngest sister Madhur said that Prem Nath and Madhubala's relationship broke up due to their different religions. Prem Nath wanted her to change her religion after the marriage, which she did not agree to.
Dilip Kumar
Dilip Kumar and Madhubala met for the first time during the shooting of the film "Jwar Bhata" released in 1944 when Dilip Kumar was 22 years old while Madhubala was 11 years old. It was the debut movie of Dilip Kumar while she was still working as a child artist.
But their relationship started during the shooting of the movie 'Tarana' which was released in 1951. After that, both them did many movies together, which included films like 'Sangdil' and Amar.
Gradually, love grew between the two, and both of them got engaged to each other. Her parents also had no objection to this relationship because Dilip Kumar was a big star at that time and the biggest thing was that both belonged to the same religion and were Pathans.
The Naya Daur Court case and break up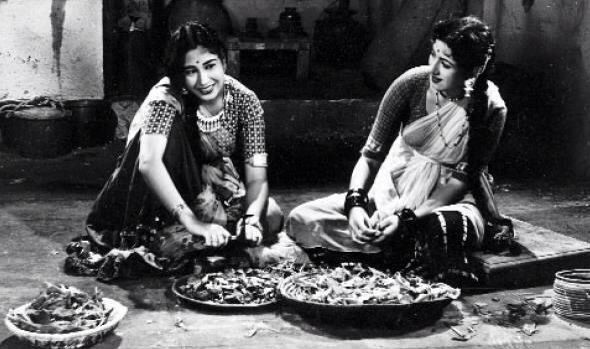 Madhubala was first signed by BR Chopra for the movie Naya Daur released in 1957 and Dilip Kumar was in the male lead opposite her. Ten days of shooting were completed in the Bombay studio. The next shooting was to be shot in Gwalior, but her father was not ready for it.
Earlier, during the shooting in Gwalior, there had been a mishap, due to which Madhubala's father forced BR Chopra to shoot in Bombay or a nearby location, instead of Gwalior.
This condition of her father was not accepted by BR Chopra and he then signed Vyjayanthi Mala for the film in place of Madhubala.
Her father also refused to return the signing amount that was given to her. The advance payment was 30000 Rupees. It may sound like a small amount, but it was a huge amount back then.
Her father even threatened Chopra with a court case but BR Chopra filed a court case citing breach of contract and nonreturn of money. This case lasted for about 9 months. And during this case, Dilip Kumar testified on behalf of BR Chopra, due to which Madhubala's father got very angry with Dilip Kumar.
Later the big directors of that time like K Asif and Mehboob Khan intervened and got the matter settled out of court. But the relationship had soured.
According to Madhubala's younger sister, Dilip Kumar had told Madhubala that if she leaves her father, then he will marry her. While Madhubala kept telling Dilip Kumar that he should apologize to her father once and hug him, everything will be fine. But Dilip Kumar and Madhubala stuck to their insistence, due to which this relationship broke up.
Marriage With Kishore Kumar
Even after breaking up with Dilip Kumar, she could not completely forget Dilip Kumar but was often unhappy.
Kishore Kumar and she met for the first time during the shooting of the film 'Dhake Ki Malmal'. Though both knew each other from childhood as Madhubala used to work as a child artist and Kishore Kumar in his childhood often used to visit studios with Ashok Kumar.
At that time, Kishore Kumar's married life was also not going that well. Kishore's first marriage was with 'Ruma Ghosh', an actress and singer. The couple also had a son named Amit Kumar.
After their first movie, both of them did 4 more films together which were; Chalti Ka Naam Gaadi', 'Half Ticket', 'Mahal Ke Khwaab' and 'Jhumroo'. By 1958, Kishore Kumar was divorced from his first wife and Madhubala's relationship with Dilip Kumar was also over.
According to her younger sister, Kishore Kumar had proposed Madhubala for marriage, but Madhubala did not give any answer. And at first, she did not even agree to it.
Her sister told in her interview to filmfare.com "When at first Kishore (Kumar) Bhaiyya told Apa, 'I want to marry you,' she didn't respond. She wouldn't take his calls. She would shut the door when he came to meet her. He'd say things like, 'I will die. I'll take poison. I'll put my hand in the fan…'"
But finally, she agreed to the marriage. Perhaps more than love, it was the loneliness of both that pulled both of them towards marriage. But this is such a marriage in which both of them, despite being married, never had a proper married life.
Kishore Kumar's family was not ready for this marriage because Kishore Kumar came from a Bengali Brahmin family and Madhubala was a Muslim. By then the parents of Madhubala had given up the courage to oppose her for anything.
The two had a registry marriage in 1960 and soon after their marriage, both of them flew to London. It is written in many books that both had gone to London to celebrate their honeymoon, but according to her younger sister, both had gone to consult a heart specialist, not a honeymoon.
Disease and death
Madhubala's first encounter with her illness was in 1954 when she vomited blood during SS Vasan's film 'Bahut Din Huwe' shooting. Later, when she was shown to the doctor, the doctor said that she had Ventricular Septal Defect (there was a hole in her heart) due to which her heart makes more blood than it should.
Due to this, she will continue to have things like bleeding from the mouth and nose regularly.
After her marriage to Kishore Kumar, when Madhubala went to see a heart specialist in London, the doctors refused that there is no cure or medicine for it. And he had even said that Madhubala would not live for more than 2 years.
After returning from London, Kishore Kumar dropped Madhubala at her parents' house, saying that he would not be able to take care of her as he was mostly busy with shooting. However, in the early days, Kishore Kumar used to visit Madhubala every day at her house and used to sit near her for hours. Sometimes both used to go out for a ride in their car.
Though Kishore Kumar took care of her all medical bills. According to her sister, she wanted to live with him more than these medical bills. But Madhubala's sister thinks that Kishore Kumar kept himself away from Madhubala to reduce the parting shock.
Madhubala lived for more than 2 years, proving the doctor's statement to be false; she lived for almost 9 years. According to her younger sister, in the last few days, she had lost a lot of weight and used to vomit a lot of blood.
After all, that fateful day came when Madhubala left this world, and that was 23rd February 1969, and the time was 9:30 in the morning.
Madhubala was buried in the cemetery of Juhu with all the rituals. Her husband Kishore Kumar was also present, but by the time Dilip Kumar reached from Madras, leaving his shooting, Madhubala was buried.
But in 2010, Madhubala's grave in Juhu Cemetery was dismantled citing a shortage of space along with some other noted personalities like Mohammad Rafi. Her remains were moved to Santacruz cemetery, where her current grave is located.
The last movie released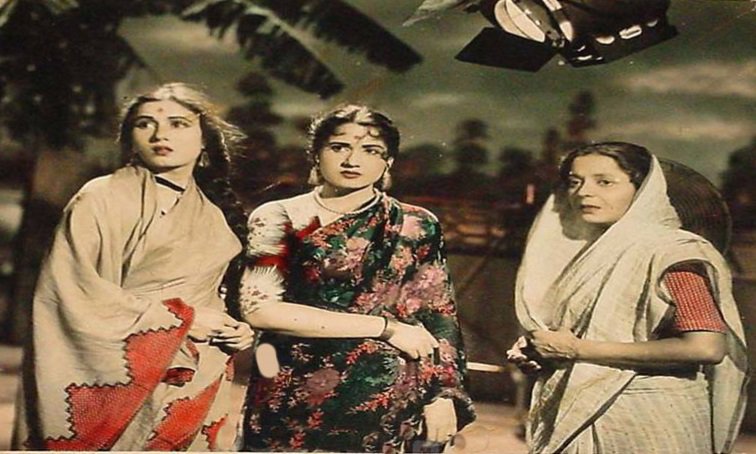 Madhubala's last release was "Jwala," which was released in 1971. Although most of the shooting of this film was done before 1960 but after her health deteriorated, the rest of her part could not be shot, and the film was shelved. But when she passed away in 1969, the rest of the shooting was finished using Madhubala's body double, and the film was released in 1971.
Filmography of Madhubala
| | |
| --- | --- |
| Film Name | Year |
| Basant | 1942 |
| Mumtaz Mahal | 1944 |
| Dhanna Bhagat | 1945 |
| Pujari | 1946 |
| Phoolwari | 1946 |
| Rajputani | 1946 |
| Neel Kamal | 1947 |
| Mere Bhagwaan | 1947 |
| Chittor Vijay | 1947 |
| Khoobsurat Duniya | 1947 |
| Dil Ki Rani | 1947 |
| Saat Samundaron Ki Mallika | 1947 |
| Desh Sewa | 1948 |
| Amar Prem | 1948 |
| Parai Aag | 1948 |
| Lal Dupatta | 1948 |
| Sipahiya | 1949 |
| Apradhi | 1949 |
| Daulat | 1949 |
| Neki Aur Badi | 1949 |
| Imtihaan | 1949 |
| Paras | 1949 |
| Mahal | 1949 |
| Dulari | 1949 |
| Singaar | 1949 |
| Nishana | 1950 |
| Nirala | 1950 |
| Hanste Aansoo | 1950 |
| Beqasoor | 1950 |
| Madhubala | 1950 |
| Pardes | 1950 |
| Tarana | 1951 |
| Saiyan | 1951 |
| Nazneen | 1951 |
| Nadaan | 1951 |
| Khazana | 1951 |
| Badal | 1951 |
| Aaram | 1951 |
| Saqi | 1952 |
| Sangdil | 1952 |
| Rail Ka Dibba | 1953 |
| Armaan | 1953 |
| Bahut Din Huwe | 1954 |
| Amar | 1954 |
| Teerandaz | 1955 |
| Naqab | 1955 |
| Naata | 1955 |
| Mr. & Mrs. '55 | 1955 |
| Raj Hath | 1956 |
| Shirin Farhad | 1956 |
| Dhake Ki Malmal | 1956 |
| Yahudi Ki Ladki | 1957 |
| Gateway of India | 1957 |
| Ek Saal | 1957 |
| Baghi Sipahi | 1958 |
| Police | 1958 |
| Phagun | 1958 |
| Kala Pani | 1958 |
| Howrah Bridge | 1958 |
| Chalti Ka Naam Gaadi | 1958 |
| Kal Hamara Hai | 1959 |
| Insan Jaag Utha | 1959 |
| Do Ustad | 1959 |
| Mehlon Ke Khwab | 1960 |
| Mughal-e-Azam | 1960 |
| Jaali Note | 1960 |
| Barsaat Ki Raat | 1960 |
| Jhumroo | 1961 |
| Boy Friend | 1961 |
| Passport | 1961 |
| Half Ticket | 1962 |
| Sharabi | 1964 |
| Jwala | 1971 |
FAQs
How Madhubala died?
Madhubala dies due to a heart ailment.
What age Madhubala died?
She died at the age of 36
What was Madhubala's real name?
Her real name was Begum Mumtaz Jehan Dehlvi
When did Madhubala get married?
Kishore Kumar and Madhubala got married in 1960.