In this post, we will go through Nargis Dutt Biography, age, religion, parents ( father name and mother name), cause of death, family, marriage and other details.
Nargis Dutt was born as Fatima Rashid/ Tejeshwari Mohan in Allahabad on June 1, 1929. Nargis came from a family where "art was a way of life." Her mother, Jaddanbai, was a well-known classical singer, and her father came from a wealthy Rawalpindi (Then British India) family. For a short time, the family lived in Calcutta before settling in Bombay.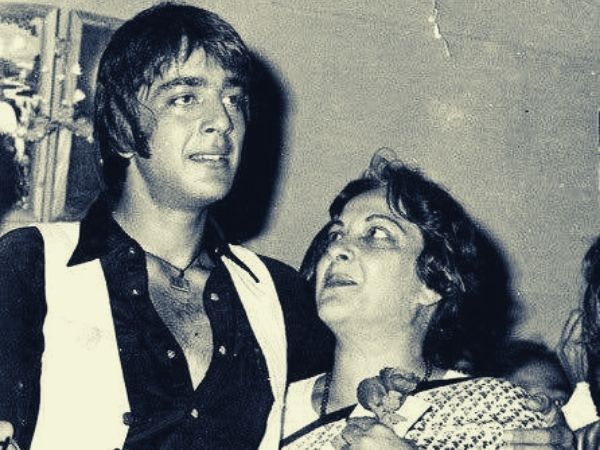 Nargis Dutt Wiki
| | |
| --- | --- |
| Name | Fatima Rashid/ Tejeshwari Mohan |
| Stage Name | Nargis |
| Mother Name | Jaddanbai |
| Father Name | Mohanchand Uttamchand/ Abdul Rashid |
| Religion | Muslim | Converted to Hinduism at the time of marriage |
| Profession | Actor, Producer, Philanthropist, and Politician |
| Date of Birth | June 1, 1929 |
| Place of Birth | Allahabad/ Kolkata, India |
| Nationality | Indian |
| Height | 5 Feet 4 inches |
| Brother | Akhtar Hussain and Anwar Hussain |
| Affair/ Boyfriend | Raj Kapoor |
| Husband | Sunil Dutt |
| Marriage Date | 11th March 1958 |
| Children | Sanjay, Priya and Namrata Dutt |
| Death date | May 3, 1981 |
| Reason of death | Pancreatic cancer |
| Nargis Dutt age at the time of death | 51 Years 11 Months |
| Death Place | Mumbai, Maharashtra |
Nargis Dutt Early Life
Nargis Dutt's mother, Jaddanbai, got married thrice in her life (there is no exact record). Her first marriage was with a Gujrati Hindu Businessman named Narottam Das, who later converted to Islam after marriage(as claimed on some websites but has no documented proof). The couple had a son named Akhtar Hussain. Narrottam Das was regular at Jaddanbai's mehfil in Banaras (as mentioned in The-True-Love-Story-Of-Nargis-Sunil-Dutt by Kishwar Desai), but after some years, he disappeared due to his family pressure.
So by now, you must have guessed Nargis's mother was into singing and dancing (which was common in India before independence).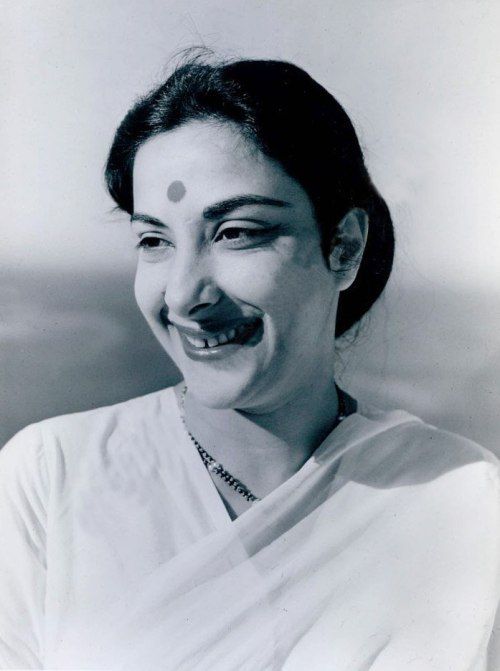 Then Jaddanbai got married to Musician Ustaad Irshad Meer Khan, and the couple had a son named Anwar Hussain, who later appeared in many Hindi movies as a character artist.
Nargis or Fatima Rashid or Tejeshwari Mohan is from Jaddanbai's third marriage. Jaddanbai got married to Mohanchand Uttamchand, a Punjabi Hindu Brahmin from a wealthy family hailed from Rawalpindi. His parents were Lala Dalbirchand Mohan and Ramdevi Mohan.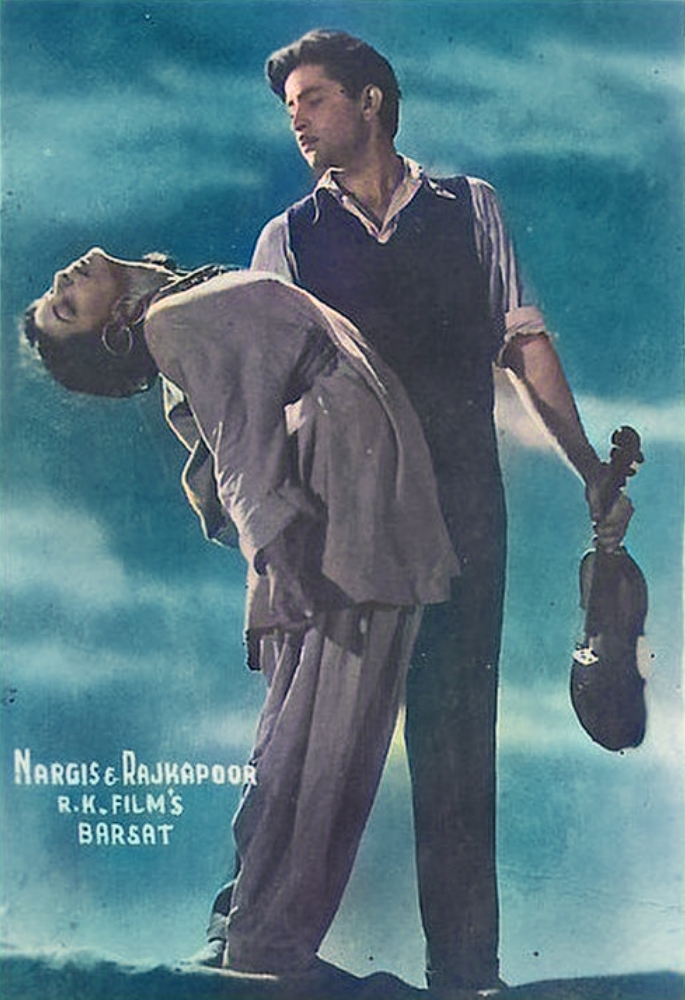 Her father, Mohanchand, went to the UK to study Medicine and returned to India after completing his studies. For further studies, he moved to Calcutta, where he met Jaddanbai (though in some books, it has been claimed that he knew Jaddanbai from Lucknow).
He was so impressed with her voice and beauty that he told his parents that he did not want to go back to the UK and want to settle down with Jaddanbai.
Considering Jaddanbai's status, religion, and marital status, his parents disagreed, but Mohanbabu (most people called him by that name) was stubborn. He married Jaddanbai, and as a result, Mohanbabu's family broke all relations with him.
He converted himself to Islam after marriage and was named Abdul Rashid, and interestingly Maulana Abul Kalam Azad carried out the conversion. Mohanbabu was 4 years younger than Jaddanbai and she was the mother of two sons, marrying her and discontinuing his further studies was a brave decision to take.
Nargis had two names one was Fatima Rashid which was given as she was a Muslim by birth and Tejeshwari Mohan given by her Hindu father which she again started using when she got married to Sunil Dutt.
The interesting fact is that Nargis's grandmother Dilipa was also a Brahmin who got married at a very young age. But at the age of 13, her husband died, and she was left with a miserable life.
But Dilipa left her in-law's home in Baliya and married a Sarangi player Sheikh Mianjan of Chilbilla village (As narrated in The True Love Story Of Nargis & Sunil Dutt by Kishwar Desai).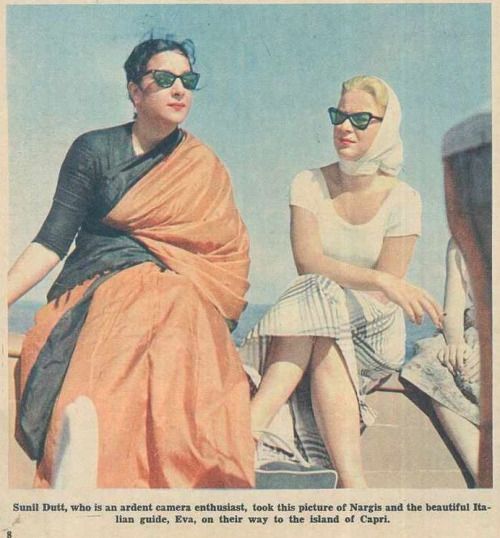 Nargis had a huge influence on her mother in her life, and that is why she faced the camera at the age of 4, and the movie was Talash-e-Haq. Her mother, Jaddanbai, was the writer and music director of the movie. Also, she appeared in the lead role.
Nargis was familiar with film culture from her childhood as big film personalities were regular at their bungalow, which was at marine drive, Mumbai (then Bombay).
Nargis did many movies as a child artist like Sher Dil Aurat(1935), Shadi Ki Raat (1935), Madam Fashion (1935), Hriday Manthan(1936), Moti Ka Haar (1937).
Nargis studied at Queen Mary's Convent in Bombay and was among very few actresses who could speak fluent English in the 1950s. But she could not complete her studies as she started her acting career at a very early age. But she had a dream to become a doctor in childhood.
Her father Mohanbau died on 18th November 1948, and soon after, her mother followed him as she also died on 21st July 1949. In a matter of nine months, Nargis was all alone as she was very close to her parents. Though Nargis had 16 more members, excluding her living in the same house but she was not that close to anyone.
After her parents, if anyone was a little closer to Nargis then it was her elder sister-in-law Iqbal.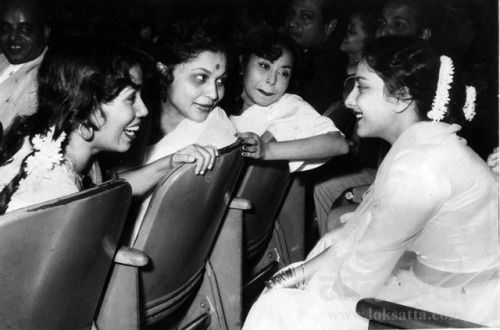 Nargis Dutt Career
Nargis started her acting career at a tender age as a child artist in movies mostly made by her mother Jaddanbai. In her initial movies as a child artist, she was credited with the name baby Rani.
But her first movie as a lead actress was the 1943 movie "Taqdeer". She was only fourteen years then. She tasted measure success as a lead actress in the 1948 movie 'Aag' opposite Raj Kapoor.
Raj Kapoor and Nargis appeared in many movies after that, like Andaz, Barsat, Awara, Bewafa, Aah, Shree 420, etc. Jagte Raho was the last movie in which Nargis appeared with Raj Kapoor.
Nargis can be seen in the movie's last scene only, in which she gives water to Raj Kapoor to drink. After this movie, the duo never worked together.
The interesting fact about the duo is Nargis never wore a high heel when she shared the screen with Raj Kapoor as Nargis was 5 feet 4 inches, and Raj Kapoor was only 5 feet 7 inches. She avoided wearing heels so that they don't look awkward on-screen.
In his book 'Khullam Khulla', Rishi Kapoor wrote that Nargis never stepped into RK studios after 1956 until Rishi's marriage in 1980.
Nargi's life-changing performance was in Mehboob Khan's Mother India. She shared the screen with her future husband Sunil Dutt, Raj Kumar, and Rajendra Kumar. Nargis won the Filmfare and National awards for the best actress.
Nargis was the first Indian actress to receive the Padma Shri Award in 1958.
Nargis and Sunil Dutt's Marriage
Nargis was distraught during the Mother India shoot because of her relationship with Raj Kapoor. The duo had a relationship, and Nargis even wanted to marry Raj Kapoor without disturbing his already married life. Nargis felt lonely after her mother, Jaddanbai, passed away, and she got closer to Raj Kapoor. Though Raj Kapoor was married then but it did not stop both of them to get involved in a relationship.
Raj Kapoor and Nargis first met at her house when raj Kapoor landed at her in Château Marine house looking for her mother, Jaddanbai. At the first meeting, Raj Kapoor got so impressed and attracted to her that he immediately drove back to his scriptwriter Inder Raj Anand and asked him to write a role for Nargis.
'Aag' proved to be a blockbuster, and Raj Kapoor established himself as a director, producer, and actor. Then they worked in several other movies like Andaz, Awara, Shree 420, etc. Meanwhile, Raj Kapoor also built his dream project, "R K Studios." Nargis also helped him in a great manner and even sometimes financially to build and then establish the banner.
There was a time Nargis did not work outside RK studios and even asked other filmmakers who were interested in offering her a role to include Raj Kapoor in the movie.
She even met Moraji Desia, who was drafting the Hindu Marriage Act 1955 then. But the meeting was not fruitful as nothing came out of it. But with time, Nargis realized that her relationship with Raj Kapoor is going nowhere, and she should think of her own life.
Sunil Dutt and her marriage with Nargis Dutt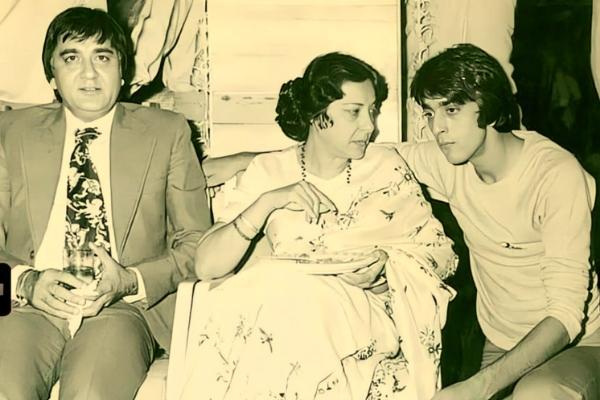 Balraj Dutt is a Punjabi boy born to Dewan Raghunath Dutt in the Khurd District of Punjab (now in Pakistan). At a very early age, Balraj lost his father, and as the elder son of the house, he always felt that it is his responsibility to do something for the family.
In 1946 his uncle insisted he join the army, he just passed his matriculation then. Sunil Dutt reluctantly though came for a medical check-up in Meerut and was passed. He then joined as a clerk in Lucknow.
When the partition happened in 1947, Sunil Dutt was in India while her family was in their ancient place, now part of Pakistan. Though his family reached unharmed in India, they lost all that they have. After many days Sunil Dutt found his family in refugee camps in Ambala.
Sunil Dutt's family was later allocated land and house in Mandoli village in Ambala under the Rehab scheme as they have lost land and house due to the partition.
After his sister's marriage, Sunil/ Balraj Dutt came to Bombay to complete his study, which was his dream as he thought it was the key to his bright future.
Sunil Dutt first rose to prominence as the popular voice of the radio station Radio Ceylon, where he worked before becoming an actor. Sunil Dutt or Balraj Dutt came to Bombay (It was called Bombay in 1950) with only 50 Rupees and no ambition of appearing in films. But destiny has planned something else for him. He joined Jai Hind College to complete his graduation.
Before joining Radio, Sunil Dutt also worked as a clerk in the BEST bus depot for Rupees 120 per month.
Sunil entered Bollywood in the mid-1950s when Ramesh Saigal spotted him at the sets of Shikast. He interviewed Dilip Kumar, and Saigal offered him a role in Railway Platform and suggested he change his name from Balraj Dutt to avoid name conflicts with veteran actor Balraj Sahni. Sunil rose to prominence two years after his debut, in 1957, with the release of Mother India, in which he co-starred with his future wife, Nargis.
When a fire broke out on the sets and Nargis became trapped within the ring of fire, it was Sunil Dutt who stormed in to save her without hesitation. Sunil suffered burns to his chest and face, while Nargis suffered burns to her arms. Nargis would have died if it hadn't been for Sunil's quick action.
Sunil Dutt was in great pain due to the burns and as they were shooting quite a distance away from Bombay, an advanced medical facility was not available. Nargis took great care of Sunil as she felt it is her responsibility and thus the love story started.
There were several arguments between the couple regarding the marriage date. Nargis wanted it early while Sunil Dutt wanted to take a three-year time so that he can establish himself in Hindi cinema.
That was the start of Sunil and Nargis Dutt's eternal love story, which was sealed on 11th March 1958 with a secret wedding at Arya Samaj.
The marriage was kept secret as Mother India's director Mehboob Khan thought it might harm his movie as the duo played mother and son in the movie.
The couple was almost the same age though as per records Nargis Dutt was only 5 days older than Sunil Dutt.
Nargis Dutt Cause of Death
Sunil Dutt and Nargis Dutt's marriage took a tragic turn in 1980 when Nargis Dutt was diagnosed with pancreatic cancer after her health deteriorated due to jaundice.
Nargis Dutt was taken to a cancer care speciality hospital in the United States, but despite the best care and treatment, she fell into an indefinite coma. Sunil refused to give up on Nargis Dutt after the doctors suggested turning off her ventilator.
Nargis was in a vegetative state for four months before regaining consciousness, being discharged from the hospital, and returning to Mumbai in 1981.
Nargis Dutt Death and where she is buried
Unfortunately, Nargis Dutt died on May 3, 1981, just three days before Sanjay Dutt's first film was released. Nargis Dutt funeral was conducted on May 7 by her husband and son. Many friends from the film industry were also present at the funeral. She was buried with Muslim rituals near her mother's cemetery in Chandanwadi, Mumbai.
Sanjay Dutt's movie 'Rocky' premier was not postponed due to Nargis Dutt's death but a seat was left vacant in her memory in between Sunil and Sanjay Dutt.
Nargis Dutt and Sunil Dutt Children
The couple had three children named Sanjay Dutt, Priya Dutt, and Namrata Dutt. Sanjay Dutt is into movies, whereas Priya Dutt is into politics. Namrata Dutt keeps away from the limelight and is married to actor Kumar Gaurav.
Nargis Dutt Award for Best Feature Film on National Integration
The award was started in 1965 by the Ministry of Information and Broadcast, and the first recipient was Manoj Kumar starring Shaheed. The last recipient of the award was the Kannada movie Ondalla Eradalla in 2018.
FAQs
What is the real name of Nargis Dutt?
Her original name was Fatima Rashid.
Why is Nargis famous?
She was considered one of the finest and beautiful actresses. She was the first Indian actress to receive the Padma Shri award.
How old is Nargis Mother India?
Nargis was only 27 years old while shooting for Mother India.
Who is the mother of Sanjay Dutt?
Nargis or Nargis Dutt after marriage is the mother of Sanjay Dutt.
Who is father of Nargis?
Nargis's mother, Jaddanbai, got married to a Hindu Brahmin named Mohanchand Uttamchand, and after marriage, he converted to Islam and renamed himself, Abdul Rashid.
At what age Nargis died?
Nargis Dutt was about to complete 52 years when she died on May 3, 1981.
What cancer did Nargis?
She had pancreatic cancer.
Is Nargis a Hindu?
She had Hindu roots as his father was a born Hindu Brahmin. Also after marriage with Sunil Dutt, she converted to Hinduism.
The book about Nargis Dutt and Sunil Dutt?
Darlingji: The True Love Story Of Nargis and Sunil Dutt by Kishwar Desai.
Also Read-
Madhubala, her love life with Dilip Kumar, and her Marriage with Kishore Kumar