Dev Anand is counted as one of the most successful heroes in the 1950s and 60s and one of the most successful self-made actors in Bollywood. He was also one of the three heroes who were at the top during the 1950s. Dev Anand was an actor, producer, director, and writer.
Real Name
Dharam Dev Pishorimal Anand
Profession
Actor, Producer, Director
Height (approx.)
Centimeters- 170 cm
Meters- 1.70 m
Feet Inches- 5' 7"
Weight (approx.)
Kilograms- 55 kg
Pounds- 121 lbs
Eye Colour
Brown
Hair Colour
Black
Date of Birth
26 September 1923
Date of Death
3 December 2011
Age at the time of death
88 Years
Birth Place
Shankargarh, Punjab, British India (now in Pakistan)
Place of Death
London, England
Death Cause
Cardiac Arrest
Zodiac sign/Sun sign
Libra
Nationality
Indian
Hometown
Gharota, Gurdaspur, Punjab
School
Sacred Heart School, Dalhousie
College
Government College, Lahore (Pakistan)
Educational Qualifications
B.A. in Literature
Debut
Actor: Hum Ek Hain (1946)
Producer: Afsar (1950)
Director: Prem Pujari (1970)

Family
Father– Pishori Lal Anand (Advocate)
Brother– Manmohan Anand(Advocate), Chetan Anand(Producer, Director, Screenwriter, and Actor), Vijay Anand (Younger)
Sister– Sheel Kanta Kapur
Religion
Hinduism
Address
2nd Iris Park, Juhu, Mumbai
Hobbies
Reading and writing
Favourite Actors
Ashok Kumar, Charlie Chaplin
Favorite Actress
Snehprabha Pradhan
Favorite Colours
Yellow, Brown, Black
Marital Status
Married
Affairs/Girlfriends
Suraiya, Actress (1948-1951)

Spouse(s)
Kalpana Kartik, Actress (m. 1954 – 2011; his death)

Marriage Date
Year – 1954
Children
Son– Suniel Anand
Daughter– Devina Anand
Early life and education
Born as Dharam Dev Pishorimal Anand on 26 September 1923 in Shakargarh (Now in Pakistan). His father Pishorimal Anand was a well-known lawyer in Gurdaspur District Court.
Devanand was the third of his four brothers. He had two elder brothers Manmohan Anand and Chetan Anand and his younger brother Vijay Anand.
Dev Anand also had a younger sister named Seal Kanta Kapoor and she was married to Kulbhushan Kapoor who was a doctor with money. The son of both of them, Shekhar Kapur is a well-known producer-director in the Hindi film world.
Dev Anand's eldest brother Manmohan Anand was a lawyer by profession and never set his foot in the Hindi film industry. While his other elder brother Chetan Anand was a well-known producer-director. And his younger brother Vijay Anand was an excellent director and actor.
Dev Anand education
Dev Anand did his schooling at Sacred Heart School, Dalhousie, and later obtained a BA degree in English Literature from Government College Lahore.
Dev Anand got interested in movies from his college days when he saw Ashok Kumar on the big screen and was impressed by his on-screen presence. He even started collecting old Hindi Film Magazines.
1940s Intial Days of Dev Anand
Dev Anand came to Bombay (Mumbai was called Bombay those days) after completing his graduation in the year 1943. He was surprised to see Bombay's fast life and mammoth buildings as he was from a small city.
He used to stay with his elder brother Chetan Anand. In the initial days, he used to stay with a college friend in his small house in a chawl.
He joined the Military Postal Service t the time of the Second World war. Due to World war, there was a provision to read letters before sending them to the designated addresses and censor letters if found anything suspicious.
Dev Anand was surprised to see fan letters to stars and it made him eager to join the film industry. In the meantime, he also joined his brother Chetan Anand in the Indian People's Theatre Association.
But he aimed to join the film industry, so he met Babu Rao Pai, one of the partners in Prabhat Film Studios, after a lot of effort. Babu Rao Pai was quite impressed with his looks and he was offered a three-year contract for 400 Rupees/month. He was cast in ' Hum Ek Hain'.
This film was a social drama and its story was based on Hindu Muslim unity. This film was released in 1946 and it did average business. During this film, Devanand and Guru Dutt became good friends.
Then Guru Dutt another successful self made actor in Bollywood was working as an assistant choreographer in Prabhat Studio.
After the completion of his first film, Dev Anand moved from Pune to Mumbai and then started traveling to many studios. During this time, once Ashok Kumar caught sight of Dev saheb and he was very impressed with Dev's look and confidence.
Then Ashok Kumar was doing a film called Ziddi and this film was being produced by Bombay Talkies. Ashok Kumar had become a very senior actor and famous then. He had also completed shooting for a few days of Ziddi.
But after seeing Dev Anand, he talked to director Shahid Latif and asked him to cast Dev in the lead role of this film instead of him.
Although the director of the film Shahid Latif was not quite ready for this, but Ashok Kumar was such a big star that he could not even refuse him. And thus Dev Anand replaced Ashok Kumar in the movie.
Kamini Kaushal was the lead actress opposite Dev and Pran also had an important role. The film was released on 1 August 1948 and proved to be a blockbuster.
This was the first movie in which Kishore Kumar got a chance to sing a solo song for the lead actor of the film and that song was 'Marne ki Duane Kyun Mangu.
Vidya and Affair with Suraiya
During 1948, Devanand was also working in a film called Vidya. In this film, he was working with Suraiya who used to be a huge star then and Dev was a newcomer till then.
A song was going to be pictured on both of them, which was to be shot on a vote in the middle of the river. While the shooting was going on, the vote got overturned due to loss of balance and both Suraiya and Devanand fell into the water. Suraiya did not know how to swim, at such a time, Dev Anand saved Suraiya's life.
It is said that Dev Sahab copied the style of Gregory Peck to impress Suraiya as Peck was her favourite star.
After Vidya, both of them did many films together and they fell in love. Both were so serious about each other that both wanted to get married. But Suraiya's maternal grandmother did not agree to this because Dev Anand was a Hindu and Suraiya was a Muslim. Suraiya's maternal grandmother wanted Suraiya to be married to a Muslim boy only.
The love story of Dev Anand and Suraiya did not reach the stage of marriage and both decided to separate from each other.
1950 to 1960: Dev The Superstar
The love story of Dev Anand and Suraiya did not reach the stage of marriage and both decided to separate from each other.
Dev Anand had set up his own production house Navketan Films. Devanand had made a promise to his good friend Guru Dutt during his Prabhat Talkies days that whenever he would make a film, he would give Guru Dutt a chance to direct the film.
That's why Devanand approached Guru Dutt to direct the film Baazi. Although it is said that Dev's elder brother Chetan Anand was not very happy with this decision.
Three main people were going to start their careers through this film. Guru Dutt as Director, Johnnie Walker as Comedian, and Kalpana Karthik as Lead Actress.
The film was released and proved to be a huge hit. This was the film after which Dev Anand was seen as a big star.
Now the three big stars in the industry were Dilip Kumar, Raj Kapoor, and Dev Anand. In many film magazines, these three were also called Trimurti. There was a constant discussion then Who was a better actor: Devanand, Dilip Kumar, or Raj Kapoor and why?
There is no definite answer to this and all three were experts in their work. All the three lead actors were the best actors in the eyes of their respective fans. But if we talk about the figures, Dev Anand has given the maximum number of hits, while Raj Kapoor has given the least.
Yes, it is also worth noting that out of these three, Devanand has done the maximum number of films and Raj Kapoor has done the least.
Dev Anand has acted in about 115 films while Dilip Kumar has acted in about 48 and Raj Kapoor has acted in about 30 films.
Dev Anand received the Filmfare Award for Best Actor for the first time for the film Kala Pani, released in 1958. Madhubala and Nalini Jaywant were also with him in this film. This movie proved to be a super hit at the box office.
Dev Anand and Kalpana Karthik (Mona Singh)
Dev Anand and Kalpana Karthik (Mona Singh) did five films together Baazi(1951), Aandhiyan (1952), Taxi Driver (1954), House No. 44 (1955) and Nau Do Gyarah (1957).
Kalpana Karthik or Mona Singh came from a North Indian Christian family. Dev Anand was feeling quite alone after breaking up with Suraiya. It was during this time that his imagination became known during her first film Baazi. Gradually the acquaintance turned into friendship and friendship turned into love.
In 1954, both were shooting for Taxi Driver. Then one day during the lunch break, Mona and Dev disappeared from the shooting set without informing anyone and returned only after about an hour and a half.
No one even came to know that both of them got married in an hour and a half. The shooting resumed but the cameraman V. Ratra's eye went on the finger of Dev Anand and Kalpana Karthik.
Before lunch, both of them did not have a ring on their finger, whereas now both of them had a ring on a particular finger. The camera mind immediately looked at Devanand, Devanand knew that the cameraman had come to know everything. Devanand secretly gestured him to remain silent.
The interesting thing is that Kalpana Karthik has done only five films in her film career and all that film with Dev Anand.
In 1956 Dev and Mona's son Suneil was born and later their daughter Devina was born.
The 1960s and After Math
From 1950 to 1960, Devanand mostly did urban crime thrillers films. Beginning in the 1960s, Devanand mostly started doing romantic movies like Manzil, Tere Ghar Ke Samne, Maya, Asli Dukke, Jab Pyaar Kisi Se Hota Hai, etc.
Then came the year 1965 when Dev Anand starrer Guide was released which won him his second Filmfare award.
The film was based on the book Guide by RK Narayanan and directed by his younger brother Vijay Anand.
Jewel Thief, which came in 1967, proved to be a tremendous hit at the box office. Along with Dev Anand, there were also artists like Ashok Kumar, Vyjayanthimala, Tanuja.
Johnny Mera Naam, released in 1970, proved to be a big hit for him. This film was the first hit movie of Hema Malini's career. Like Guide and Jewel Thief, this film was also directed by his younger brother Vijay Anand.
By the beginning of the 70s, where Dilip Kumar had made some distance from films and Raj Kapoor did not do many films due to his obesity, Dev Anand was still seen in the lead role in many films.
The 1971 film Hare Rama Hare Krishna is based on his own experience. At that time there was a lot of pee culture all over the world. Devanand once met a girl in a hippie group who was originally Indian but had grown up in Canada. When Devanand wanted to know her story, she told that she had run away from her house because her mother and her relationship is not good.
After hearing the full story of that girl, Dev Saheb had decided that he would make a film on this story. He cast Zeenat Aman in the lead role of this film with whom he had worked in an English picture. The film proved to be a super hit at the box office.
Even in the last part of 1970, Dev Anand appeared as a hero in many films. In the 1978 film Desh Pardesh, 19-year-old Tina Munim was cast opposite Dev saheb, who was about 25 years older than her.
Credit goes to Dev Saheb for encouraging many young talents like Zeenat Aman, Tina Munim, Tabu, Zahida, etc.
Even in the early 80s, Dev Anand was seen in lead roles in many films.
Dev Anand Launching his Son
Suneil Anand, Dev Anand's son, made his film debut in 'Anand Aur Anand' produced and directed by Dev Saheb. Suneil was chased by drunken elephants in the climax, which is one of the best examples of unintended hilarity in Hindi cinema.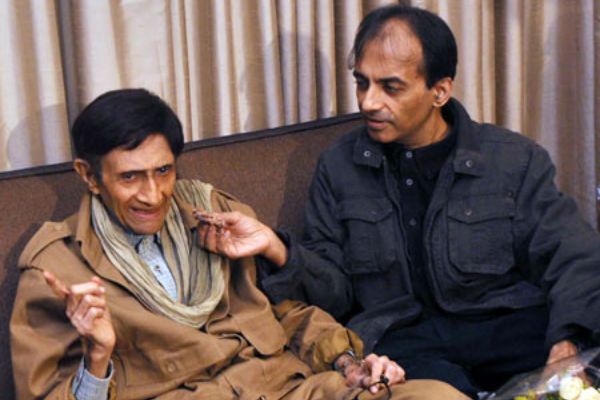 Suneil later wrote, directed, produced, and acted in a martial arts-themed film called Master, in which the hero is framed and imprisoned in Hong Kong.
Both the movies proved to be a disaster at the box office and for this reason, Suneil said goodbye to his acting career.
Dev Anand Death
In 2011, Dev saheb had gone to London for his health checkup. On December 3, he had a heart attack and Dev Anand left this world. His last rites were performed in London and his ashes were brought to India to be shed in the Godavari.
Dev Anand was 88 years old when he said goodbye to the world.