Today we are going to talk about Bhagwan Dada. Bhagwan Dada is the star of the Golden Era who touched the heights and saw everything ruined in front of his eyes. We will discover his biography, early life, filmy career, and everything.
Bhagwan Dada's real name was Bhagwan Abaji Pandav, a well-known Hindi film actor, and director of the Golden era of Bollywood. Before appearing in films, Bhagwan Dada had even worked as a laborer. With the film 'Criminal,' he made his silent film debut.
Bhagwan Dada Early Life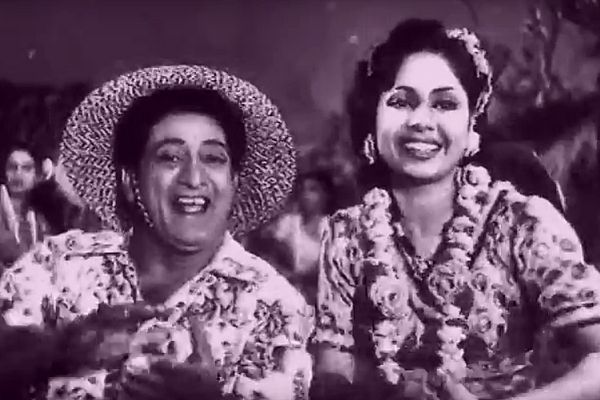 Bhagwan Dada was born on 1 August 1913 in Amaravati. His father was a mill worker in Bombay and his family used to stay in Dadar Chawl.
Dada was not interested in studies and left school after the 4th standard. Soon he also joined his father as a mill worker.
But his passion was wrestling and movies. Soon he got associated with a studio in Bombay.
Film Career
Bhagwan Dada was the uncrowned comedy king. Not only in films but also in real life, he was a very cool type of guy. After acting, he tried his hand at film directing and even produced many.
he was dubbed as the first action and dancing hero of Hindi cinema.
In 1951, he produced the film 'Albela.' Even today, the songs 'Shola Jo Bhadke' and 'Bholi Surat Dil Ke Khote' from this film are remembered. In this, his co-star Geeta Bali played the lead.
The dance form of Dada was adopted by many superstars like Amitabh Bachchan. and in those days Ganapati processions in Bombay were full of Bhagwan Dada's song and his dance forms.
Himmat-e-Marda was Bhagwan Dada's first talkie film (1934). Lalita Pawar played the lead in the film opposite Dada.
Bhagwan Dada was such a fan of Chevrolet vehicles that he is said to have appeared in the film 'Chevrolet.' Bhagwan Dada, who had previously struggled with financial constraints, had raised numerous earning flags. He had up to seven cars at one point. He used to drive himself to the sets every day in a new car.
He had to show the shower of money in a scene of a film he directed, so he used real notes instead of fake notes. Bhagwan Dada himself was the film's producer.
Douglas Fairbanks, a Hollywood film actor, was a favorite of Bhagwan Dada. Inspired by Douglas, Bhagwan Dada used to do his own stunts in his films instead of using a body double. His stunts were so convincing that Raj Kapoor dubbed him "Indian Douglas."
Later on, Bhagwan Dada's films were unable to achieve anything extraordinary. He suffered so much from movies that he had to sell his Juhu bungalow and his cars.
An anecdote about Bhagwan Dada was shared in Lalita Pawar's biography, 'The Missing Story of Lalita Pawar.'
Lalita was filming a scene for the film 'Jung-e-Azadi' in 1942. Actor Bhagwan Dada had to slap Lalita in this scene.
He slapped Lalita so hard that she collapsed to the ground and blood began to flow from her ear. She was then hospitalized for an extended period of time.
Not only that, but her right eye had shrunk as a result of this. Lalita has since taken on negative and character roles. Bhagwan Dada, on the other hand, had regretted the accident for the rest of his life.
His financial situation deteriorated to the point where he was forced to live in a Mumbai chawl. Bhagwan Dada is said to have been asked when he was the happiest in his life. Bhagwan Dada responded in his own style to this question. In response, Bhagwan Dada stated, "I am happiest when a villain in the film attempts to rob the honour of a heroine." "Leave me, leave me, leave me for God's sake," she screams. When I hear this, it makes me very happy.'
Dada sold his bungalow, his seven cars, jewellery of his wife, and other assets. He was almost left bankrupt as his movies flopped at the box office one after another.
A man who saw so much success in his life and was leaving a luxurious life was forced to vacate his bungalow. but he had no regret, maybe his humble background gave him the strength.
The last life and Death
The majority of people abandoned him at the end of Bhagwan Dada's life. Only musician C Ramachandra, actor Om Prakash, and lyricist Rajendra Krishna kept their friendship with him and went to the chawl to see him. On February 4, 2002, Bhagwan Dada died of a heart attack at the age of 88 years.
Bhagwan Dada Son Arun Bhagwan Palav died in September, 2016 at the age of 75.
Though he was left with a bungalow at Chembur inside the Asha Studio campus but he stayed there for just a month as he always preferred to stay in Dadar's old house till his last breath.
Biopic
In 2016 Shekhar Sartandel directed Ekk Albela (a Marathi movie) which was a biopic movie based on Bhagwan Dada's life story featuring Mangesh Desai and Vidya Balan in the lead role.
This was the debut movie of Vidya Balan in Marathi films. The movie did average at the box office.
Also Read-