The hardest thing in the world is to keep laughing, which is what comedy movies help us do. These Hindi comedy movies on Amazon Prime will certainly bring a smile to your face. It brings happiness to our lives and takes us away from our life's stress for a few moments.
But today's comedy movies are not like old ones, which you can enjoy sitting with your whole family. But in the 1970s and 1980s, there were many such comedy movies that you can still watch with your whole family, and you can enjoy and laugh a lot. There is no substandard script or any dual-meaning dialogue.
Today we are going to talk about eight such Hindi comedy movies, which you can watch with the whole family. And you will find all these movies on Amazon Prime Video. If you have subscribed to Amazon Prime then don't forget to watch these movies this weekend.
Hindi Comedy Movies On Amazon Prime
Naram Garam
Released in 1981 and directed by Hrishikesh Mukherjee Naram Garam is a hilarious journey movie but portrayed in a simple way. Actors like Amol Palekar, Utpal Dutt, Swaroop Sampat, Shatrughan Sinha, AK Hangal played the lead role in the movie.
In the movie, Utpal Dutt plays the character of a blind believer in astrology and does everything by asking his astrologer. His younger brother's character is played by Shatrughan Sinha, who runs a motor garage. Amol Palekar is working for Utpal Dutt.
Amol Palekar, who is playing the role of Ram Prasad in this film, helps his boss Bhavani Shankar, i.e., Utpal Dutt, in regaining his family bungalow over which a man had forcibly occupied. After this, Bhavani Shankar gives Ram Prasad the responsibility to repair the bungalow, and Ramprasad finishes the work by staying in a cottage near the bungalow.
Kusum (Swaroop Sampat) and her father (A.K Hangal) from his village (also they are his best friend's family) come to live with Ramprasad as their lender has thrown them out of their house for not paying their money.
Ramprasad does not have a house of his own, he let them stay in his Boss's bungalow, and this is where comedy starts as everyone tries their hand to throw Kusum and her father out of the Bungalow but eventually falls in love with her.
Bawarchi
Directed by Hrishikesh Mukherjee, the 1972 film 'Bawarchi is a family comedy movie starring actors like Rajesh Khanna, Jaya Bachchan, Asrani, AK Hangal among others.
"Bawarchi" is the story of a family in which an old father has four sons, out of which one son and his wife has died, and three sons are alive. The first three sons are married and have three have children. This entire family lives in the same house but is not together. The whole family is estranged, and in the meantime, Rajesh Khanna comes to that house as a cook, and slowly things start to go right.
Chupke Chupke
Chupke Chupke, directed by Hrishikesh Mukherjee, is a 1975 superhit comedy movie starring actors like Dharmendra, Amitabh Bachchan, Jaya Bachchan, Asrani, Sharmila Tagore, Om Prakash.
Professor Parimal Tripathi (Dharmendra) is a very well-known professor of Botany. Once a team from a women's college comes on Botany Excursion. The grandson of the bungalow's watchman is ill in which the girls' group is supposed to stay.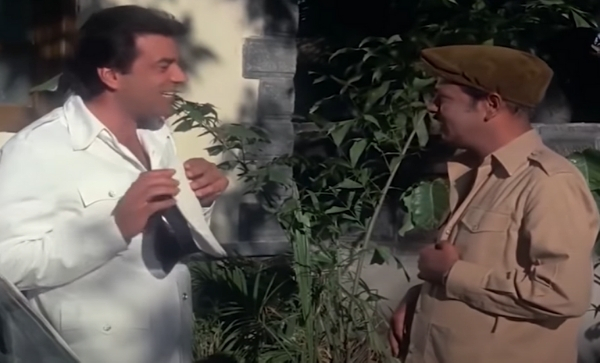 But he is not able to go because of fear. At this time, Professor Tripathi helps him and sends him to see his grandson. At the place of that watchman, Professor Tripathi stays in the bungalow wearing his disguise, and then that group of girls arrives at the bungalow. Sulekha Chaturvedi (Sharmila Tagore) finally realizes that it is Professor Tripathi, not the Watchman.
Later, the two fall in love, and both get married, but Sulekha always praises her brother-in-law in front of her husband.
A few days after marriage Sulekha's brother-in-law needs a driver who speaks pure Hindi. Taking advantage of this opportunity, Professor Tripathi reaches Sulekha's brother-in-law in disguise as a driver, and from here, the comedy of errors starts.
Gol Maal
Golmaal, released in 1979, is a milestone in the Hindi film industry, even today, the movie is considered one of the best comedy movies of all time.
The main cast in this movie is Utpal Dutt, Amol Palekar, Deven Varma, Bindiya Goswami, Dina Pathak, etc. Hrishikesh Mukherjee directed the film.
Ramprasad, who has just finished Chartered Accountant's course, goes to interview with an industrialist Bhavani Shankar. Bhavani Shankar is an idealistic man who follows the ideals of his father.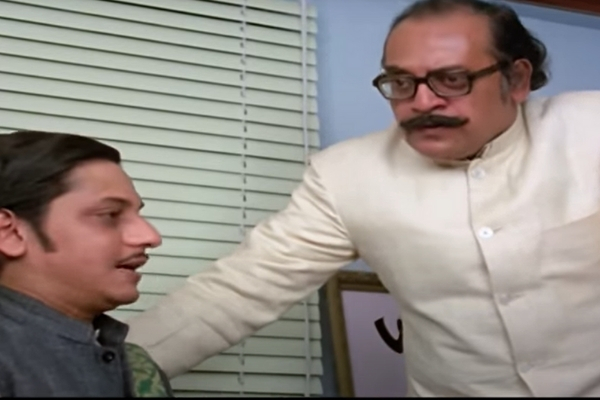 He does not like people who are interested in sports, music, dance, or any activities other than work. And the biggest thing, Bhavani Shankar does not like a man who has no mustache and does not give such a man a job in his office.
Ramprasad gets a job in Bhavani Shankar's office, and within a few days, Bhavani Shankar also starts liking Ram Prasad a lot. But Ramprasad gets trapped due to a lie told to take leave from office and resort to more lies to avoid it. And this is where the laughter riot starts.
Kissi Se Na Kehna
Released in 1983, this comedy movie was made under the direction of Hrishikesh Mukherjee with actors like Utpal Dutt, Farooq Sheikh, Deepti Naval, Saeed Jaffrey in the lead role.
Ramesh Mansukhlal (Farooq Sheikh) works in a company where he gets promoted as General Manager. And he meets Doctor Ramola Sharma (Deepti Naval), the niece of the owner of the company, and gradually both fall in love. And both express their desire to marry each other.
Ramesh Mansukhlal's father, Kailash Nath (Utpal Dutt), hates educated girls because of one of the events in his life, and he wants his son to marry a girl who is not English educated and is Indian cultured. Then how both of them get married and how they both save this lie is the comedy movie's story.
Chhoti Si Baat
Directed by Basu Chatterjee, this comedy movie was released in 1976 with Amol Palekar, Vidya Sinha, Ashok Kumar, Auras Rani in the lead role.
Arun (Amol Palekar) works in a company called "Jackson Tolaram," On coming to the office every day, he sees a girl he starts liking and gradually falls in love with that girl. But Arun never dared to talk to that girl.
Later, Arun becomes friends with that girl, and they learn that the girl's name is Prabha Narayanan (Vidya Sinha). Arun tries many times to tell Prabha about his feelings but is unable to say it. Meanwhile, Prabha's friend Nagesh (Asrani), who is better than Arun in every respect, becomes a thorn in the path between these two.
Arun goes to Colonel Julius Nagendranath Wilfred Singh (Ashok Kumar) to take training to win in life and comes back with training. Now he starts winning in every aspect of life. In this light-hearted story, many scenes will make you laugh a lot.
Baton Baton Mein
The comedy film, released in 1979, was directed by Basu Chatterjee and starring Amol Palekar, Tina Munim, David, and Pearl Padamsee in the lead roles.
Rosie Perera has a son and a daughter. Rosie wishes that her daughter Nancy gets married to a boy with a good job and keeps trying the same day and night. Meanwhile, Nancy meets Tony Brigenza on a local train.
The two slowly become friends, and friendship turns into love. But Tony is yet to be sure about marriage, but Nancy's mother wants the marriage to be confirmed.
Rang Birangi
Rang Birangi, directed by Hrishikesh Mukherjee, released in 1983, is an excellent comedy movie starring Farooq Shaikh, Parveen Babi, Amol Palekar, Deepti Naval, Utpal Dutt, Deven Verma, Om Prakash.
Ajay Sharma (Amol Palekar), who has married Nirmala (Parveen Babi) 7 years ago, has become a workaholic and does not give his wife any time. Then comes his friend Ravi ( Deven Verma), who sees that Ajay has made a lot of progress in 7 years financially, but his married life has not been the same now.
He thinks of a strange way to return the love of the old days in both their lives and the inspiration he takes from this move is Pati Patni Aur Woh. But in the acting, Police ACP Dhurandhar Bhatawadekar (Utpal Dutt) arrests Ajay Sharma, Jeet( Farooq Shaikh).
Padosan
Iconic comedy movies starring Sunil Dutt, Kishore Kumar, Saira Bano, Om Prakash, Mukri, Keshto Mukherjee, and Mahmood. One of the best comedy movies till now with melodious songs. The movie had some very famous dialogues like Kishore Kumar calling Sunil Dutt "Bangdu" and another famous one is " Bhole neeche see gaa neeche see."
Out of the 9 songs in the movie, RD Burman gave the music of 8 songs, and the song " Mere Pyaar Balam, Mere Bhole Balaam" was directed and sang by Kishore Kumar.
Some Other Hindi Comedy Movies on Amazon Prime you can watch
Hera Pheri-2000 starring Akshay Kumar, Sunil Shetty, Paresh Rawal and Tabu
Andaz Apna Apna– 1994 starring Aamir Khan, Salman Khan, Raveena Tandon, Karishma Kapoor, Paresh Rawal and Shakti Kapoor
Hindi Medium– 2017 Starring Irrfan Khan, Saba Qamar, Deepak Dobriyal, Tillotama Shome, Amrita Singh
Golmaal Fun Unlimited-2006 starring Ajay Devgn, Sharman Joshi, Arshad Warsi, Tushar Kapoor, Sanjay Mishra and Paresh Rawal
Dhol- 2007 starring Tushar Kapoor, Sharman Joshi, Kunal Khemmu, Rajpal Yadav, Tanushree Dutta and Om Puri
Also Read