Today we will discuss Bollywood Movies Which Made History and why we consider them as landmark setters. What different they did that made them unique and why people remember them even after years.
It is difficult to say when the first Hindi film was made, but the silent film Raja Harishchandra, released in 1913, has been considered the first full-length Hindi movie. It was directed by the late Dadasaheb Phalke, who is also considered the father of the Hindi film world.
Then came 1931 when for the first time, people saw a movie on the screen in which the actors were speaking and they could listen to them. And the movie was Alam Ara which starred Prithviraj Kapoor and Zubeida.
Kisan Kanya, released in 1937, became the first color movie in India. Moti B Gidwani directed the movie, and Ardeshir Irani produced the movie. Although this movie did not get much success, it is always remembered for being the first color movie of Indian cinema.
From 1913 to 2021, Bollywood has grown manifold, from technology to the number of movies made every year. In this post, we will cover five movies that made history and changed the dimensions of the cine world.
Bollywood Movies Which Made History
Mother India
Mughal-e-Azam
Aradhana
Sholay
Kaho Naa Pyaar Hai
Let's discuss why these Bollywood movies are historic and what they achieved.
Mother India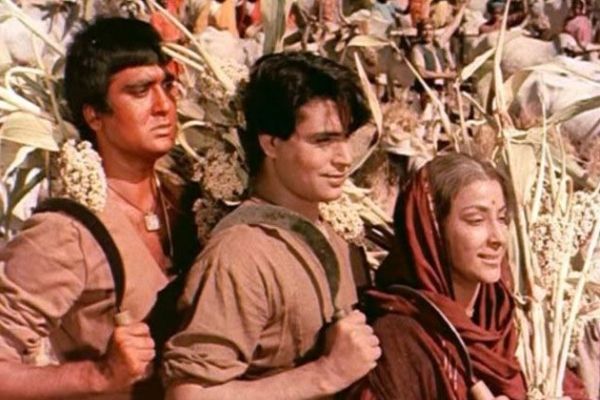 The first movie in the list of Bollywood movies which made history is Mehboob Khan's Mother India.
Mother India, released in 1957, is still counted among the best films of Hindi cinema. The director of this film was the famous producer and director Mehboob Khan. While actors like Nargis, Sunil Dutt, Rajendra Kumar, Rajkumar worked in it. Mother India was the first Bollywood movie to be nominated in the Best Foreign Language Film Category in 1958. It lost by just one vote at the third poll to the Italian movie Nights of Cabiria.
Released only a few years after independence, this movie featured the character of a strong woman for the first time, while at that time, most Indians thought that women are weak or that women's work is limited to the kitchen.
Nargis was a superstar at that time and all three male actors were comparatively new.
In this movie, Nargis played the role of a mother whose husband leaves home in her youth. How she raises her two children and how she fights the world was the movie's main story. How does a greedy creditor, Lala (Kanhaiya Lal), torture them and always try to get Radha's body after her husband leaves.
Her younger son Birju (Sunil Dutt) is hot-headed and becomes a bandit, while her other son Ramu (Rajendra Kumar), is cool-headed and remains with his mother.
On the day of Lala's daughter's wedding, Birju kills Lala and kidnaps her daughter. And when he tries to escape from the village by riding on a horse, his mother gives asks him to stop, but he does not stop. After which his mother shoots at him, Birju dies in his mother's lap.
With the help of this movie, an attempt was made to show that an Indian mother loves her children very much, but when he goes against her principles, she can sacrifice her children too.
Mother India also received several Filmfare Awards such as Best Actress, Best Film, Best Director, Best Cinematography, Best Sound Design. Mother India had earned around 8 crores, 13 times it's budget.
Cast
Nargis- Radha
Sunil Dutt- Birju
Rajendra Kumar- Ramu
Raaj Kumar- Shamu
Kanhaiya Lal- Lala
Kumkum- Champa
Mukri- Shambhu
Mughal-e-Azam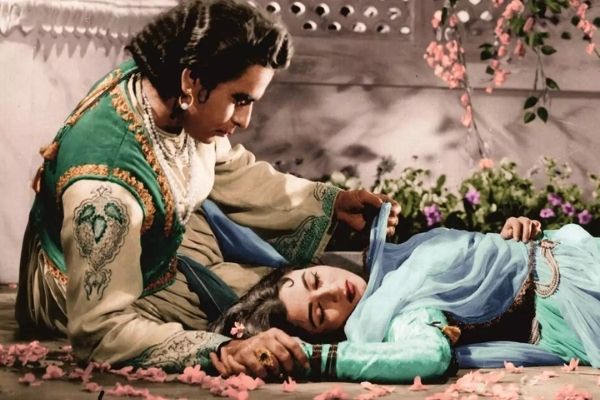 The second movie in the list of Bollywood movies which made history is K.Asif's Mughal-e-Azam.
If you come across the question What are some epic scenes in Indian movies? Then the war portion of the movie definitely qualifies for it. Remember it was the 1950s, not 2021 when the film shooting took place and shooting with so many people, animals, equipment needed something special.
Mughal-e-Azam, directed by K. Asif, is a landmark film of Indian cinema. It took more than 14 years to make this film. K. Asif has directed only two films in his life, Phool in 1945 and Mughal-e-Azam in 1960.
His third movie, "Love and God," was incomplete, featuring Sanjeev Kumar but was released in 1986. The film initially featured Guru Dutt as the lead character, but after the demise of Dutt, Sanjeev Kumar stepped in.
K Asif was making Mughal-e-Azam with his friend Shiraz Ali Hakeem. Chandramohan DK Sapru and Nargis were initially chosen for Salim and Anarkali roles. And in 1946 its shooting started in Bombay Talkies. But at the time of partition of India and Pakistan in 1947, Shiraz Ali Hakim migrated to Pakistan, due to which the project was halted.
Truckloads of reels were scrapped but K. Asif did not scrap his dream.
Later K Asif narrated the story of Mughal-e-Azam to Shapoorji Palonji Mistry. Although Shapoorji Palonji Mistry had no experience making or producing a film, he was very interested in Akbar's story. Due to this, he agreed to produce this film. The second phase started in 1952.
Later Dilip Kumar, Prithviraj Kapoor, Madhubala, Durga Khote, Murad became part of this film. K Asif did not want any shortcomings in this film, so he worked on its nuances, such as the actors' dress, shoes, weapons, jewelry, etc.
Durga Khote was the only actor who was part of the Mughal-e-Azam both times.
Specialists were called from other cities for every small aspect of the movie. Like tailors were called from Delhi for dresses, the goldsmith was called from Surat for jewelry, blacksmiths were called from Rajasthan for weapons, and the shoes of the cast were ordered from Agra to make everything look natural in the film.
Naushad was the music director for this film. It is said that Naushad made Shakil write the lyrics of the song "Pyar Kiya To Darna Kya" 105 times till he found perfection. Lata Mangeshkar sang some lines of this song in three different rooms in the studio, and finally, they were overlapped to produce an echo effect because in those days, there was no such technology to create these things with the help of machines and most of the things were done manually.
Lata Mangeskar, in an interview, denied the rumors around the song that Naushad Saheb made her sing the song in the studio bathroom. The song was shot in technicolor. 10 lakh rupees were spent to shoot this song, whereas in those days a movie could have been made with this budget.
K Asif wanted the entire film to be made into technicolor, but the distributors of Mughal-e-Azam were not in favor of waiting. So this song is the only one in this movie in Technicolor, and the rest of the movie is Black and White.
About 1.5 crore rupees were spent preparing this film, while the film earned more than 11 crores rupees. The film became the highest-grossing Bollywood movie, and this record remained for the next 15 years. It was the first movie released in the famous "Maratha Mandir" theatre in Bombay.
The 1975 film Sholay broke Mughal-e-Azam's earnings record.
Cast
Dilip Kumar- Sehzade Salim
Prithviraj Kapoor- Shehenshah Akbar
Madhubala- Anarkali
Durga Khote- Maharani Jodha Bai
Ajit Khan- Durjan singh
Murad- Raja Man Singh
Surendra- Tansen
Tabassum- Courtesan
Aradhana
The third movie on the list of Bollywood movies which made history is Shakti Samantha's Aradhana.
There is a record in the name of Rajesh Khanna, which no one in Bollywood has broken to date, and this record is to give 17 consecutive blockbuster Bollywood movies, and this started with the film Aradhana. Before Aradhana, some Rajesh Khanna films were released, which did not do well at the box office.
But the film, directed by Shakti Samanta, gave Bollywood its first superstar. The film's music director was SD Burman, and the assistant music director was his son RD Burman. The title song of this movie was sung by SD Burman himself, which was "Safal Hogi Teri Aradhana."
The film starred actors like Sharmila Tagore, Farida Jalal, Ashok Kumar, Sujit Kumar, along with Rajesh Khanna. Showman Subash Ghai also had a cameo in the movie as Rajesh Khanna's friend.
All the songs of this film were hits, and people still hum them. The playback singers in the film were Kishore Kumar, Mohammad Rafi, Lata Mangeshkar, and Asha Bhosle. Kishore Kumar sang for the first time for an artist other than himself and Devanand.
The gross income of the movie was 17 to 18 crores worldwide.
Cast
Rajesh Khanna- Arun Saxena/ Suraj Saxena (Double Role)
Sharmila Tagore- Vandhana Tripathi
Sujit Kumar- Madan Verma (friend of Arun Saxena)
Farida Jalal- Renu
Madan Puri- Jail Warden
Ashok Kumar- Air Commando
Manmohan- Shyam
Subash Ghai- Prakash
Sholay
The fourth movie in the list of Bollywood movies which made history is Ramesh Sippy's Sholay.
If Aradhana had given Bollywood its first superstar, then Sholay gave Bollywood its biggest superstar. Released in 1975, Sholay broke the 15-year-old Mughal-e-Azam record. Directed by Ramesh Sippy, the film made many an overnight star like Amitabh Bachchan, Amjad Khan, Jagdeep, Mac Mohan. Apart from these stars, there were Sanjeev Kumar, Dharmendra, Jaya Bachchan, Hema Malini, Ak Hangal, Asrani.
The story of this film was written by the duo of Salim Javed and music was given by RD Burman. In this film, RD Burman also sang a song that was quite famous. That song was Mehbooba O Mehbooba and this song featured the famous dancer Helen.
Sholay had a budget of about 3 crores, while this movie collected 15 crores in India and collected about 35 crores worldwide. Sholay collected 10 lakh on the first day and Rs 95 lakh on the first week. Sholay was the first Bollywood film to celebrate its silver jubilee, meaning it ran for 25 weeks at many theaters.
Sholay's Jai character was first offered to Shatrughan Sinha, but with the recommendation of Dharmendra, this character was given to Amitabh Bachchan. The Gabbar Singh character was first offered to Danny Denzongpa, but due to dates issue, Amjad Khan did the role later.
Most of the shooting of this film was done in a small village Ramnagar between Bangalore and Mysore, which is shown in the film by the name of Ramgarh. This story was rejected by many directors, saying that there was no merit in this story, and finally, Salim Javed narrated the story to Ramesh Sippy and his father, GP Sippy. Ramesh Sippy liked this story very much and asked Salim Javed to work on its script.
What are some epic scenes in Indian movies? : the Famous Thakur and Gabbar scenes are still one the most iconic scenes of Indian Cinema history.
Cast
Amitabh Bachchan- Jai
Dharmendra- Viru
Hema Malini- Basanti
Sanjiv Kumar- Thakur Baldev Singh
Jaya Bachchan- Radha
Mac Mohan- Sambha
AK Hangal- Imam Sahab
Viju Khote- Kalia
Jagdeep- Shurma Bhopali
Asrani- Jailer
Keshto Mukherjee- Hariram ( Inmate and messenger in Jail)
Raj Kishore- Prisoner
Kaho Na Pyar Hai
Kaho Naa Pyaar Hai, released on January 14, 2000, is the last film on this list of Bollywood movies which made history.
You must be wondering why Kaho Naa Pyaar Hai is on such a historical film list?
If Aradhana gave Bollywood the first superstar and Sholay gave Bollywood the biggest superstar, then Kaho Naa Pyaar Hai gave Bollywood its last Superstar, and that is Hrithik Roshan. The film did 44.27 crores business in India and approx 80 crores worldwide. If you feel that 44 crores are a tiny amount, let us tell you that 44 crores of 2000 are more than today's 290 crores rupees.
Hrithik's father, Rakesh Roshan, directed this film and also was the story writer. Rakesh Roshan had said in an interview that the idea of this story came to him after watching the movie Aradhana. He wanted to twist the story of Aradhana, so he changed the plot to a love story rather than a mother-son story.
Initially, Kareena Kapoor was the female lead of this film. But after 2 days of shooting, there was some rift between Rakesh Roshan and Kareena Kapoor's mother, Babita, due to which Kareena left the film. In Kaho Naa Pyaar Hai, Kareena Kareena Kapoor can be seen in a scene, but that scene is from a long shot, so Kareena's face is not fully visible.
After Kareena left the movie, Rakesh Roshan went to a wedding where he met his school days friend Amit Patel. A beautiful girl was standing next to Amit Patel. And when he asked Amit who it was, his friend said that it was his daughter.
Rakesh Roshan was impressed with her looks and was searching for a new face of her age. Then Rakesh Roshan offered Amisha Patel to work on his upcoming movie. In this way, Amisha Patel was cast as the female lead in this film.
Apart from Hrithik and Ameesha, the film also starred Anupam Kher, Dalip Tahil, Mohnish Behl, Ashish Vidyarthi, Satish Shah, Farida Jalal. Amisha Patel's real-life mother, Asha Patel, also played a small role as Hrithik Roshan's (Raj Chopra) mother.
The music of this film was given by Rakesh Roshan's brother Rajesh Roshan and the playback singers were Kumar Sanu, Udit Narayan, Lucky Ali, Alka Yagnik, and Babul Supriyo.
This film started getting a good response from Day One, and in the first week, it was known that this film has proved to be the biggest hit of the decade. A new trend started with this movie. After Kaho Na Pyar Hai, Bollywood heroes who previously did not pay much attention to dance now started paying a lot of attention and at the same time were keen to build a muscular body.
Cast
Hritik Roshan- Rohit/Raj (Double role)
Ameesha Patel- Soniya Saxena
Anupam Kher- Saxena/ Sirji
Dilip Tahil- Shakti Malik
Mohnish Behl- Inspector Kadam
Asish Vidyarthi- Inspector Shinde
Farida Jalal- Lilly
Satish Shah- Landlord
Vrajesh Hirjee- Tony
Payal Malhotra- Sobhna (Girl on the ship)
Asha Patel- Mrs. Chopra (Raj's Mother)
Wrapping Up
So these were the 5 Bollywood movies that made history in their era and did something different. Many of you may agree and some may not abut the list but we have stated our reason for every movie we have picked.