Odiha News: Seeing the stature of today's Cricket World Cup, no one can believe that when it started, many people were not excited about it. Cricket is played across the world, and it's gaining popularity day by day.
The style and equipment of modern-day cricket have changed a lot. The biggest event in Cricket is the world cup. Previously it was restricted to the 50 overs world cup, but now T20I also has its own world cup. But still, the 50 overs Cricket world cup is regarded higher as it is the longer and older format. But one-day cricket was not always 50 overs, neither it had 6 deliveries in an over when it started.
| Year | Chapmion | Runner-up | Result |
| --- | --- | --- | --- |
| 1975 | West Indies | Australia | West Indies won by 17 runs |
| 1979 | West Indies | England | West Indies won by 92 runs |
| 1983 | India | West Indies | India won by 43 runs |
| 1987 | Australia | England | Australia won by 7 runs |
| 1992 | Pakistan | England | Pakistan won by 22 runs |
| 1996 | Sri Lanka | Australia | Sri Lanka won by 7 wickets |
| 1999 | Australia | Pakistan | Australia won by 8 wickets |
| 2003 | Australia | India | Australia won by 125 runs |
| 2007 | Australia | Sri Lanka | Australia won by 53 runs |
| 2011 | India | Sri Lanka | India won by 6 wickets |
| 2015 | Australia | New Zealand | Australia won by 7 wickets |
| 2019 | England | New Zealand | Match tied after regular play and super over; England won on boundary count |
The start of One Day Cricket
Before 1971, when someone referred to a cricket match, it only meant a 5-day test match where both teams fought for five long days. In 1971 the one-day format was first played, and that too accidentally. A test match between England and Australia was scheduled to occur in Melbourne Cricket Ground, but the match could not start due to rain.
The first three days were washed away in the rain, and then both teams agreed to play a one-day match on the fifth day. It was decided that both teams will play 40 overs each, with one over consisting of 8 deliveries.
Australia won the first ODI and Ian Chapell became the first player to hit a six in the format.
ODI before Cricket World Cup
Before the 1975 World Cup, only 18 ODIs were played, in which England played the most ODIs, and that was 15. Before the 1975 World Cup, England had the most ODI cricket experience since 1963, since England players used to play one-day matches domestically. England hosted the highest number of ODIs, it was 11, and the second most ODIs were played in New Zealand, which was 5. India played only two ODIs before the 1975 World Cup.
At that time, there were not many restrictions in ODIs like today, as if there was nothing by saying 30-yard circle at that time, there was no limit of bouncers in one over. And the biggest thing is that the cricketing gears of today's date were also not there.
The First Cricket World Cup
Almost Four years after the first one-day match was played, the first cricket world cup was organized in England in June 1975. Prudential was the sponsor of the series, so it's often referred to as the Prudential cup. Total Eight teams participated in the first edition of the ICC Men's Cricket World Cup.
Six test-playing nations, including India, Pakistan, England, Australia, West Indies, and New Zealand, with one nontest playing nation Sri Lanka and a team of four African nations known as East Africa. South Africa was banned from taking part in any international form of cricket due to the blacks' political unrest and discrimination. It returned to cricket only in 1992.
The first 3 cricket world cups played in England were all 60 overs. For the first time in 1987, when the World Cup was played outside England, it was converted into 50 overs.
The first three editions of cricket world cups had a 60 overs format, and it only changed to a 50 overs format when the World cup was played first time outside of England. In 1987 India hosted the world cup, and Reliance Industries were the sponsor of the series.
Also Read: IPL 2022: 15 Most Beautiful Female Anchors In IPL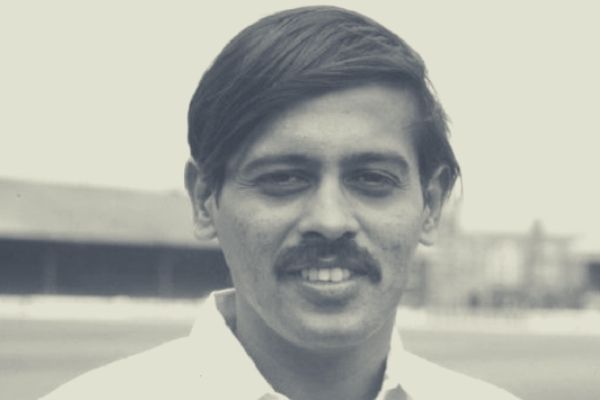 The team India was led by off-spinner Srinivasaraghavan Venkataraghavan, who later also became a cricket umpire. The Indian team did not perform that well though having some big names like Sunil Gavaskar, Gundapa Viswanath, Frookh Engineer, Bishan Singh Bedi.
India lost their first match against England when India scored only 132/3 in their entire 60 overs, chasing a huge total of 335. Sunil Gavaskar, who was regarded as one of India's best batsmen, played a bizarre inning of 36 not out from 174 deliveries. India lost the match by a margin of 202 runs.
India won their next match against a weak East Africa team but lost again in their third match against New Zealand. India was out of the tournament with just a win against a weak team.
No Asian team made it to the knockouts as Pakistan also won only one match against Sri Lanka and Sri Lanka lost its all three matches.
Australia, England, West Indies, and New Zealand were the four teams that qualified for the knockout. Australia played against England and West Indies Played against New Zealand.
Australia won the match by 4 wickets, and West Indies won their match by 5 wickets in the knockout stage against their respective opponents.
The Final of the First Cricket World Cup
The final was played on June 21, 1975, at the Lord's cricket ground.
Batting first, West Indies posted a total of 291 for a loss of 8 wickets in their 60 overs. Captain Clive Lloyd, who came to bat at number 5, scored a quickfire 102 from 85 balls. Sir Vivian Richards, who started his career in 1974, could not play a big inning as he got out for 5 runs.
The left-arm fast bowler of Australia, Gary Gilmour, took the highest wickets for his team. He finished with a figure of 48/5 from his 12 overs.
Chasing 292 Australian team got all out at a score of 274 in 58.4 overs. Ian Chappell was the highest run-scorer for Australia with 62. Keith Boyce, the right-arm medium pace bowler took 4 wickets for West Indies. Five Australian Batsmen were run out which ended their chance to win the world cup.
West Indies lifted the first-ever cricket world cup and also the second one too. Australia was the runners up in the first editions.
No batsman or bowlers from the Indian team were featured in the top five scorers or top five wicket-takers in the first edition of the Cricket World Cup. But the world cup saw some great players of the future who started their International careers around the world cup like Sir Vivian Richards from West Indies, Javed Miandad from Pakistan, among others.