Tanuja Samarth Mukherjee is a popular Indian actress who has also worked in Bengali, Marathi, and Hindi films. She is the younger sister of actress Nutan and the mother of famous Indian actresses Kajol and Tanisha Mukherjee.
Tanuja Samarth Mukherjee has mainly worked in Hindi films only. Tanuja is a versatile and talented actress who has devoted five decades of her life to Hindi films. She was active in Indian cinema from 1952 to 1975, then after some intervals from 2002 till now, she is contributing to the world of entertainment.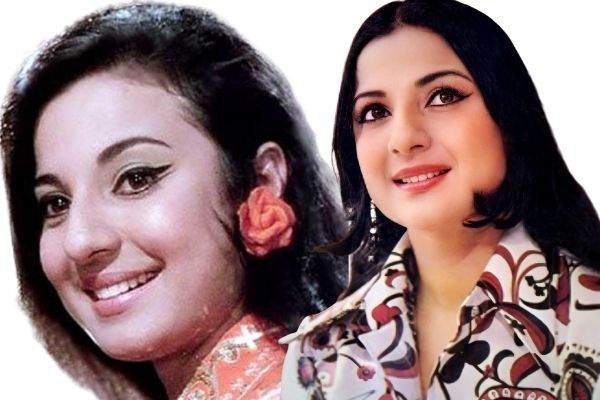 She appeared in a serial called Aarambh: Kahaani Devsena Ki in 2017 alongside Karthika Nair, Rajneesh Duggal, Madhoo, Tej Sapru, etc.
Tanuja Mukherjee biography
| | |
| --- | --- |
| Name | Tanuja Samarth Mukherjee |
| Date of birth | September 23, 1943 |
| Age | 80 |
| Tanuja Samarth's parents and Family | |
| Mother | Shobhna Samarth |
| Father | Kumarsen Samarth |
| Siblings | Nutan, Chatura Samarth, Reshma Samarth, Jaideep Samarth |
| Tanuja Samarth husband | Shomu Mukherjee |
| Children | Kajol, Tanishaa Mukerji |
| Relatives | Deb Mukherjee, Joy Mukherjee, Subbir Mukherjee, Rono Mukherjee, Shibani Maulik Mukherjee (from her Husband's side) Mohnish Bahl (Nephew), Ajay Devgn (Son-in-law) |
| Debut | Hamari Beti(1950) as a child artist, Chhabili (1960) as lead actress |
| Drink | Yes |
| Smoke | Yes |
Birth and education of Tanuja Samarth Mukherjee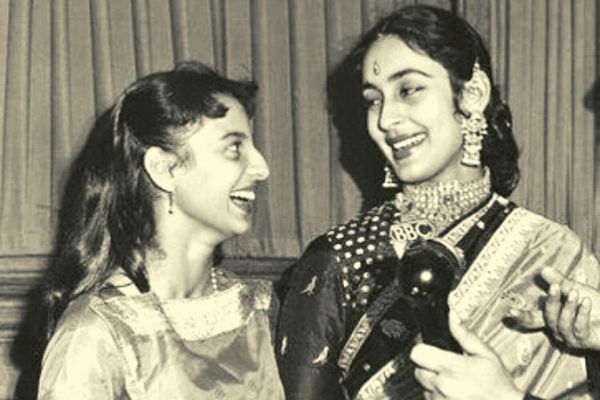 Tanuja Samarth was born on 23 September 1943 in Mumbai, Maharashtra, whom we know her by her famous name Tanuja Mukherjee.
Tanuja Mukherjee's early education took place in Diksha Villa Theresa, which was a kindergarten. Then after that, she was enrolled in Walsingham School. After that, she got enrolled in St. Joseph's Boarding School. According to Tanuja Mukherjee, she was not interested in studies at all.
Tanuja Mukherjee's Family Life
Tanuja was born into a Marathi family that had a filmy background. Tanuja's grandfather Ratan Bai and her aunt Nalini Jaywant 9first cousin of her mother also acted in the film.
Her father Kumarsen Samarth was a film producer and her mother Shobhana Samarth was a film actress.
Tanuja Mukherjee has three sisters and one brother. The elder from the lot was Nutan who was a famous film actress and her second sister's name is Chatur who is an artist and her third is Reshma. Her brother's name is Jaideep, he has also contributed to the acting world.
She married film producer Shomu Mukherjee in 1973. They have two daughters, one of them is named Kajol and the name of the other daughter is Tanisha Mukerji. Her elder daughter is a successful actress who is married to actor Ajay Devgn and has two children. In this way, there is also a son-in-law and relative in the family of Tanuja Mukherjee.
She is the aunt of actors Mohnish Behl, Rani Mukerji, Sarbani Mukherjee, and director Ayan Mukerji in the relationship.
Rani Mukerji, Sarbani Mukherjee, Ayam Mukherjee are her relatives from her husband's side. Let us also tell you she is the daughter-in-law of Kishore Kumar and Ashok Kumar. Her mother-in-law Sati Devi was the sister of Kishore and Ashok Kumar.
Personal life of Tanuja Samarth Mukherjee
Tanuja Samarth Mukherjee lived separately from her husband, but she did not divorce. Her husband died on 10 April 2008 at the age of 64 due to a heart attack. Tanuja Mukherjee's zodiac sign is Libra and her height is 1.57 meters.
Tanuja Mukherjee Career
We are describing below the year wise career of Tanuja Mukherjee which is as follows –
1950: Tanuja started her film career with the 1950 film Hamari Beti, in which her elder sister Nutan was the leading lady. In this film, she played the character of a girl child.
1960: As an adult, Tanuja acted in the film 'Chhabili' directed by her mother and sister Nutan. At that time he was 16 years old. In the same year, she also started his career in Bengali films.
1961: She was recognized as a heroine in the 1961 film 'Hamari Yaad Aayegi', which was directed by Kedar Sharma. Before this, she had discovered actors and actresses like Raj Kapoor, Madhubala, and Geeta Bali.
1963: This year he had a Bengali film named 'Deya Neya', in which his hero was Uttam Kumar.
1966: This year his film came 'Bahare Phir Bhi Aayengi'. This film was directed by Shahib Latif. Coincidentally, this film became the last film of the Guru Dutt team. Dharmendra was the leading actor in the movie and the movie also had Mala Sinha.
In this film, he encouraged Tanuja to be natural and spontaneous while learning the art of acting. Which gave a good result. Tanuja showed her acting prowess in an important supporting role in the hit film 'Jewel Thief' with stars like Dev Anand, Ashok Kumar, and Vyjanthimala.
1967: She has worked in the Bengali film 'Anthony Phiringi', which came in 1967.
1969: Her biggest hit film came this year which was named 'Jeeene Ki Raah'. In which her hero was Jeetendra. After this, she played a supporting actress in the film 'Paisa Aur Pyaar', for which she also received an award.
1970: Apart from this, the film 'Rajkumari' came in 1970. Her chemistry with Bengali film superstar Soumitra Chatterjee was well-received by the audience.
Apart from Bengali films, Tanuja has also done Gujarati films named 'Jakol', 'Nari Tu Narayani'.
1971: This year also his hit film was titled 'Hathi Mere Saathi' with Rajesh Khanna. 'Chal Chal Mere Haathi' was a blockbuster song from the movie.
After that, she acted in the films 'Mere Jeevan Saathi', 'Do Chor' and the 1972 film 'Ek Baar Muskrud Do'. Apart from this, she also did many films names are Pavitra Papi, Bhoot Bangla, Anubhav, etc.

After this, she kept a distance from films for many years, but when there was a problem in her married life, she turned to films again, keeping her distance from her husband. She started getting offers for supporting roles of heroes in films. She played the role of sister-in-law in the 1982 film 'Khudar'.
Controversy and Habits of Tanuja Samarth Mukherjee
Once Nutan had to fly to Chennai. She found Tanuja in the same plane on which she was about to go. She got off that flight and boarded another. This was the time when Nutan and her mother Shobhna Samarth were fighting case against each other in court.
Tanuja Mukherjee and her friend Anju Mahendru were once caught smoking at a function that was meant for children and they were the invited guests.
It is also reported that Tanuja drinks quite often also and she has passed these habits to her daughters Kajol and Tanisha.
Hope you have enjoyed the biography of Tanuja Samarth Mukherjee and if you are interested in Golden era actors then you can explore our biography section.