In this article, we look at some Bollywood actresses who smoke in real life. Bollywood celebrities like Deepika Padukone and Alia Bhatt have quit cigarettes, but some have not made the effort.
Bollywood actresses are always in the limelight, but so are the cigarettes they use. Smoking is a major health problem that is affecting people all around the world. However, this health problem is a major concern and is a very common problem among celebrities.
Bollywood actresses who smoke
Bollywood actors often play the role of a smoker in movies. They also do a lot of smoking in real life. A lot of people support them and say why not if they are smokers in real life. While that may be true, we must also consider the role these people play in society. They are seen as role models by a lot of people. This can have a bad impact on our society as a whole.
Priyanka Chopra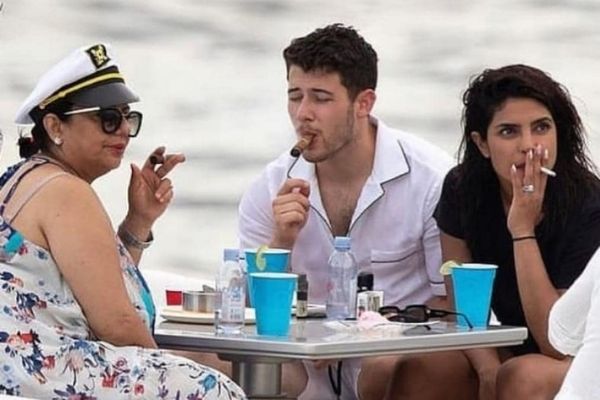 Priyanka Chopra, popularly known as Desi Girl in the industry, has buried her flag from Bollywood to Hollywood. In 2019, a photo of Priyanka Chopra went viral in which she was seen smoking a cigarette and together with her husband Nick Jonas and mother Madhu Chopra were seen smoking cigars.
Sumona Chakravarti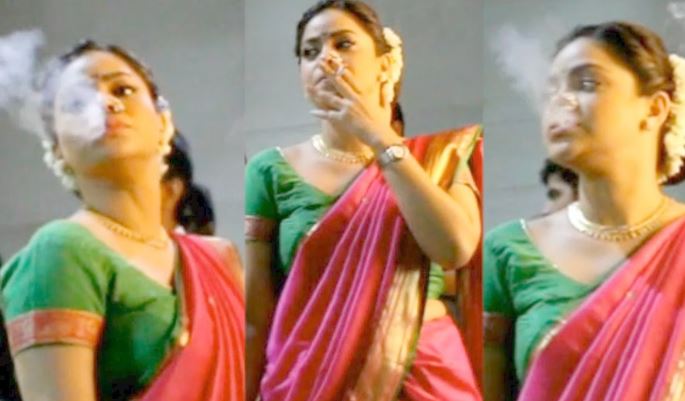 Actress Sumona Chakravarti was a chain smoker, although she claims that she has given up smoking completely. Sumona was found smoking behind the sets several times and a video of her smoking on the sets of The Kapil Sharma Show went viral.
Dimple Kapadia
Apart from her acting career, Dimple Kapadia, the superstar of the 80s and 90s, has been in discussions many times about her personal life. Be it because of her relationship with Rajesh Khanna or her affair with Sunny Deol. Dimple Kapadia smokes in her personal life and she still has not been able to give up this habit. A few years ago, a photo of her went viral in which she was seen abroad with Sunny Deol and in this photo, she was seen smoking.
Kangana Ranaut
Kangana Ranaut, who is called the Queen of Bollywood, was also a chain smoker at one time. He got this habit during the suiting of his movie 'Woh Lamhe' in which she had to give smoking scenes. Later she quit smoking by practising Yoga.
Mahira Khan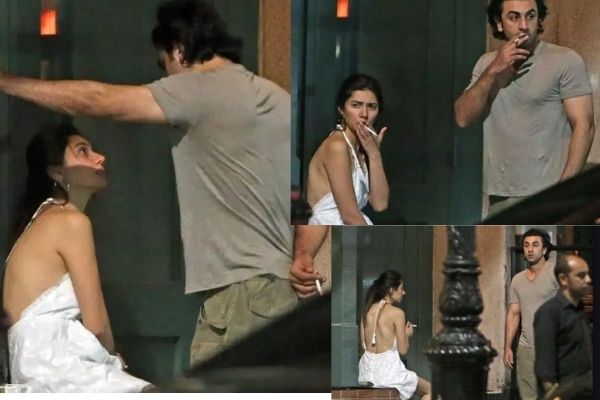 Pakistani actress Mahira Khan who worked opposite Shah Rukh Khan in the film Raees was found smoking with Ranbir Kapoor in New York. There were many rumours about this secret meeting of both of them at that time, one of which was rumoured that both were dating each other.
Rani Mukerji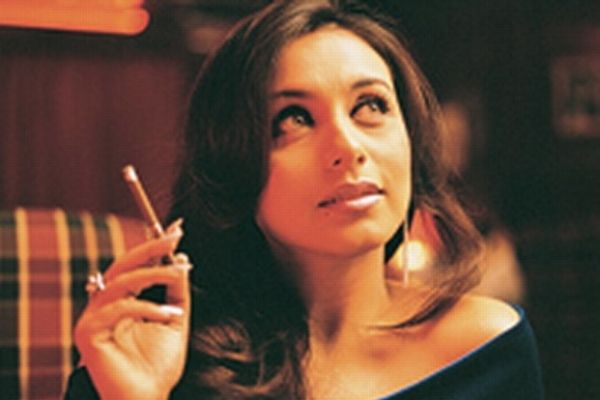 It is rumoured about Bollywood actress Rani Mukerji that she was also a chain smoker, although she has now given up smoking. Rani Mukerji is busy in her world after marrying Yash Chopra's son Aditya Chopra.
Sushmita Sen
Miss Universe and actress Sushmita Sen is also very fond of smoking. Sushmita has been seen smoking many times.
Manisha Koirala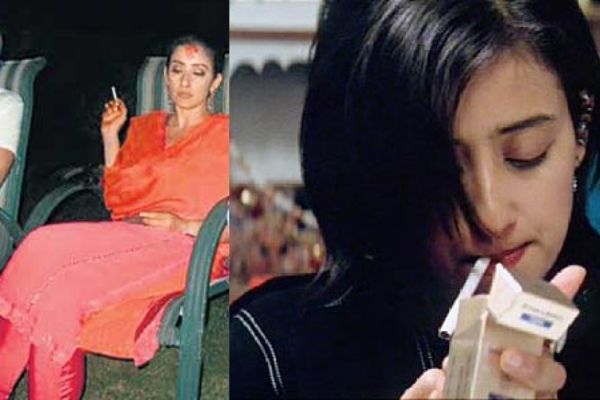 Manisha Koirala was a chain smoker in real life, and the actress was so addicted to it that she was photographed puffing away with her friends in her wedding gown on her wedding day. However, after battling cancer and surviving it, Manisha has finally decided to quit.
Konkona Sen Sharma
The talented Bengali and Bollywood actress is addicted to smoking and she never tried to hide it.
Karishma Tanna
Bollywood actress Karishma Tanna who took part in the Bigg Boss 8 was seen holding Cigarette packets in her hand many times. apart from that, she was even seen at other times enjoying her puff.
Tanuja
Superstar Tanuja Samarth of the 60s and 70s is a chain smoker and she has been smoking cigarettes for many years. Her daughter Kajol has earned a lot of fame in the field of acting and her elder sister Nutan was also a famous actress.
Anju Mahendru
Rajesh Khanna's first girlfriend and Tanuja's best friend Anju Mahendru is also a chain smoker. She and Tanuja have been seen many times smoking in public functions.
Tanisha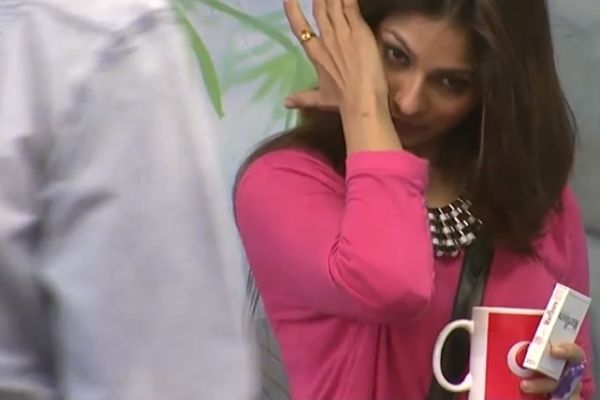 Like Tanuja, her younger daughter i.e. Tanisha also smokes cigarettes. Although there are many rumors that Kajol also has a habit of smoking cigarettes, but no confirmation has been made of this.
Riya Sen
Riya Sen, the younger daughter of Munmun Sen and the younger sister of Raima Sen, is also addicted to cigarettes. He has been seen smoking cigarettes many times.
Nargis Fakhri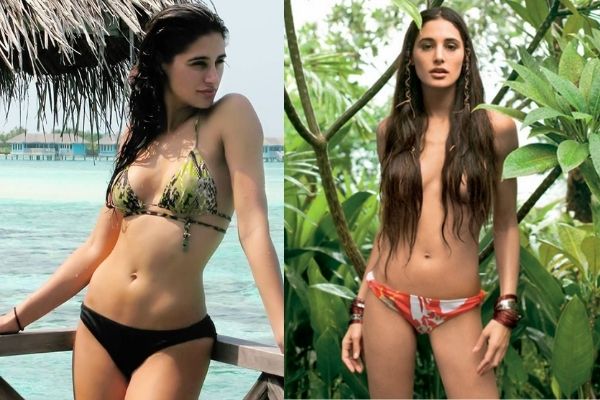 American-born Bollywood actress Nargis Fakhri who started her career with the 2011 film Rockstar comes to cigarette smoking and has been seen smoking several times.
Sara Khan
Sara Khan is an actress and model. In 2007, she was crowned Miss Bhopal. She has worked as an anchorperson for Doordarshan Madhya Pradesh and ETV. Sara is currently a contestant in Lock Upp.
Shweta Basu Prasad
Shweta Basu Prasad who made a name for herself as a child artist and later after growing up also appeared in the lead role in South Indian movies is a Chain Smoker.
Roopa Ganguly
Actress Roopa Ganguly, who became famous by the name of Draupadi in Mahabharata, is very cool in real life and Roopa also smokes a lot.
Last Word
So these were 18 Bollywood actresses who smoke In Real Life. Cigarette smoking is injurious to health and we appeal to our readers to stay away from such things.