Sadhana Shivdasani was one of the top actresses of the 1960s, and you can imagine her popularity because, in the 60s, the most popular haircut for girls was the Sadhna cut. We will discuss her early life, entry into movies, career, marriage, children, and death.
Whenever someone spells the name Sadhana Shivdasani we remember the superhit songs like "Lag Ja Gale Ke Phir Ye Hashin Sham" from Woh Kaun Thi, "Abhi Na Jao Chod Ke," "Tera Mera Prem Amar," etc. From the highest-paid actress in Bollywood to a lonely life, the journey of Sadhna's life.
Name
Sadhana Shivdasani
Nicknames
Sadhana, The Mystery Girl 
Profession(s)
Actress, Director, Producer
Famous for
'Sadhana hair cut'
Height (approx.)
Centimeters– 168 cm
Meters– 1.68 m
Feet & inches– 5' 6"
Eye Colour
Black
Hair Colour
Black
Debut Film
Love in Simla (as a lead actress in 1960)
Last Film
Ulfat Ki Nayee Manzeelein (1994)
Award
She received IIFA Lifetime Achievement Award in 2002
Date of Birth
2 September 1941 (Tuesday)
Birthplace
Karachi, Sind, British India (present-day Sindh, Pakistan)
Date of Death
25 December 2015
Place of Death
Mumbai, Maharashtra, India
Age (at the time of death)
74 Years
Death Cause
Cancer 
Zodiac sign
Virgo
Nationality
Indian
School
Auxilium Convent High School, Wadala, Mumbai
College
Jai Hind College, Mumbai
Marriage Date
7 March 1966

Husband
R.K. Nayyar (director, producer and screenwriter)

Children
Sadhana Shivdasani had no children
Early life of Sadhana Shivdasani
Born on 2nd September 1941 in Karachi, British India (now in Pakistan) in a Sindhi Hindu family. Her father was a big fan of actress and dancer Sadhna Bose and named her after her. She was the only big child of her parents.
After the India-Pakistan partition, when riots started, her family relocated to Bombay (Mumbai now). Her father and actress Babita Shivdasani or Babita Kapoor's father Hari Shivdasani were siblings. In that way, Babita is a cousin of Sadhana, and Kareena Kapoor and Karishma Kapoor are her nieces.
Sadhana Shivdasani was educated at her home by her mother till she was 8 years and then she joined Auxilium Convent school. After completing school she joined Jai Hind College in Mumbai.
Also Read-
Career, Marriage and Aftermath
Sadhana Shivdasani wanted to become an actress since her childhood. Though her family was not well off at that time as they used to live in the barracks in Sion, they still supported their daughters. And even she was allowed to go to the movies.
Sadhana idolized Nutan who was one of the prominent stars 1950s and she said in many interviews that due to Nutan she wanted to film a star.
Her father was supportive and reached out to his knowns in the industry. Sadhna got her first break, though a very small one in the Raj Kapoor and Nargi's starer Shree 420. She appeared in the song "Mood Mood Ke Na Dekh Mood Mood Ke" as an extra, which featured Nadira in the main role. Sadhana was just 14 years at that time.
Later a filmmaker spotted her during the college drama and signed her for the first Sindhi movie in India called "Abaana," which was released in 1958. She was paid only One Rupee as a token for this movie.
During the promotion of her first movie, a photograph of her was published in a film magazine which changed her life and made an ordinary college-going girl a star. The photograph was noticed by Sashadhar Mukherjee, a renowned producer of India at that time. He was searching for a new face to cast her in his upcoming movie opposite his son Joy Mukherjee who was also making his debut in Hindi cinema.
So they started shooting for the movie in a few days. Director R.K. Nayyar marked that Sadhana has a slightly broad forehead, so he suggested a hairstyle that will hide her forehead. He suggested her one of his favourite Hollywood actress Audrey Hepburn hairstyles. Inspired by her haircut Sadhna styled her hair and the rest is history. In the 60s there was a haircut for women that was dedicated to Sadhna.
Love in Shimla was released on 4th March 1960 and was soon declared as a blockbuster. It became the fifth highest-earning movie of the year 1960.
It gave the required kickstart to Sadhna's career and She signed movies opposite big stars like Dev Anand, Rajendra Kumar, Manoj Kumar, Shammi Kapoor, Sunil Dutt, Raj Kapoor etc.
In 1964 she worked in the mystery film "Woh Kaun Thi" opposite Manoj Kumar. Raj Khosla directed the film, and Sadhana had a double role in the movie. The movie became a super hit, and Manoj Kumar even got the best actor award from Filmfare in the 12th Filmfare awards. Songs like "Lag Ja gale" were chartbusters and even are quite popular till today.
Sadhana was also nominated in the best actress category, which she lost to Vyjantimala for the film Sangam. Sadhna gave some brilliant performances in movies but could not grab the Filmfare award in her career.
After "Wo Kaun Thi," Raj Khosla and Sadhana worked in two more suspense-thriller films named Mera Saaya (1966) and Anita (1967). Sadhna had a double role in all three movies in which she worked with Raj Khosla.
Sadhan also worked with Guru Dutt in a movie called "Picnic" but the movie could not be completed as Guru Dutt died in 1964 due to an overdose of liquor and sleeping pills.
She did two movies with Dev Anand who was a superstar at that time. During the shooting of her first movie, she developed a love relationship with the director of the movie R.K Nayyar and in 1966 both got married.
After marriage, she took a break from films, and many thought that she is out of films due to marriage. But she had serious health problems with her thyroid, and she went to Boston for treatment, and she recovered, but there was a physical change. The thyroid condition affected the appearance of her beautiful eyes.
After she returned, it is reported that her husband's financial condition was not in good shape. Due to this, she returned to the acting world and appeared in movies like "Intaquam" and "Ek Phool Do Mali."
Sadhana was at the pick of her career then, and it was reported that she was the highest-paid actress in Bollywood of the late 1960s. It was reported that Arzoo Rajendra Kumar had to reduce his fee for the movie so that producer Ramand Sagar could afford Sadhna. She acted in 33 movies in her career and out of which 27 movies were blockbusters.
Around 1972 when she started getting character roles which she was unwilling to accept and stopped appearing in movies.
Sadhna's marriage saw some ups and downs but remained intact until her husband died in 1995. The couple did not have any children.
Filmography/ Movies of Sadhana Shivdasani
| | | |
| --- | --- | --- |
| Sl No | Movie Name | Year |
| 1 | Shree 420 | 1955 |
| 2 | Abana | 1958 |
| 3 | Sahara | 1958 |
| 4 | Love in Simla | 1960 |
| 5 | Parakh | 1960 |
| 6 | Hum Dono | 1961 |
| 7 | Prem Patra | 1962 |
| 8 | Man Mauji | 1962 |
| 9 | Ek Musafir Ek Hasina | 1962 |
| 10 | Asli-Naqli | 1962 |
| 11 | Mere Mehboob | 1963 |
| 12 | Woh Kaun Thi? | 1964 |
| 13 | Rajkumar | 1964 |
| 14 | Picnic | 1964 |
| 15 | Dulha Dulhan | 1964 |
| 16 | Waqt | 1965 |
| 17 | Arzoo | 1965 |
| 18 | Mera Saaya | 1966 |
| 19 | Gaban | 1966 |
| 20 | Budtameez | 1966 |
| 21 | Anita | 1967 |
| 22 | Sachaai | 1969 |
| 23 | Intaquam | 1969 |
| 24 | Ek Phool Do Mali | 1969 |
| 25 | Ishq Par Zor Nahin | 1970 |
| 26 | Aap Aye Bahaar Ayee | 1971 |
| 27 | Dil Daulat Duniya | 1972 |
| 28 | Geeta Mera Naam | 1974 |
| 29 | Chhote Sarkar | 1974 |
| 30 | Vandana | 1975 |
| 31 | Amaanat | 1977 |
| 32 | Mehfil | 1981 |
| 33 | Ulfat Ki Nayee Manzeelein | 1994 |
Sadhana and Asha Bhosle controversy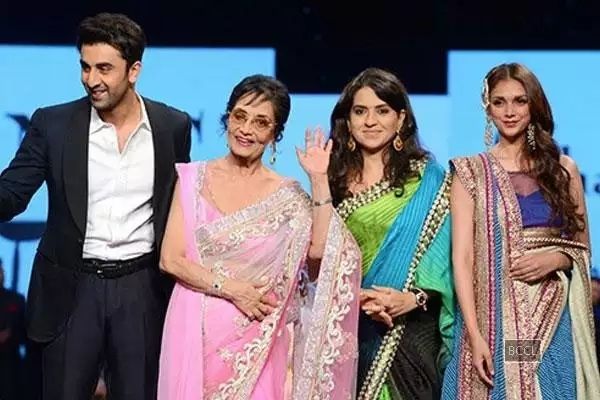 In her last days, Sadhna was busy in court cases regarding the house in Khar where she used to stay. Sadhna stayed there for over 50 years, and the place originally belonged to singer Asha Bhosle's first husband, Ganpatrao Bhosle.
In 1966 Ganpatrao Bhosle passed away and in 1969 court-ordered to was to be sold and divided into eight equal shares.
Sadhna resided on the ground floor and on the second floor resided a builder called Yusuf Lakdawala. In 2010, Sadhana filed a police case against Lakdawala that he has threatened her to vacant her place.
Due to the FIR, Lakdawala was arrested by police and later was released on bail. After his release, Yusuf Lakdawala filed a defamation case in Bandra Magistrate Court and stated that the actress has falsely dragged him into the case.
Asha Bhosle also filed an FIR against the actress at Santacruz police station stating that she was trying to encroach the garden area.
Sadhana Shivdasani Death
Sadhana died on 25th December 2015 due to prolonged illness. Bollywood personalities like Tabassum, Salim Khan, and Annu Kapoor attended her funeral.