You've probably seen Paresh Rawal in a number of roles in Hindi films, sometimes in character roles, sometimes as a villain, and occasionally in comedies. Paresh is from Gujarat, and the Indian government has awarded him the Padam Bhushan.
Rawal has done numerous movies with actors like Nana Patekar, Akshay Kumar, and Sunil Shetty. Most of them are comedies though, few are serious movies. Many of his fans waiting for the third installment of Hera Pheri, but there is no confirmed news about the movie.
As a comedian in Indian cinema, Paresh Rawal won the Filmfare Award for the movie Hera Pheri in 2001. Apart from being an actor and producer he is also a politician and is very vocal about the country.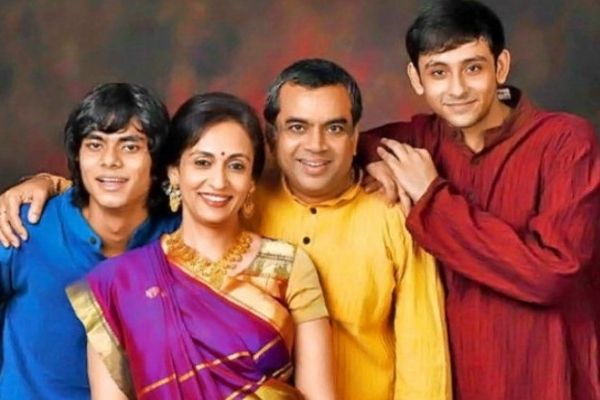 He got his first Filmfare award for the best negative role in the movie Sir in 1994 and again he got Filmfare award for a comic role in 2001 for the movie Awara Pagal Deewana. He also won National Award for Sir.
Rawal was born on May 30, 1950 and is a Hindi cinema actor. In 2014, he received the Padma Shri award. In 1994, he was nominated for a National Film Award for his work as a supporting role. Following that, he won the Filmfare Award for Best Comedian. In Ketan Mehta's film Sardar, it was seen in the lead role of independence warrior Vallabhbhai Patel.
Dahyalal Rawal is Paresh Rawal's father's name and he was in service and then started his own business (textile machinery). His mother's name is not known but she was a housewife.
Paresh Rawal Wife and Children
Swaroop Sampat, who was a Bollywood actress, is Paresh Rawal's wife. Let me also mention that Sampat has earned the title of Miss India Universe in 1979 and also represented India in the Miss Universe contest. She has also appeared in many movies like Naram Garam, Sawal, Himmatwala, Ki and Ka, Uri etc.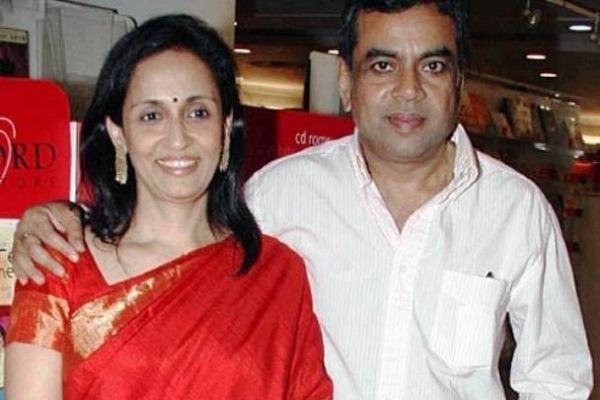 Aditya Rawal and Aniruddh Rawal are the names of Paresh's two sons. Both his sons are interested in acting, as told by their mother in an interview. Naseeruddin Shah trained Aniruddh, and he started his career as an assistant director in the Salman Khan and Anushka Sharma starer Sultan.
Aditya is also all set to start his acting career in Bollywood with a movie made by Anurag Kashyap.
He has appeared in Hindi, Gujrati and Telugu movies. Also, he regularly appears in theatres. His comic roles in Hera Pheri, Awara Pagal Deewana, Hungama, Hulchul, Welcome were appreciated by fans.
Paresh Rawal Comedy Movies
Paresh Rawal first recognized comedy movie was Andaz Apna Apna, in which he had a double role. Before that, he used to appear in negative or character roles primarily. But his comic timing went to the next level with the movie Hera Pheri released in 2000.
After Hera Pheri he appeared in many comedy movies like Hungama, Bhagam Bhag, Welcome, Bhool Bhulaiya, Golmaal, Hulchul, Awara Pagal Deewana, Dewwane Hue Pagaal, Chup Chup Ke, Ready, De Dana Dan, Fun2shh etc.
There is long list of Paresh Rawal comedy movies after 2000 as his fans liked him in comic roles and his movies received good box office returns.
Also read- 18 College Life Bollywood Movies That Will Remind You Of College Days
Paresh Rawal Details
| | |
| --- | --- |
| Full Name | Paresh Dahyalal Rawal |
| DOB | 30th May 1955 |
| Age | 67 |
| Father Name | Dahyalal Rawal |
| Place of Birth | Mumbai |
| Father's Occupation | Service and then business (textile machinery) |
| Mother's occupation | Housewife |
| Ancestry | Gujrati |
| Siblings | One brother and two sisters, Paresh is the second in 4 children |
| Education | B.Com, Narsee Monjee College of Commerce and Economics, Vile Parle, Mumbai |
| Professional Theater starting year | 1972 |
| Religion | Hindu |
| Caste | Rajput |
| Height | 5 feet 8 inch |
| Wife | Swaroop Sampat |
| Children | Aditya Rawal and Anirudh Rawal |
| Debut in Bollywood | Arjun, 1985 |
| Debut in Movie | Naseeb Ni Balihari (Gujrati) |
| Politics | Won 2014 Lok Sabha Election from Ahmedabad by 3,26,636 votes |
| Paresh Rawal Net Worth | 94 Crores |
Paresh Rawal: Life, Family, Movies and Networth
Paresh Rawal's movie is Hungama 2 which was released on OTT in August 2021 and had Paresh Rawal, Shilpa Shetty, Parintha Subash, Manoj Joshi, Rajpal Yadav, Johnny Lever, and Tiku Talsania in lead roles. The movie is a sequel of 2003 hit Hungama and directed by Priyadarshan.
Paresh Rawal Upcoming movies
Paresh is a busy actor and here are some movies that are in process and will be released soon.
Aankh Micholi
Malamaal Weekly 2
Hera Pheri 3
Namune
Sharmaji Namkeen
The Storyteller
FAQs
How much is Paresh Rawal worth?
His net worth is 94 crores Rupees.
Who is Paresh Rawal's wife?
His wife is Swaroop Sampat who is a former miss India and Bollywood actress.
Is Paresh Rawal Gujarati?
Yes, Paresh Rawal is Gujrati by birth but he is born and brought up in Mumbai.
How old is Paresh?
On May 30th,2021, Paresh Rawal completed 66 years.
Who is Paresh Rawal son?
He has two sons named Aditya Rawal and Anirudh Rawal.
Who is the father of Paresh Rawal?
Dahyalal Rawal, a businessman.
Is Rawal a Brahmin?
No, he belongs to Rajput family.