Bollywood veteran actor Sunil Dutt, whose love story with the beautiful superstar of the 1950s, Nargis Dutt, made many headlines and was no less than a superhit masala Bollywood movie script.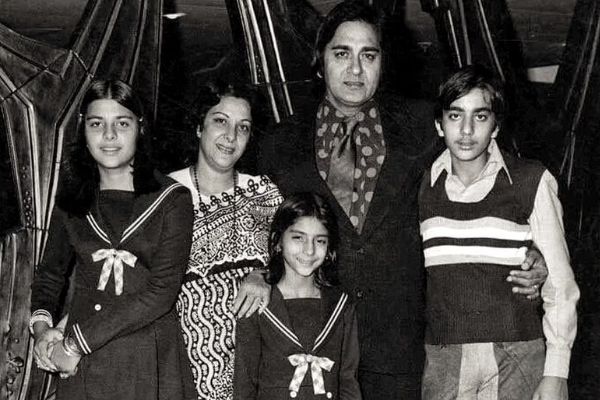 Sunil Dutt Biography
Real Name
Balraj Dutt
Nickname
Dutt Sahab
Profession
Actor, Producer, Director, and Politician
Party
Indian National Congress (INC)

Height (approx.)
Centimeters- 178 cm
Meters- 1.78 m
Feet Inches- 5' 10"
Weight (approx.)
Kilograms- 74 kg
Pounds- 163 lbs
Eye Colour
Dark Brown
Hair Colour
Black
Date of Birth
6 June 1929
Birth Place
Khurd Village, Jhelum, Punjab Province, British India
Date of Death
25 May 2005
Place of Death
At his residence in Bandra, Mumbai, India
Death Cause
Heart Attack
Age at the time of death
75 Years
Zodiac sign/Sun sign
Gemini
Nationality
Indian
Hometown
Mumbai, Maharashtra, India
School
Not Known
College
Jai Hind College, Mumbai, India
Educational Qualification
B.A (Hons.) in History in 1954 from Jai Hind College Bombay (now Mumbai)
Debut
Hindi Film: Railway Platform (1955)
Punjabi Film: Man Jeete Jag Jeet (1973)

Last Film
Munna Bhai M.B.B.S. (2003)

Family
Father– Diwan Raghunath Dutt
Mother– Kulwantidevi Dutt
Brother– Som Dutt (actor)
Sister– Raj Rani Bali
Religion
Hinduism
Caste
Mohiyal Brahmin
Address
8-West, Apsara Co-Operative Housing Society Ltd., 61-B, Shrimati Nargis Dutt Road, Palli Hill, Bandra (West), Mumbai:400050
Hobbies
Doing Philanthropy, Listening to Music
Favorite Writer
Aghajani Kashmeri
Favorite Actress
Nargis
Favorite Food
Nonveg
Marital Status
Married
Affairs/Girlfriends
Nargis
Wife/Spouse
Nargis

Marriage Date
11 March 1958
Children
Son– Sanjay Dutt
Daughters– Priya Dutt, Namrata Dutt

Net Worth
20 Crore INR (as in 2004)
Born on June 6, 1929, in Khurd village, Jhelum district in British India (in present-day Pakistan), Sunil Dutt was a famous Bollywood actor, director, humanitarian, and politician. Due to his surname, many even today think that he was a Bengali, but Sunil Dutt was a Punjabi by birth.
He was born into a Mohiyal Brahmin family, and his parent's names were Dewan Raghunath Dutt and Kulwantidevi. His father died when he was very young and still in school. The exact reason for his father's death is not known, but he died after drinking sweet milk at a shop nearby his home.
Sunil Dutt's real name was Balraj Dutt and later changed to Sunil Dutt after joining Bollywood to avoid confusion with veteran actor Balraj Sahani. His family immigrated to India in 1947 after the partition, but Sunil was already in Lucknow as a clerk in the army.
He moved to Bombay in 1950 to complete his studies as he wanted his graduation certificate badly. He got himself enrolled in Jai Hind College through special quota for refugee students.
He also worked with BEST as a timekeeper for a monthly salary of 120 Rupees. During a drama in college Sunil Dutt was the narrator or voice from the background. A radio Ceylon representative was present there who liked Dutt Saheb's voice and offered him a job as Radio Jockey at 300 Rupees per month salary.
He started his career as a radio presenter in the Hindi service of Radio Ceylon, and his famous show was "Lux Ke Sitare". He was always interested in Bollywood and wanted to act in Hindi movies, and this job just acted as a catalyst. He got his chance to meet stars from Bollywood as his show was gaining popularity, and it was one of the best mediums to promote upcoming movies in those days.
He was spotted by film-maker Ramesh Saigal while interviewing Dilip Kumar during the shooting of "Shikast Impressed by his looks, Ramesh Saigal asked if he wants to work in films to which Sunil Dutt answered that only if he is cast in a lead role.."
Sunil Dutt rose to fame with Mother India, but he did all kinds of roles, from serious to comedy. His comic role in Padosan with Kishore Kumar and Mahmood was one of the most loved ones.
He was a popular actor and a successful politician. He joined Indian National Congress and even became the Minister for youth affairs and sports, but today we will talk about his love story with Nargis. Sunil Dutt married the beautiful Bollywood actress Nargis. From the meeting of both to marriage and after marriage, the story is no less than a film script.
Sunil Dutt Wife or Nargis Husband
Today, we refer to Nargis as Sunil Dutt's wife, but at that time, many people in Bollywood and even outside Bollywood referred to Sunil Dutt as Nargis's husband. When both got married on 11 March 1958, Nargis was a superstar while Sunil Dutt was trying to make a name for him in the industry.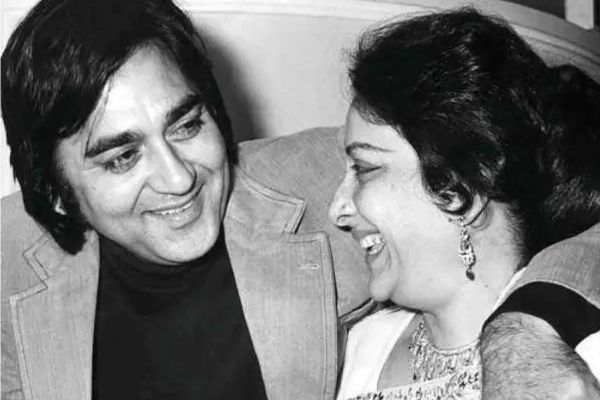 Both got married according to Hindu rituals at the new House bought by Sunil Dutt in Pali Hills.
Nargis already has received the Filmfare award for her movie Mother India and was also awarded Padma Shi by the Indian government. She was the first actress in history to receive the prestigious award.
Sunil Dutt was very much in love with Nargis even much before both met or worked. So on the occasion of his birthday, let us tell you about the love story of Nargis and Dutt saheb.
The First meeting
Though the Nargis and Sunil Dutt love story started in 1957 during the shooting of Mother India but Dutt Saheb was already in love with Nargis he saw her first time. They met first time during an interview on the radio.
It is said that Sunil Dutt became so nervous after seeing Nargis during the interview that he could not even ask questions. This was not the beginning of Sunil and Nargis's love. It was their first meeting and the beginning of a never-ending love story.
The second meeting
After this, Nargis and Sunil had their second meeting on Bimal Roy's film 'Do Bigha Zamin.' Sunil Dutt had reached there, and Nargis had come to meet Bimal Roy. In such a situation, when both came face to face, they remembered their last meeting. Seeing Sunil Dutt, Nargis smiled, and it left Sunil Dutt awe stock.
The first movie together
More interestingly, Sunil Dutt got the role of Nargis's son in Mehboob Khan's film 'Mother India.' During the shooting, Sunil used to forget the line after seeing Nargis and could not act. During this, Nargis helped him so that he could perform comfortably. Sunil Dutt was very impressed by the behavior of Nargis.
It is said that earlier, Sunil Dutt's role was offered to Dilip Kumar, but he refused the offer and said that Nargis is his heroine; how can he play the role of her son. Although Mehboob Khan offered Dilip Kumar the double role of father and son, Dilip Kumar still disagreed.
However, even Sunil and Nargis would not have thought that this film would make them truly fall in love with each other. A scene on the set of 'Mother India' was to be filmed where a fire broke out. For this, straw was spread all around. When it was set on fire, it went out of control.
Nargis got trapped inside during the scene and started screaming for help. Seeing Nargis trapped in the fire, Sunil Dutt jumped to save her. He saved Nargis but got burnt marks on his chest and face. This was the first time Nargis realized that someone could love her so much that he did not care for his own life.
Nargis showed care towards Sunil Dutt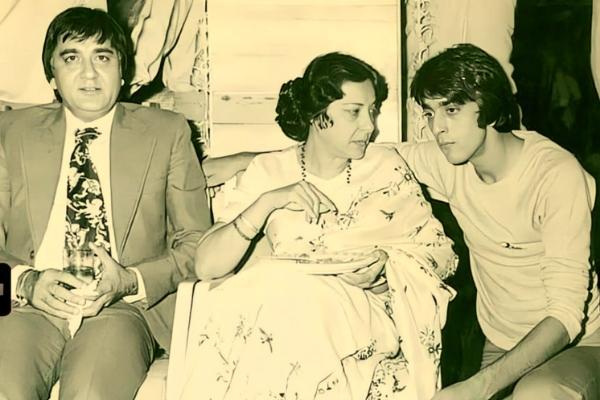 After this incident once Sunil Dutt's sister fell ill. Sunil did not know any doctors in Mumbai. Nargis went to the hospital with her sister without informing Sunil Dutt and got treatment in such a situation. Due to this, Sunil Dutt started loving Nargis even more. He proposed to Nargis for marriage, and Nargis agreed. After that, both got married secretly as Mother India's director Mehboob Khan did not want this news to spread as it could have hampered his movie.
Nargis and Sunil Dutt age difference
Many people have a misconception that Nargis and Sunil Dutt had a huge age gap, but contrary to it, they were almost the same age. They were only divided by 5 days. Nargis was 5 days older than Dutt Saheb.
Life After Marriage
Sunil Dutt and Nargis had three children (one son and two daughters). Sanjay Dutt is the youngest child of the three and Priya Dutt is the youngest.
Sunil Dutt carried on his acting career and appeared in many movies. He did all kinds of movies ranging from action to comedy.
His 1968 released movie 'Padosa' is still regarded as one of the cult comedy movies in which he was paired opposite Saira Banu who was 15 years younger than him.
However, Nargis was diagnosed with cancer prior to the release of Sanjay Dutt's debut film Rocky. She was receiving treatment, but she was constantly in pain. She had stated that she would watch her son's first film regardless of what happened. Although Sanjay Dutt's film was released on May 8, 1981, Nargis died on May 3. Sunil Dutt, on the other hand, kept his promise to Nargis. Sunil Dutt had left one seat empty on the day of the film's premiere; that seat was reserved for Nargis Dutt.
Sunil and Nargis Dutt Movie
After their first movie Mother India, Dutt saheb and Nargis never acted together. Produced and directed by Sunil Dutt, Yaadein, released in 1964, had a Silhouette of Nargis. The movie had only one actor and also registered its name in the Guinness Book of World Records to have the fewest actor in a movie.
Sunil Dutt death
Sunil Dutt died on 25th May 2005 due to a heart attack at his Bandra residence. He was 75 years old at the time of death and was just 11 days away from completing his 76 years of life. What can be a bigger evidence of Sunil Dutt and Nargi's love story that both of them were born in June and both died in the month of May?
Some Interesting facts about Nargis and Sunil Dutt
Sunil and Nargis Dutt used to address each other as "Pia" or "Hey There."
Sunil Dutt never adressed Nargis as "Nargis jee", "Nargis" or even as "my wife". He always used to address her as Mrs Dutt.
Sunil Dutt has a younger sister and Brother. His younger brother Som Dutt also appeared in Hindi movies but could not make a name for himself. Later he focused more on Punjabi movies.
Once Sunil Dutt and his friend had a bet regarding Nargis's autograph and whose reward was a feast in a Punjabi restaurant. This was an incident when Sunil Dutt did not even enter the Hindi film industry.
Dutt Saheb and Nargis's elder daughter Namrata Dutt is married to Rajendra Kumar's son Kumar Gaurav.
Rajendra Kumar was also his room partner for some time when he came to Bombay.
FAQs
Saira Banu and Sunil Dutt age in 1968?
Saira Banu was 24 years while Sunil Dutt was 39 years old.