Larissa Manoela is a Brazilian actress, singer, model, digital influencer, and writer best known for her roles in the soap operas Carrossel e Accomplices de um Resgate do SBT.
Larissa Manoela Elias Santo, also known as Larissa Manoela, was born on December 28, 2000, in Guarapuava, Paraná. She is the only child of Gilberto Elias Santos, a commercial representative, and educator Silvana Tanques, who are now his managers.
She will be 21 years old in this December.
Larissa was discovered by a child talent agency scout while shopping with her mother in a supermarket at the age of four, and she was referred to an agency. She won first place out of 300 children in the Projeto Passarela contest when she was five years old.
Career as an artist
Larissa Manuela made her first television appearance in 2006, as herself, in the GNT channel series "Mothern." That same year, she played Greti in the play "A Noviça Rebelde."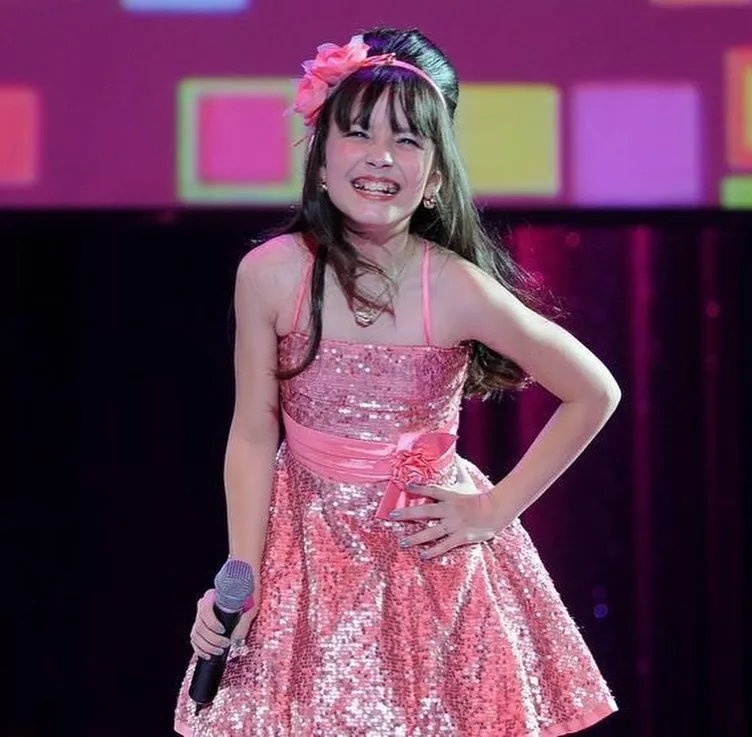 When she was a child, she played Dalva de Oliveira in the series "Dalva e Hervelto: uma Canço de Amor" in 2010. She played Lequinha in the Multishow channel series "Na Fama e na Lama." In 2010, she also played Baby June in the play "Gypsy."
Larissa Manoela made her film debut as Pedrita in "Essa Maldita Vontade de Ser Bird" in 2011. That same year, she played Guilhermina in Selton Melo's film "O Clown," which was nominated for an Oscar for Best Foreign Film in 2013.
She also played Maria Clara in "The Witches of Eastwich" at the theater in 2011.
SBT and Larissa
Larissa signed a long-term contract with the Brazilian Television System (SBT) in 2012, prompting her parents to leave Paraná and relocate to So Paulo to focus on their daughter's career.
In 2012, SBT aired the soap opera "Coraçes Feridos," in which she played Viviane. SBT created the children's strip in prime time with the children's soap "Carrousel," in which she played Maria Joaquina, which became an audience success and projected her nationally that same year.
Larissa appeared in the SBT series "Patrulha Salvadora" in 2013, also playing Maria Joaquina, a successful child character.
In 2015, SBT premiered the soap opera "Cmplices de um Resgate," written by Iris Abravanel, Silvio Santos' wife, in which Larissa plays the twins Manoela, the good twin, and Isabela, the bad twin.
"Carrousel: o Filme," an SBT co-production directed by Alexandre Boury and Maurcio Eça, was released in theaters in July 2015 and was a box office success. SBT extended Larissa Manoela's contract for another two years in December 2015.
Larissa Manuela celebrated her 15th birthday on December 28th with a fairy tale party in a party house in So Paulo, where she gathered friends and family.
At the time, she was dating Joo Guilherme, the son of singer Leonardo, who played Joaquim in the soap opera "Cmplices de um Resgate."
Larissa was confirmed to the cast of the new SBT soap opera "As Aventuras de Poliana" remake in 2017, where she played Mirela.
Larissa also provided the voice for the design of "Stio do Pica-pau Amarelo."
Career in music
Larissa appeared in the SBT year-end show with the soap opera's cast in 2012, after lending her voice to some songs from Carrossel.
In 2013, she began working on her first studio album with music producer Arnaldo Saccomani (1949-2020).
Larissa Manuela released her first CD, "Com Você," in August 2014. The video for the first official single, "Escape Now," was released on September 2nd. Some of the songs were featured on the soundtrack of the soap opera Cumplices de um Resgate.
Larissa also embarked on her first national tour, "Larissa Manuela com Você," in 2014. In 2016, she performed at Disney World as part of the "Larissa Manuela Outra Vez" tour.
Then came the albums "Fala Sério, Me" (2017), "Up! Tour" (2017), and "Além do Tempo" (2018), where, at the age of 19, Larissa speaks of nostalgia in the title track.
Read- Wanessa Camargo: Brazilian Singer and songwriter Biography
Writer
Larissa Manuela published her first book, "O Diário de Larissa Manuela," in 2016. The event was held at a mall in So Paulo's South Zone.
In 2017, she published "O Mundo de Larissa Manuela," and in 2018, she published "Questions and Answers," both of which were well-received.
Awards
The actress was nominated for an "Extra Television Award" for her performance in Revelation (2012). At the Contigo Awards in 2013, she competed in the category of "Best Child Actress."
She won the "Press Trophy" in 2013 for her role in Actress Revelation. In 2014, she was awarded the "Press-Actress Revelation Trophy" for her performance as Maria Joaquina in the soap opera Carrossel.
Read- Anitta (Singer) From Brazil to World | Biography
Globe and Netflix
Larissa Manuela signed a three-year contract with the Netflix platform in 2018.
She decided not to renew her contract with SBT, where she had worked for seven years, in 2019.
In 2019, she recorded "Modo Avio," a Netflix film aimed at teen audiences, in which she plays Ana, an influencer addicted to cell phones.
Larissa signed with TV Globo in January 2020. She was originally cast in Malhaço, but was later reassigned to the soap opera "Além da Iluso." The telenovela's premiere date has been pushed back to 2021 as a result of Covid-19.
Read- Meet Duda Beat, a Brazilian artist who overcame adversity to win a nation
Larissa was the first Globo actress to break the rigid exclusivity contract that prevents the station's actors from signing other parallel works, defying the rule.
Larissa, in addition to being an actress, singer, and writer, also works as a model for a variety of campaigns and licensed products.
Larissa has over 30 million social media followers as a "digital influencer."
Larissa Manuela owns two mansions in Orlando, Florida, as well as an apartment in Rio de Janeiro, Brazil. Larissa is currently dating actor Leo Cidade.