Elizabeth Hurley is no less hot than an actress in her 20s and she has proved it time and again. In her latest post, Elizabeth Hurley has posted her bikini photo and wrote "Got this shot whilst on location filming Christmas in the Caribbean – just before I sprained my silly ankle. Now, still on crutches and lying on the sofa, eating chocolates and feeling sorry for myself."
Elizabeth Jane Hurley is an English model and actress who became known as Hugh Grant's girlfriend in the 1990s. In 1994, when Grant became the centre of media attention around the world due to the global box office success of his film Four Weddings and a Funeral, Hurley accompanied him to the Los Angeles premiere of the film in a black Versace suit that he held it together with gilded safety pins, which got its immediate media notice.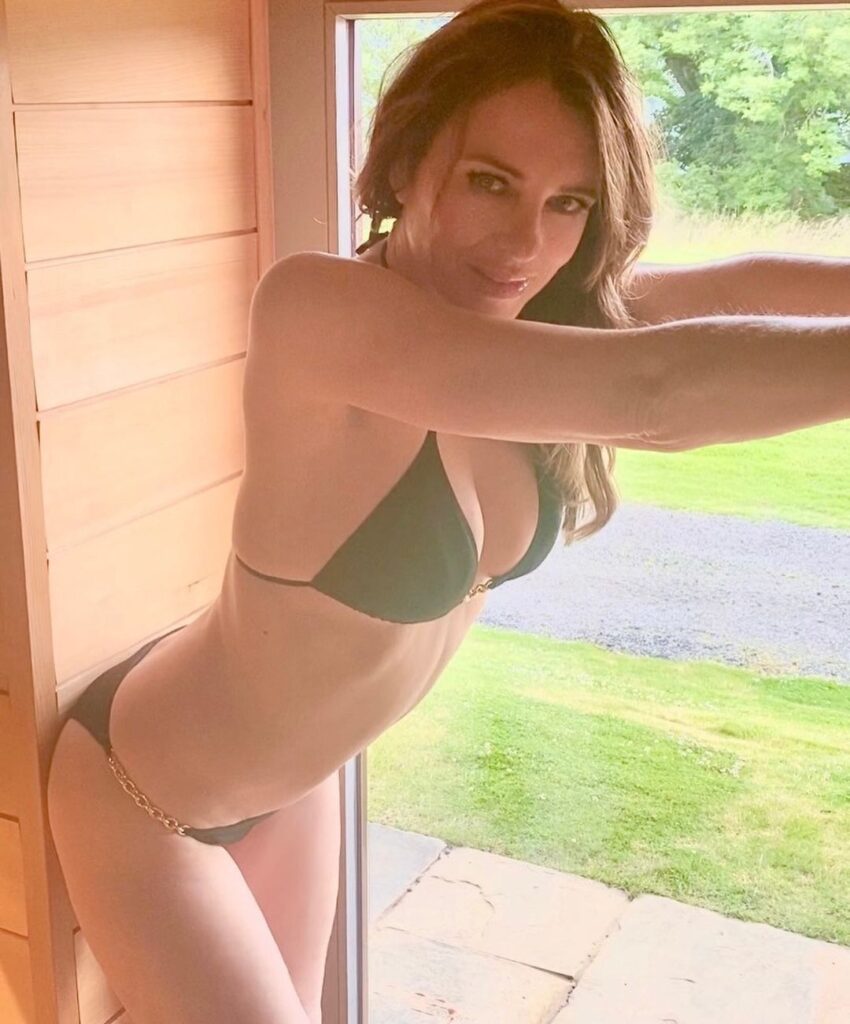 The highlight of Hurley's professional life was her association with the Estée Lauder cosmetics company. The company gave Hurley her first modelling job at the age of 29 and used her as a model for her products, notably fragrances such as Sensuous, Intuition and Pleasures, since 1995.
Her best-known film work was as Vanessa Kensington in Mike Myers hit comedies, Austin Powers: International Man of Mystery (1997) and Austin Powers: The Spy Who Shagged Me (1999).
Hurley currently models and designs a swimwear line of the same name. Hurley was born as a middle child in Basingstoke, Hampshire, England, the daughter of Angela and Roy Hurley. Her Irish father was a major in the British Army, while her Anglican mother was a teacher at Kempshott Infant School.
Read- Rayna Foss, the original bassist for Coal Chamber, has been missing since September
She has an older sister, Kate, and a younger brother Michael James Hurley. Hurley was a struggling actress in 1987 when she met Hugh Grant while working on a Spanish production called Remando Al Viento. While Hurley was her girlfriend, Grant was embroiled in an international scandal for soliciting the services of a prostitute in 1995.
Hurley followed him and accompanied Grant to the premiere of his movie Nine Months. After 13 years together, Hurley and Grant announced a "friendly" split in May 2000. Hurley was living in a London house that Grant owned after the breakup. She invited Grant to her wedding in 2007, but she chose not to attend. On April 4, 2002, Hurley gave birth to a son, Damian Charles Hurley. The baby's father, Steve Bing, denied paternity claiming that he and Hurley had had a brief, non-exclusive relationship in 2001. A DNA test, however, determined that Bing was the baby's father.
In late 2002, Hurley began dating Indian textile heir Arun Nayar, who has been running a small software company since 1998. On March 2, 2007, Hurley and Nayar were married at Sudeley Castle and then made a second marriage at Umaid Palace. Bhawan of Jodhpur, India.