Popular TV actress Anita Hassanandani is busy in her personal life these days. A few days ago, she gave birth to a baby boy, whom she named Aaravv. Anita is now seen sharing photos and videos with her son on social media. Meanwhile, Anita has confirmed to have taken a big decision regarding her career. In an interview given to an English daily she has confirmed that she is bidding goodbye to the entertainment industry,
| | |
| --- | --- |
| Name | Anita Hassanandani Reddy |
| Date of Birth | 14 April 1981 |
| Father | Businessman (Died when she was 16) |
| Mother | Kavita Hassanandani |
| Sibling | One sister (Elder than her, married and have two kids) |
| Husband | Rohit Reddy (Telugu) |
| Religion | Hindu |
| Height | 160 CM or 5 Feet 3 inches |
| Weight | Approx 55 kg |
| Childhood ambition | To get married (funny but true) |
| Favourite Actor | Salman Khan |
| Net Worth | $4 Million (Excluded her husband's side) |
Why Anita Hassanandani in News
Denial of quitting
But yesterday she denied the news that she is bidding goodbye to the entertainment industry. She tweeted "It's all over that I'm quitting my first love ACTING I never said that…. All I said was that my focus right now is my child…. Aaravv is my priority… I will resume work when I'm ready"
It's all over that I'm quitting my first love ACTING
I never said that…. All I said was that my focus right now is my child…. Aaravv is my priority… I will resume work when I'm ready 🌈💫❤️

— Anita Hassanandani (@anitahasnandani) June 11, 2021
Marriage, Husband and Baby
Anita Hassanandani and Rohit Reddy married in 2013 in Goa. On February 9, the couple welcomed their son. During the lockdown, the couple used to share several adorable pictures and videos of Anita's baby bump on social media. Rohit Reddy posted pictures from the hospital and shared the good news on his Instagram account. He also posted a photo of himself and Anita from one of their maternity shoots with the caption, 'It's a boy.'
Early Life
She was born on 14 April 1981 in Mumbai to Sindhi Parents. Her father is a businessman and her mother is a housemaker. She lost her father when she was only 16 years.
Career
She started her career on television in 1998 with a role in the sitcom "Idhar Udhar" season 2 telecasted on Doordarshan and appeared in a cameo role in the subash Ghai directed movie Taal.
She got her measure Television break with Ekta Kapoor's serial Kabhii Sautan Kabhii Sahelii and with Telegu movie Nuvvu Nenu opposite Uday Kiran. She signed the movie for just Rupees 10000 but the movie was a super hit and that was later remade in other languages. The movie was made in Hindi, starring Anita and Tushar Kapoor in 2003 named Yeh Dil and in Bengali, the movie was remade as Dujone.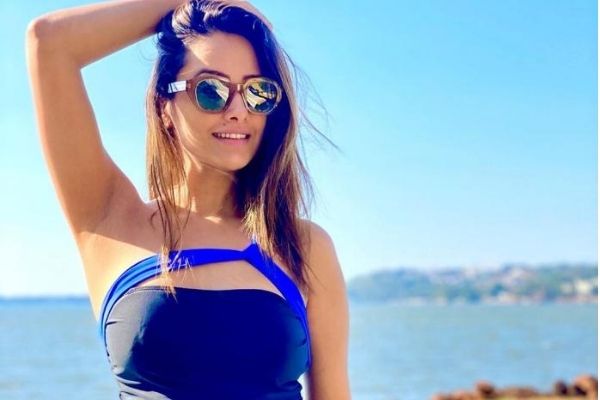 Though in Balaji Telefilms she gave audition for the lead role in Kkusum but later she was offered a role Kabhii Sautan Kabhii Sahelii. The lead role in Kkusum then was offered to Nausheen Ali Sardar.
She then starred in many serials like Kya Hadsaa Kya Haqeeqat, Kohi Apna Sa, Lavanya, Kkavyanjali etc. Kkavyanjali was one of the turning points in her acting career as the serial received wide appreciation from the audience and especially her role as Anjali and Kkavya.
She made her Hindi film debut with the Hindi movie Kuch to Hai produced by Ekta Kapoor in 2003. She shared the screen with Tushar Kapoor, Esha Deol, Rishi Kapoor and Moon Moon Sen. The movie was inspired by the Hollywood movie "I know what you did last Summer"
The movie did not do that well at the box office, but the music got much appreciation. And especially the song " Tere Ishq Ki Deewangi", where Anita is was seen in a glamorous avatar.
She also appeared in the Hindi movies like Yeh Dil (2003), Krishna Cottage (2004), Silsiilay (2005), Koi Aap Sa (2005), Dus Kahaniyaan (2007), Just Married (2007), Ek Se Bure Do (2009), Benny and Babloo (2010) etc. Anita Hassanandani's last Hindi movie was Hero, produced by Salman Khan, where she played a character role.
In the meantime, she also appeared in many Telugu, Tamil, Kannada and Punjabi movies. More than in Hindi movies she tasted success in south Indian movies.
She took part in many reality series also. The journey started in 2008 with Khatron Ke Khiladi season 1 hosted by Akshay Kumar, in which she finished at the 9th position. The show was picturized in South Africa. She also took part in the dance reality show Dancing Queen in which she finished at the third position.
She also hosted the comedy show Comedy Circus Ka Jadoo in 2010. She also appeared in reality shows like Kitchen Champion 4, Box Cricket League, Comedy Classes etc. She has also appeared in Bigg Boss three times as a guest.
Her latest serial is Naagin season 5 ( she also starred in Naagin season 4) under the Balaji Telefilms telecasted on Colors TV. The show got immensely popular and Anita's role of Vish Kanya (Vishaka "Vish" Khanna) is loved by her fans.
Ekta Kapoor and Anita Hassanandani
Ekta Kapoor and Anita are known as best friends and are often seen together at functions and even on vacations. Both share a lovely bond from the day both started working together. It was Ekta who launched Anita in Hindi movies opposite her brother Tushar Kapoor.
She even changed her name to Natasha when Ekta Kapoor introduced her to Numerology but later she reverted back to her original name.
Also Read- Ujjwala Raut, One Of The First Super Model Of India
In 2009 there were rumours that both had a small difference when Ekta Kapoor cast Prachi Desai in her home production Once upon a time in Mumbai opposite Emran Hashmi. But in an interview given to an English daily, Anita ridiculed all the rumours and said that she still shares a deep bond with Ekta. She also said that both know how to keep professional and personal relationships separate.
In 2014 both worked together again in the movie Ragini MMS 2 (sequel to the Ragini MMS).
In 2018 she also appeared in her first web series produced by Ekta Kapoor called Galti Se Mis-Tech for her OTT platform ALT Balaji.
Marriage
Anita Hassanandani married businessman and boyfriend Rohit Reddy in 2013 in a lavish marriage ceremony in Goa. The couple dated for two years before deciding to settle down. The marriage was attended by Anita's friends like Shweta Salve, Meghna Naidu, Ekta Kapoor and her family.
As Rohit is from a South Indian family, they had a day wedding rather than a night wedding which is common in North India.
Know More about – Tanmay Vekaria (Bagha of TMKOC)
In October 2020, the couple announced the pregnancy news on their Instagram account and got congratulatory messages from fans.
Both featured in a music video named "teri yaad" sung by Rahat Fate Ali Khan and was released in 2019.
Baby
Anita Hassanandani and Rohit Reddy welcomed their newborn boy on February 9th, 2021. The couple has named their son Aaravv Reddy.
FAQs
What is the religion of Anita Hassanandani?
She is a Hindu, she was born in a middle-class Sindhi family.
Both consider each other best friends. Anita considers Ekta Kapoor's family as her own and even said many times that she owes her success to Ekta Kapoor.
What is age of Anita Hassanandani?
Who is husband of Anita Hassanandani?
Her husband Rohit Reddy is a businessman and belongs to Andhra Pradesh.
How Anita Hassanandani started her career?
She started her career with a very small role in the Movie Taal directed by Subash Ghai.
What is height of Anita Hassanandani?
She is 1.60 Meters or 5 feet 3 inches tall.
Is Anita married?
Yes, she got married in 2013.
What is the mother tongue of Anita Hassanandani?
She is Sindhi, born and brought up in Mumbai. So sindhi is her mother tongue.
Is Anita Hassanandani delivered her baby?
Yes, her baby was born in February 2021.