From earning Rupees 4000 as a bank executive to making his mark in the hearts of the audience, Tanmay Vekaria, who plays the role of Bagha in the show 'Taarak Mehta Ka Ooltah Chashmah' has come a long way.
He works at Jethalal's shop in this show with his on-screen uncle Ghanshyam Naik (Who sadly passed away recently) aka Natuu Kaka. You definitely know who Bagha is but today we will tell you about how long Tanmay waited and what he struggled to get this role.
Also Read- Dimple Kapadia Movies, Marriage and Reentry in Bollywood
How Tanmay Vekaria got Bagha Role
It is a difficult task to carve out a niche in an already famous show and Tanmay took such a difficult path. Seeing 'Baagha' in 'Taarak Mehta Ka Ooltah Chashmah', we burst into laughter. Before Tarak Mehta Ka Ulta Chasma, Tanmay acted in the show Maniben.com which was telecasted in 2009 on SAB TV. He appeared as the younger brother of Maniben which was played by Smriti Irani.
Before Bagha, Tanmay Vekaria has played four different small characters in the show. In which the roles of Inspector to Taxi Driver, Teacher and Auto Driver are included. Tanmay was first seen in the 4th episode of TMKOC where he played the character of a Police inspector.
In 2010 Ghanshyam Naik, aka Nattu Kaka, had surgery, so in his absence, the management wanted someone to be there with Jethalal.
Then the Bagha character was introduced as the nephew of Nattu Kaka, and finally, Tanmay got his regular place in the show from episode no 507.
But after giving many auditions in 2010, Tanmay Vekaria got a chance to play the 'Baagha' character. Tanmay lived this character with all his heart and put his life into it. Today he is famous in every household as Bagha or Bagheswar. His character is not easy to play as per the script he has a weird style of walking ( bending backwards).
Gujrati Theatre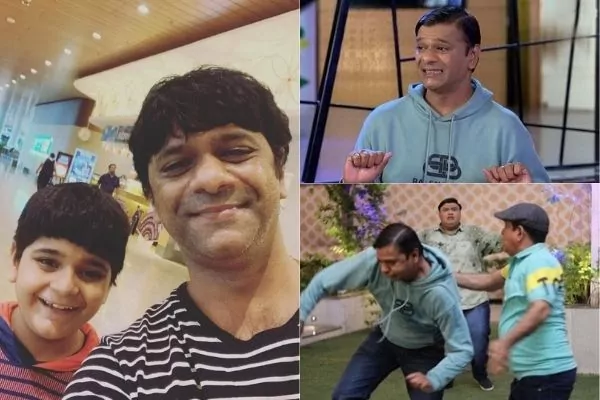 Tanmay had a difficult journey before discovering Taarak Mehta Ka Ooltah Chashmah. Aside from minor roles in TV series, this actor spent 15 years as a theatre artist. Tanmay's father's name is Arvind Vekaria, and he is from Gujarat.
Tanmay's father is also an actor who has appeared in several Gujarati plays and some Hindi serials like Shriman Shrimati. Tanmay's journey to becoming 'Baagha' has been a struggle and a wonderful journey in and of itself, despite the fact that his father is an actor.
Also Read- Nargis Dutt Biography: Early Life, Love, Career, Marriage and Death
Job In the Bank
Before entering the entertainment industry, this actor worked as a marketing executive in a bank. He used to be paid only 4 thousand rupees there. Which he used to manage his household expenses.
Tanmay Vekaria Wife and Family
Tanmay's father, on the other hand, was an actor, and Tanmay aspired to be an artist like him. This was the only reason this actor entered the entertainment industry and began acting in theatres with his father. After a long time and many minor characters, this actor's hard work paid off, and he is now known as Bagha.
Tanmay Vekaria is married to Mitsu Vekaria and the couple has a daughter named Vrishti Vekaria.
Tanmay Vekaria age
As of February 2022, Tanmay is 46 years old as he was born on 18th December 1975.
Tanmay Vekaria wikipedia
Tanmay currently does not have a dedicated Wikipedia page for him.
'Taarak Mehta Ka Ooltah Chashmah' has created history
'Taarak Mehta Ka Ooltah Chashmah,' which premiered on Sony SAB in 2008, is not only a popular show in our country, but it has also gained international acclaim.
The show has been running for 13 years, and the most important thing is that each year, the show doubles the entertainment value for its viewers. In terms of TRP, the show has always remained in the top ten.
Characters such as Jethalal, Babita, Daya, Komal Bhabhi, Bhide, Popatlal, Taarak Mehta, and Bagha are examples in their own right. Everyone, from children to the elderly, is enthralled by this series.
Personal Data Of Tanmay Vekaria
| | |
| --- | --- |
| Full Name | Tanmay Anand Vekaria |
| Father Name | Anand Vekaria |
| Date of Birth | 18 December 1975 |
| Marital Status | Married |
| Wife Name | Mitsu Vekaria |
| Children | One Daughter (Vrishti Vekaria) |
| Highest Qualification | Graduation |
| Profession | Actor |
| Schooling | Lady of Remedy High School |
| College | Nagindas Khandwala |
| Religion | Hindu |
| Regional | Gujarati |
| Movies | Dhoondte Reh Jaaoge (2009), Samay Chakra, Ghar Ghar ni Baat (Gujrati) |
| Weight | Approx 75 KG |
| Height | 5 feet 11 inches |
| Residence | Raj Arcade, Kandivali West |
| Net worth | Around $1.5 million (10 Crore rupees) |
| Salary per episode | Rupees 25K to 30K per episode |
Tanmay Vekaria Details
In 13 years, many characters have been replaced, from Tappu played by Bhavya Gandhi to Sonu played by Nidhi Bhanushali, but some characters are constant over the year. Bagha Played by Tanmay is one of those characters which has its own flavour and constant from its inception.