She was the first Indian actress to pose naked for Playboy magazine, and she received international acclaim for it. Mona Chopra is Sherlyn Chopra's real name. Sherlyn's controversial life has mostly remained the subject of media speculation.
| | |
| --- | --- |
| Name | Sherlyn Chopra |
| Real Name | Mona Chopra |
| Nick Name | Angel |
| Birthday | 11 February 1984 |
| Age |  38 Years (As on 2022) |
| Birth Place | Hyderabad, Telangana, India |
| Hometown | Hyderabad, Telangana, India |
| Education | Graduation |
| School Name | Stanley Girls High School, Hyderabad |
| College Name | St. Ann's College for Women, Secunderabad |
| Religion | Christian |
| Citizenship | Indian |
| Zodiac | Aquarius |
| Hobbies | Traveling and Reading |
| Figure Measurements | 35-25-34 |
| Height | 5 feet 6 inches |
| Weight | 50 kg |
| Eye Colour | Brown |
| Hair Colour | Black |
| Profession | Actress |
| Film Debut | Madhuram (2002) |
| TV Debut | Bigg Boss 3 (2009) |
| Marital Status | Unmarried |
| Father's Name | George Amitabh Chopra |
| Mother's Name | Susan Chopra |
| Sister's Name | Sharon Chopra (Anchor & DJ) |
| Brother's Name | Amitabh Chopra |
| Favorite Actor | Ranveer Singh, Varun Dhawan, Shahrukh Khan, |
| Favorite Actress | Deepika Padukone, Emma Stone, Vidya Balan, Sushmita Sen |
| Favorite Food | Biryani |
| Favorite Tv Show | Castle, Glee, The Big Bang Theory |
| Favorite Singer | Neha Kakkar, Zayn Malik, Taylor Swift, Justin Bieber |
| Favorite Place | to Visit (Favorite Palace ) London, New York, Las Vegas |
Chopra began her acting career in Bollywood, appearing in a few films as Mona Chopra. Sherlyn was also a contestant on the celebrity reality show Bigg Boss.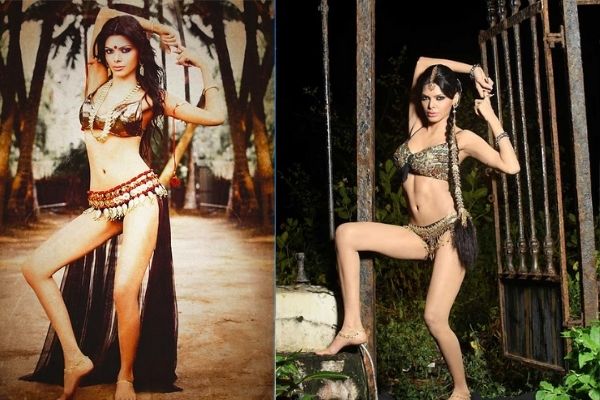 Chopra announced in July 2012 that she would be a part of Playboy magazine. She was the first Indian woman to pose naked for the official Playboy magazine. She was then chosen to host the sixth season of MTV Splitsvilla. In December 2013, she released her first single, "Bad Girl."
Sherlyn is currently in the news due to physical abuse allegations leveled against Rajkundra. On April 20, 2021, she filed an FIR with the Mumbai Police for physical abuse on Rajkundra.
Read- Nidhhi Agerwal: National Crush Biography, Age, Height, and others
Sherlyn Chopra's birth and early life
Sherlyn Chopra was born in Hyderabad on February 11, 1984, to a Christian father and a Muslim mother. Sherlyn's father, George Amitabh Chopra, was a physician, and her mother, Susan Chopra, was a duodenum specialist. Sherlyn also has a sister named Sharon Chopra, who works as an anchor and DJ. Amitabh Chopra, Sherlyn's brother, is also famous.
Sherlyn was a teen when no one looked like her because of her thick glasses.
Sherlyn stated in an interview that she had never become close to her mother since childhood because her mother was of old ideas and did not want to participate in Sherlyn's beauty pageants. Sherlyn's mother wished for her daughter to live a normal life, marry, and raise a family with her husband.
Sherlyn's mother put her under a lot of pressure from the start and never recognized her talent. She only liked Sherlyn's talent; her father was always supportive of her, and she always admired her daughter's talent. What I used to do
Education of Sherlyn Chopra
Sherlyn received her early education at Stanley Girls High School in Hyderabad, after which she attended St Ann's College for Women in Secunderabad for further studies, which she completed.
She had always been a top student in her class since she was a child. During her college years, she frequently competed in beauty pageants, and she also won the Miss Andhra pageant.
Sherlyn Chopra's professional life
Sherlyn used to work on B-grade Bollywood films in the early days of her career. Sherlyn's film career began in 2002 with the release of her first film, Madhuram, and she went on to work on other projects such as Time Pass and Game.
She first appeared as Anamika in the psychological thriller Red Swastik in 2007, and then as Sonia in the 2009 Yash Raj film Dil Bole Hadippa.
Sherlyn rose to prominence in 2013 after starring as Kama Devi in the Indian-English 3D erotic film Kamasutra 3D. In the same year, she co-hosted the MTV reality show Splitsvilla 6 with Nikhil Chinappa.
She was also a contestant on the reality show Bigg Boss 3 (2009), but she was fired after only 27 days.
In 2016, she co-starred in the film "Wajah Tum Ho" with Armaan Malik and Tulsi Kumar in the song "Dil Mein Chuppa Lunga."
She also did some video songs, including Tunu Tunu, which was released by T-Series in 2019 and was followed by appearances in other video songs such as "Dard-E-Sherlin," "Bad Girl," and "Katar," among others.
The Sherlyn Chopra-Rajkundra feud
On September 15, 2021, the police filed a charge sheet against Rajkundra that ranged from 1400 to 1500 pages and included statements from Rajkundra's wife Shilpa Shetty, actress Sherlyn Chopra, and 42 other people.
On April 20, 2021, Sherlyn Chopra filed a sexual harassment complaint against Raj Kundra with the Mumbai Crime Branch. Raj Kundra is the same person who has been accused of producing and distributing pornographic films.
Sherlyn stated in her complaint
Raj Kundra requested that his manager contact Sherlyn to arrange a meeting for work in early 2019. Raj offered Sherlyn his personal app, The Sherlyn Chopra, and uploaded her Sherlyn Chopra's pictures and videos to that app, promising to give Sherlyn a 50 percent share of the app's earnings. However, after shooting Sherlyn Chopra's photos and videos, she did not receive half of the earnings promised by Rajkundra.
On March 27, 2019, after Raj Kundra and Sherlyn's business meeting, Raj Kundra got into a heated argument about a message from Sherlyn, as a result of which Raj entered her house uninvited and began kissing her forcefully, to which Sherlyn objected. Sherlyn previously stated that she does not want to mix pleasure and business with a married person.
Raj informs him that his relationship with his wife Shilpa Shetty is strained, which causes him to be tense at home most of the time.
He also claimed that when Raj refused to agree, they pushed him away from him and locked him in the restroom.
Raj and his partner Ryan Thorpe are currently being held in Byculla jail after their bail application was denied. The Mumbai Police also raided Raj's home a few days ago and questioned his wife, actress Shilpa Shetty.
The Sherlyn Chopra saga
Sherlyn is known for making controversial remarks. She once stated on Twitter that he no longer sleeps with people for money. His tweet went viral, and many people were unable to process it. Later, when discussing the subject, she stated that in the early days of her career, she dated many men who were older than her. It took him some time to realize this.
Sherlyn Chopra made history by becoming the first Indian woman to pose naked for Playboy magazine. Her naked photos went viral and were widely shared on the internet.
There was a rumor that she had a one-night stand with Playboy magazine head Hugh Hefner in order to be on the cover, but she denied it.
She sparked a firestorm when she signed on for the daring film Kamasutra 3D, but she later backed out and filed an FIR against director Rupesh Paul for financial fraud.