Madonna faced censorship as a result of the photos she shared on her Instagram account. The singer was dressed provocatively in lingerie and fishnet stockings in the images.
The mother of 6 surely knows how to raise the temperature of her fans even at the age of 63. Madonna who started her career as a backup singer and dancer for a french singer has come a long way and earned the pop queen title for her.
In addition, "the queen of pop" is on a bed wearing black heels. Her Instagram followers were captivated by these images.
The post received thousands of likes and comments in less than two hours.
Read- Yanet Garcia: The Mexican Weather Girl Biography, Wiki, Age, Height, Net worth and Details
A few days ago she posted Images on her Instagram with Collaboration with V magazine and sarcastically wrote "Proud of my collaboration with @stevenkleinstudio For @vmagazine and knowing that against all odds And with very little support from non artistic people who kept pushing back and the fact that we did it with almost zero budget we were still able to make ART! Art is not dead if you have the strength to fight for what you believe in !!
Thanks to all who did support us and slept on couches and worked long hours and for free all to support madame ❌ who is not only here to disturb the peace but to keep
Art alive I send you all a BIG kiss 💋💋💋! #Madame❌".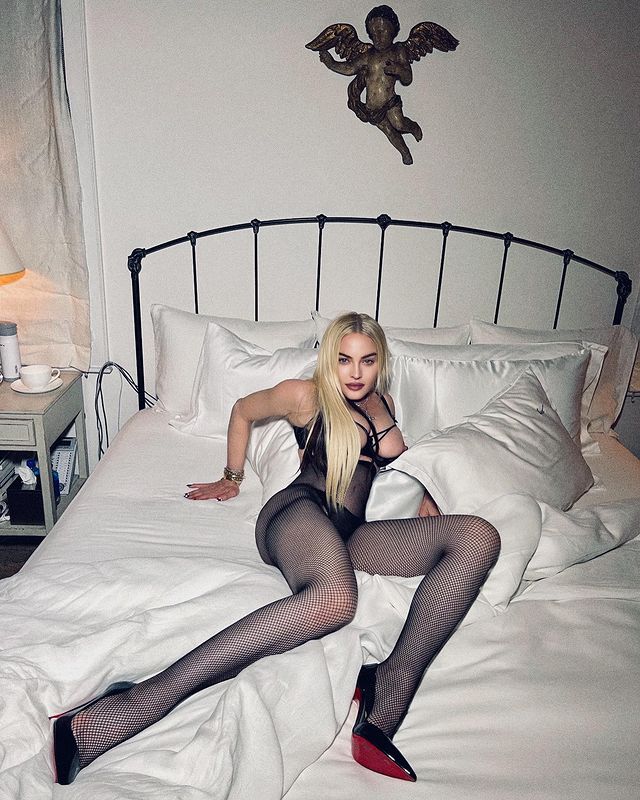 Madonna's divisive photographs
Madonna captioned the photos, "an angel taking care of me," referring to the cherub hanging above the bed. Madonna posed almost naked a few weeks ago to mimic the latest Marilyn Monroe photo shoot.
Madonna was photographed on a bed wearing fishnet stockings, white gloves, a diamond necklace, and her trademark curly hair.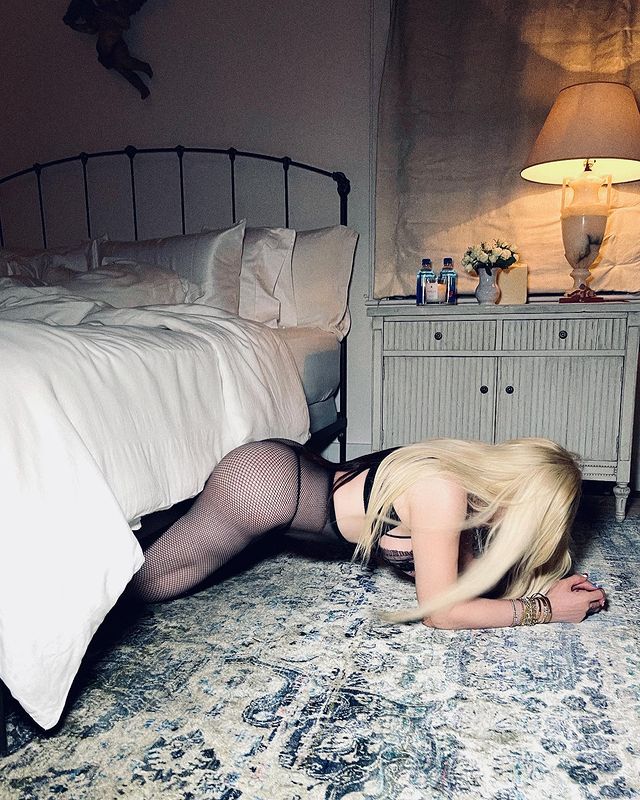 This is not the first time that Madonna has raised the temperature of her fans with a sensuous photoshoot, few days back also Madonna posted several images of her wearing a black short skirt.
Madonna certainly knows how to keep her fans engaged and even after crossing the 60s she still holds a special place within her fan's hearts. Even after 40 years of entering the entertainment industry she still enjoys the fandom that can make anyone envy.
After much backlash, Instagram deleted the posts. Madonna reposted the images with the message "I'm reposting photographs Instagram took down without warning or notification….. The reason they gave my management that does not handle my account was that a small portion of my nipple was exposed. It is still astounding to me that we live in a culture that allows every inch of a woman's body to be shown except a nipple. As if that is the only part of a woman's anatomy that could be sexualized. The nipple that nourishes the baby! . Can't a mans nipple be experienced as erotic ??!! And what about a woman's ass which is never censored anywhere. Giving thanks that I have managed to maintain my sanity through four decades of censorship…… sexism……ageism and misogyny. Perfectly timed with the lies we have been raised to believe about the pilgrims peacefully breaking bread with the Native American Indians when they landed on Plymouth Rock! God bless America 🇺🇸 ♥️❌ #artistsareheretodisturbthepeace"
Madonna has posted a new Instagram post with her friends and family with the caption "Drinks at the firehouse……….. Please hire a new DJ. "
Singer and rapper 50 Cent wrote "o this is the funniest shit! LOL 😆That's Madonna under the bed trying to do like a virgin at 63. she shot out, if she don't get her old ass up. LMFAO 😆😆😆😆🚦GLG"