Kelly Gale showed off her amazing figure in a bright yellow bikini on Tuesday.
The Victoria's Secret model, 26, surprised her 1.6 million Instagram followers with a tantalizing video in which she flaunted her tiny waist, toned abs, and long legs.
The brunette beauty appeared to be having a good time as she frolicked in her two-piece swimsuit while on vacation in St. Barts.
Kelly Olivia Gale, the Sports Illustrated Swimsuit Issue cover girl, posed on an outdoor balcony while running her hands through her stunning long wet hair.
She looked seductively into the camera as it panned closer before turning to face the breathtaking island view.
The Swedish-Australian model, who is of Indian and Australian descent, fully embraced the relaxing Caribbean vibes, wearing only two simple gold necklaces and an anklet.
The Playboy singer's golden tan complemented her bright bikini and emphasized her svelte figure.
Earlier in the day, Gale took to Instagram Stories to show off her adorable outfit while sipping a cup of morning coffee.
The model wore a low-cut tight white crop top that showed off her ample cleavage.
Gale wore a stylish pair of black sunglasses to shield her eyes from the glare of the island sun.
Her hair appeared to have been air-dried and curled loosely into natural beach waves. Meanwhile, even while sitting, her abs were perfectly toned.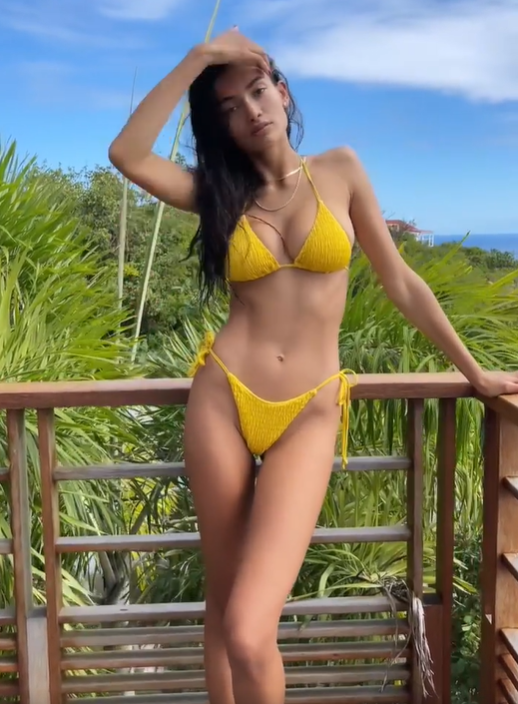 Despite the fact that she was on vacation, the music video star maintained a flawless red manicure.
The model and her fiancé, Swedish-American actor Joel Kinnaman, 42, have been vacationing on the French-speaking Caribbean island.
She shared a photo of The Killing star floating on a water mat in the ocean, with bright blue water and a yacht in the background.
Later, the pair took a joy ride in the back of a car, with the model changing into a halter blue dress and her beau sitting next to her in a white t-shirt and matching bucket hat.
Read- Jill Scott sex tape: The internet is ablaze with rumors of the singer's leaked X-rated video.
Gale began dating Kinnaman in early 2019, following her breakup with her long-term boyfriend Johannes Jarl.
The couple made their relationship public at Coachella in April of that year, and she proposed to the actor in January 2021, after dating for more than a year.
During a romantic walk along the beach overlooking the ocean, the Suicide Squad star proposed to Gale.
Kinnaman previously divorced tattoo artist Cleo Wattenstrom in late 2018, after two years of marriage.