Love has no boundary and these 9 foreign cricketers who married Indian counterpart has proved this again. In this post, we will find out cricketers who married their girlfriends from India and at the end, we will talk about a relationship that did not get converted to marriage.
Love does not believe in any bond, whether it is of caste or creed, whether it is of high, low, rich or poor, even if it is of colours.
There have been many such occasions when an Indian boy has married a girl from another country, but today we are going to talk about some such cricketers who have married Indian women.
Foreign Cricketers Who Married Indian Girlfriend
Compare with other sports such as football or tennis, cricket is still played in fewer countries than them. If we talk about the top quality teams in the true sense, then there are 10 or 12 countries in the world where cricket is of a very advanced level.
Glen Maxwell And Vini Raman
Australian all-rounder Glexx Maxwell is the newest addition to the list as he and his Indian girlfriend Vini Raman will get married on March 27. The couple got engaged just before the pandemic hit the world in 2020.
Vini Raman is an Indian-origin girl who moved to Australia, obtained citizenship, and is now a pharmacist in Melbourne. Vini has also done her schooling from Australia.
Hasan Ali and Samiya Arzoo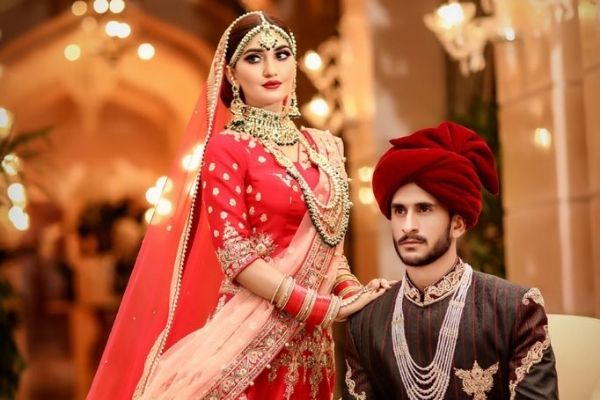 Samiya Arzoo works as a flight engineer for Emirates Airlines, and her family lives in Faridabad. She and Pakistni pacer Hasan Ali met in a party and then their love story grew through personal messages in Instagram. The couple dated each other for two years before getting married in Dubai in 2019.
Samiya faced brutal online trolling by Pakistani fans when Hasan Ali dropped a catch of Australia's batsmen Mathew Wade in the semifinal of ICC T20 worldcup.
Muttiah Muralitharan and Madhimalar Ramamurthy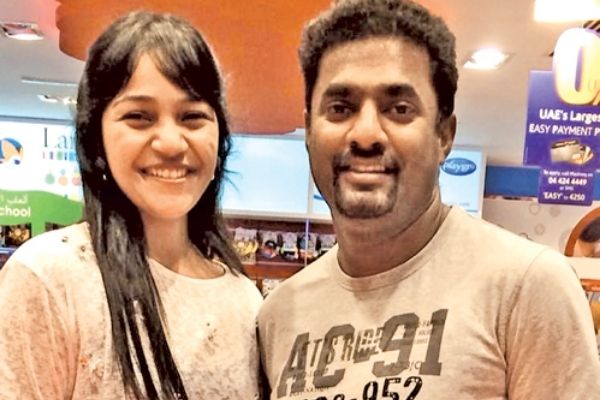 Madhimalar was born and raised in Chennai, the daughter of Dr. S. Ramamoorthy, founder of the Malar group of hospitals, and his wife Dr. Nithya Ramamurthy.
It all began when popular Tamil actor Vagai Chandrasekhar visited the Sun Television Network studio in Chennai, where he met Muralitharan, who happened to be there for an interview. Both recognized each other and became good friends.
After few days Muralitharan's mother asked Chanrasekhar to find a bride for him and Chandrasekhar immediately suggested Madhimalar Ramamurthy's name as he knew her from childhood.
The couple met and decided to get married. Both got married on 21 March 2005.
Shaun Tait and Mashoom Singha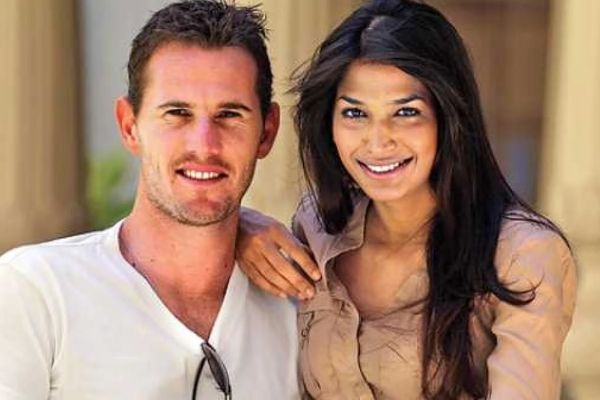 Shaun Tait met Mashoom Singha when playing in the Indian Premier League in 2010 and proposed her in Paris in 2013. Mashoom is a Mumbai based model and wine marketer.
The couple got married in 2014 and in 2017 Shaun Tait became an Overseas Citizen of India (OCI). he received his Indian passport as he is married to an Indian girl.
Shoaib Malik and Sania Mirza
Sania Mirza and Shoib Malik met in Hobart for the first time but it was Shoaib who had planned the meeting all along. Sania and Shoaib dated for five months before getting married on April 12, 2010.
The couple has a son named Izhaan who is now three years old. Sania and Shoib mostly stays in Dubai and occasionally visits their home countries.
Mike Brearley and Mana Sarabhai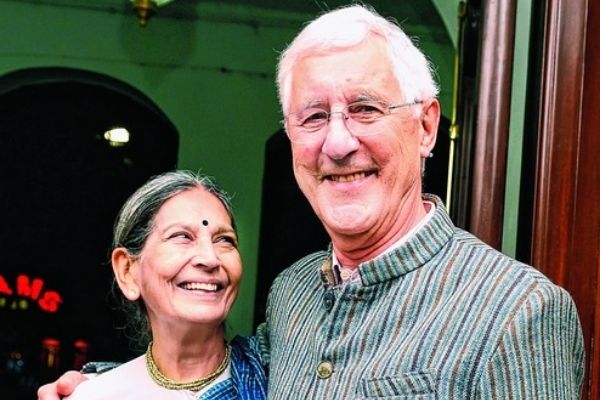 Mike Brearley is regarded as one of England's most astute captains. On the field, he was a skilled cricketer who developed feelings for Mana Sarabhai, the daughter of Ahmedabad's successful businessman Gautam Sarabhai.
Mana is the niece of Dr. Vikram Sarabhai, one of India's greatest scientists. Mike met Mana during their college days in Cambridge University. The couple has two sons.
Zaheer Abbas and Rita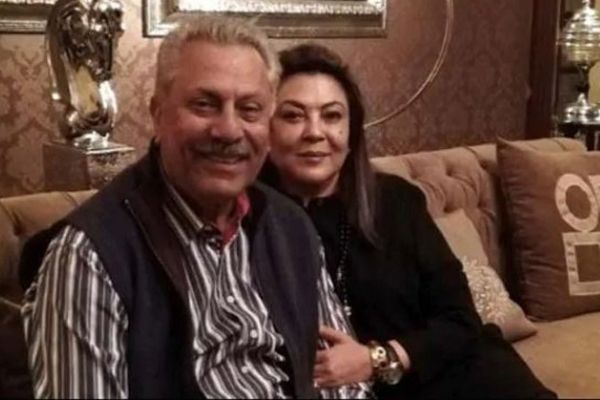 In 1988, Zaheer Abbas married Indian-born Rita Luthra, who is now known as Samina Abbas. His first wife, Najma Bokhari, from whom he has three daughters, Rudabah, Roshana, and Hiba, was his first wife.
Zaheer used to play for Gloucestershire County Club, and Luthra was studying interior design in the United Kingdom. Zaheer's father and Rita Luthra's father were friends which made the marriage easy to take place.
Glenn Turner and Sukhi Turner
Glenn Maitland Turner was a New Zealand cricketer who was one of the country's best and most prolific batsmen.
Sukhinder Kaur Gill, his wife, was born in Ludhiana, the capital of the Indian state of Punjab, to Squadron Leader Jasbir Singh Gill and Premjit Kaur.
Sukhi Turner became mayor of Dunedin City Council after participating in active politics in New Zealand. The couple has a son and a daughter.
Mohsin Khan and Reena Roy
Reena Roy and Pakistani cricketer Mohsin Khan began dating in the 1980s. Reena Roy and Mohsin Khan reportedly married in a private ceremony in Karachi, Pakistan. Jannat, the daughter of Reena Roy and Mohsin Khan, was born. Reena, on the other hand, refers to her as Sanam.
In a few years, Reena and Mohsin divorced. After his divorce from Reena Roy, Mohsin Khan married. As a result, the former actor was granted custody of their daughter Sanam aka Jannat.
Viv Richardsand Neena Gupta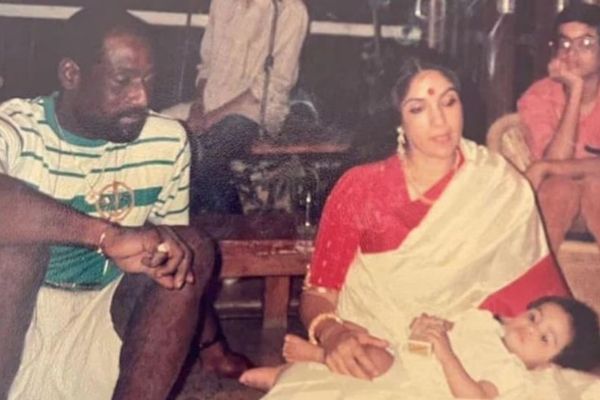 Like I promised that at the end of this article, I will tell you about a bonus couple, that bonus couple is Vivian Richards and Neena Gupta. There is a reason why I call it a bonus couple. The two never married although Vivian and Meena have a daughter named Masaba.
Neena Gupta and Vivian Richards met at a party in Mumbai and came close to each other. Richard was married and the father of two children.
Conclusion
So these were 9 Foreign Cricketers Who Married Indian Girlfriend. While most of the marriage are successful, some are unsuccessful too.