Devika Rani is regarded as the first female superstar of Hindi Cinema, she was also the co-founder of India's first modern studio 'Bombay Talkies'.
Women are now handling many jobs in the film industry, including directors, producers, camerapersons, and hosts, in addition to acting. However, it was not always easy for women to appear in films. Women in this industry were not respected because of social stigma.
Devika Rani, who became an actress during that time period, paved the way for other women in the industry. She is regarded as India's first star actress.
| | |
| --- | --- |
| Name | Devika Rani |
| Date of Birth | 30 March 1908 |
| Father | Colonel MN Chaudhuri |
| Mother | Leela Devi Chaudhuri |
| Profession | Actor, Director, Producer |
| Huband | Himanshu Rai and Svetoslav Rorik |
| Affair | Najam-ul-Hussain |
| Died | March 9, 1994 |
| Age at the time of Death | 85 Years 11 Months |
Devika Rani Early Life, Career and Stars She Made
She was born on 30 March 1908 in Vishakhapatnam. Devika's father Colonel MN Chaudhuri belonged to a prosperous Bengali family and her mother Leela Devi Chaudhuri was a housewife. Devika Rani was related to the family of Nobel laureate famous poet Rabindranath Tagore.
In the era when Devika decided to work in films, it was not considered good for women to leave the house, but despite this, Devika Rani broke all the restrictions and entered films.
Devika Rani went to England to study when she was nine years old. She then went on to study acting at the Royal Academy of Dramatic Art. She was heavily influenced by German cinema and was a big fan of actress Marlene Dietrich.
Devika Rani was instrumental in elevating Indian cinema to a global level. Her acting was compared to Greta Garbo's, so she was dubbed 'Indian Garbo.'
Devika Rani was born with a fiery temper, earning her the nickname 'Dragon Lady.' In today's world, where actresses must appear in more and more films to establish their identity, Devika Rani appeared in only 15 films over the course of her ten-year career.
Devika portrayed a Dalit girl in the 1936 film 'Achhut Kanya.' Following the success of this film, she was dubbed the "First Lady of Indian Cinema."
Sarojini Naidu and Devika were close friends. Pandit Jawaharlal Nehru is said to have seen the film 'Achhut Kanya' at her request. He was so taken with the film that he wrote Devika a fan letter and was later awarded the Padma Shri. Her news was also covered in London newspapers, where her beauty and acting abilities were lauded.
Devika Rani is credited with introducing Dilip Kumar to the film industry. Dilip accompanied Dr. Masani to Bombay Talkies' studio, where Devika Rani asked him if he wanted to be an actor.
Dilip Kumar was hired by Bombay Talkies for this role at a monthly salary of Rs. 1200. She then introduced Dilip Kumar to Ashok Kumar and asked him to cast this young man as an actor.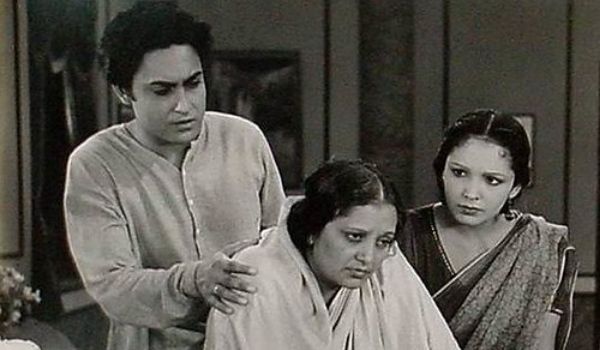 Raj Kapoor was working for Rs 170 per day back then for Bombay Talkies as a clapper boy. When Dilip Kumar arrived, Dilip informed Raj Kapoor about his salary. In this incident, Raj Kapoor approached Devika Rani and asked, "Why is my salary less than Dilip's?"
'Both of you are novices, and there is no price for novices,' Devika Rani said. Raj Kapoor simply felt bad about it and left the project.
Mukri worked as a Qazi before entering the film industry, teaching Quran to children in madrassas. However, the income was lower. Mukri had to work in Devika Rani's film studio Bombay Talkies to support the family. Devika Rani deserves credit for bringing Mukri to the forefront of the screen.
Awards
In 1970, the Dadasaheb Phalke Award was established. This is India's most prestigious film award. Devika Rani was the first winner. Devika Rani was also the first woman in Hindi cinema to be awarded the Padma Shri.
Devika Rani and Himanshu Rai Marriage
When Devika returned from her studies in England, she met producer Himanshu Roy. Himanshu was so taken with Devika's beauty that he offered her a role in his film 'Karma' in 1933, which she accepted.
Himanshu Rai played Devika's hero in this film. It was the first English-language film produced by an Indian. Not only that, but Devika Rani was the first actress in Hindi cinema to perform a four-minute-long kissing scene. Devika received a lot of criticism after this scene, and the film was also banned. Himanshu later married Devika. Devika and Himanshu Roy co-founded Bombay Talkies, under which many blockbuster films were produced.
Devika Rani Elope Episode
The film 'Jeevan Naiya,' released in 1936, caused an earthquake in Devika and Himanshu Rai's marriage. Actually, Devika Rani and the film's hero, Najam-ul-Hussain, went missing during filming. The film's production was halted, and the search for the hero-heroine began.
The two were eventually apprehended in Kolkata. Devika later reveals that she wanted to divorce Himanshu and marry Najmul. So she went with him, and after much persuasion, she was brought back.
She returned after Himanshu Rai agreed to some of her demands, which were never fulfilled.
After that, the film's heroine, Devika, was retained, but Najmul was dropped from the cast. Ashok Kumar was cast as the main lead who was working as a lab assistant with Bombay Talkies at that time.
Himanshu Rai Death and Aftermath
Himanshu Roy died in 1940, and Devika Rani took over as producer of 'Bombay Talkies.' This studio produced successful films such as 'Punarmilan' and 'Kismat.' On the one hand, she was in charge of the studio, but on the other, she was struggling with her acting.
Meanwhile, she met Svetoslav Rorik while working on the production of Dilip Kumar's debut film, 'Jwar Bhata.' Devika designed her final film at Svetoslav Roerich's studio. At the same time, their meeting developed into a friendship, and then into love.
Both of them married a year after this meeting and Devika left Bombay Talkies. Bombay Talkies also closed after some years due to losses and debts.
Devika Rani, then 83, and Svetoslav, then 89, were interviewed by Newstrack in September 1992. Probably it was her last interview with any media house.
Devika Rani died on March 9, 1994, in Bangalore where she was staying with her second husband. She was given a state funeral by the Karnataka government.