Rahul Dravid is regarded as one of the best batsmen India has ever produced and now he is appointed as the head coach of the Indian cricket team. But many of you might not be aware that Rahul Dravid has represented Scotland in his career.
If someone asks you for which country did Rahul Dravid play international cricket or has played Internation cricket then your answer will be India but Dravid had also represented Scotland.
His solid technique and elegance made him a role model for many aspiring cricketers, and he was regarded as one of the best batsmen of the longer format.
Rahul Dravid is among the few cricketers in the world who have no or negligible haters. He has been regarded as one of the most humble and gentleman who played cricket internationally. Yet, Dravid never backed off from any challenge. He never showed aggression with his words; rather, he always allowed his willow to speak.
This post briefly describes for which country Rahul Dravid played international cricket, why did Rahul Dravid played for Scotland, Rahul Dravid Scotland career, and his character and dedication to cricket.
Also, Read- 10 Women Cricketers Who Became National Crush
Rahul Dravid in World Cup
In 2003, India reached the finals of the World cup but could not win. Sachin Tendulkar was the highest scorer of that tournament, and he made 673 runs from the 11 matches with a 61.18 average. However, Rahul Dravid kept the wickets for India in that world cup, which was why he was not batting at his usual number 3 position.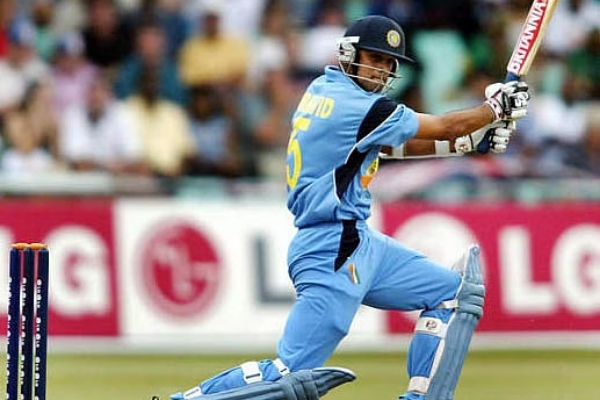 Also, as Sehwag and Sachin were opening the innings for India, Sourav Ganguly demoted himself to the number three position as he usually opened for India before the 2003 World Cup.
Still, Rahul Dravid scored 318 runs from the 11 matches with an average of 63.60. In the 1999 World cup, Rahul Dravid was the highest run-getter in the tournament with 461 runs in 8 matches with an average of 65.86. As a result, he was one of the main contenders of player of the tournament, which was awarded to Lance Klusener for his all-around performance.
Rahul Dravid Playing for Scotland
Scotland cricket gained Associate Membership of the ICC status in 1994. Scotland cricket team finished the ICC Trophy (Qualifier for World Cup) in 1997 at 3rd position. 22 teams took part in the qualifying series for the world cup in which Bangladesh topped the table followed by Kenya.
Scotland lost all their matches in the 1999 world cup. In 2001 ICC trophy Scotland finished at 4th position, so they did not qualify for the 2003 World Cup.
Why Rahul Dravid played for Scotland (Rahul Dravid in Scotland team)
Many would still wonder why and how Rahul Dravid played for Scotland as Rahul was an Indian player and even was vice-captain of the team at that time.
These were not International matches and the Scotland cricket board wanted a fine International player to play for their team so that the team could gain more knowledge and experience about facing good teams.
Gwynne Jones, the Chief Executive of the Scottish Cricket Union in 2003, was keen to hire an Indian international cricket player. The player he had in his mind was Sachin Tendulkar, but then Indian coach John Wright advised him to approach Rahul Dravid instead. John Wright said to Gwynne Jones that Dravid would be the best player on and off the field for his team's growth.
Rahul Dravid was newly married then (Rahul married Vijeta Pendharkar on May 4th,2003). India finished their ICC cricket World cup 2003 tour as the final with Australia got over on 23.03.2003 and the team just returned from South Africa.
Most of the players would have refused such a tour because recently they have returned after such a long and tiring foreign tour and on top of that a new marriage. This Could have tied anyone's feet but it was Rahul Dravid, dedicated to cricket.
Rahul Dravid was paid £45,000 for the 11 one-day matches and a tour game against Pakistan. NRIs raised the most money for this through dinner parties. Rahul Dravid was accompanied by his newly married wife, Vijeta, to Scotland.
Playing under the Captaincy of all-rounder Craig Wright, Dravid played his first game for Scotland against Hampshire. He scored 25 runs from 41-balls as Scotland scored 201 runs in their 45 overs. Dravid's first innings was overshadowed by Robin Smith's 82 in Scotland's six-wicket loss.
It was followed by a first-ball duck against the touring Pakistan side when Rashid Latif caught him behind the wickets in Shabbir Ahmed's bowling. Dravid followed it with a fine century in the next game against Somerset, scoring 120 off just 97 balls as Scotland finishes 296 runs in their 45 overs, but his side lost the match by just one wicket.
As the tour ended, Rahul Dravid played 11 games in the National Cricket League for Scotland. He scored 600 runs at an average of 66.66 with three centuries and two half-centuries and a strike rate of 92.73 which was the highlight of his Scotland tour as Dravid was known as a solid batter than an attacking one.
Rahul Dravid career for Scotland was as fantastic as it was for India. Rahul gave more than his hundred percent for which he is known and regarded as a legend of the game.
Rahul Dravid career
Rahul Dravid started his international career on Jun 20, 1996, against England. Batting at number 7 in his debut innings Rahul Dravid scored a brilliant 95 runs. He played his last test in Australia on Jan 28th,2012, after which he took retirement from all international cricket formats.
Rahul Dravid is among the few players in the world who have scored more than 10000 runs in both Test and ODI. Dravid scored 13288 runs in his Test career with an average of 52.31 and 10889 in ODIs with an average of 39.16. Dravid is the second-highest run-getter in test matches for India after Sachin and fourth in the world.
Second and third place is occupied by Australia's former captain Ricky Ponting and South African all-rounder Jacques Kallis respectively.
Rahul has scored 36 centuries in tests and 12 centuries ODIs.
Early Life of Dravid
Rahul Dravid was born on January 11, 1973, in Indore, Madhya Pradesh, in a Maharashtrian Hindu Desatha Brahmin family. He later moved to Bangalore as his father was working in Jam company. That is why Rahul Dravid is called jammy by his teammates and friends. Later he appeared in a Kissan jam ad, and since then, even the nation started calling him Jammy.
Rahul Dravid has a degree in commerce from St. Joseph's College of Commerce, Bangalore. Dravid wanted to become a Charted Accountant.
Rahul Dravid as wicketkeeper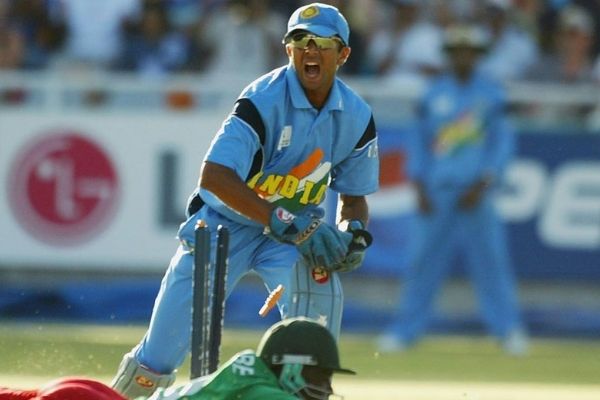 In the early 2000s, under the leadership of Sourav Ganguly, India was unable to find a wicketkeeper-batsman like Gilchrist, Boucher, or Alec Stewart. Thus India decided to hand over the wicketkeeping gloves to Rahul Dravid so that India can play an extra batter. Dravid, who initially started his career as a wicketkeeper, was quite out of touch as he left wicketkeeping at the age of 15.
So then Indian coach John Wright hired a wicketkeeping coach to train Rahul Dravid and especially the feet movement.
Rahul Dravid's best score
On April 15th, 2004, Rahul Dravid scored his highest score in the test. He scored 270 runs from 495 balls at Rawalpindi, Pakistan. India won the test match on the fourth day. But as per fans and many cricket experts, his best innings was the partnership with VVS Laxman at Eden Garden against Australia after follow-on.
Rahul Dravid's Fastest ODI half-century
People associate Rahul Dravid with rock steady innings with a relatively lower strike rate, but who would believe that Rahul Dravid holds the record of the second-fastest half-century by any Indian.
In 2003 Rahul scored a blazing half-century just from 22 balls with 3 sixes and 5 boundaries, equalling with the record by Kapil Dev and Virendra Sehwag for the fastest half-century by an Indian in ODIs.
Rahul Dravid, New Zealand, and Hyderabad Ground have some special connections. In 1999-2000 Rahul Dravid scored 153 runs which remained his highest score in ODIs. This time also the New Zealand team was at receiving end and Dravid was unstoppable coming to bat at number 5.
Children
Dravid has two sons named Samit and Anvay. Both sons also play cricket, and his elder son Samit Dravid scored as an attacking batsman and has scored two double centuries in November 2019 and January 2020 in zonal and school level under-14 matches.
Rahul Dravid Net Worth
As of January 2020, Dravid's Net Worth was $23 Million, which means if you calculate in Rupees, it would be 168 crores Rupees. Dravid used to get 5.40 crores Rupees per annum while he was the head coach of Under19 and India A team.
However, he is now getting higher pay as the head of the National Cricket Academy.
Dravid captained Rajasthan Royals in his last IPL. The team paid him 2.3 crores for a season. Later Dravid was the coach of the team when he retired from all formats of cricket after the 2013 IPL.
T20I
Dravid played only one T20 international in his career and that too in his last tour to England at Emirates Old Trafford on Aug 31, 2011. Dravid scored 31 runs from 21 balls with three sixes. Till 2015 Dravid held the record of the oldest player to make debut in T20I.
Why Rahul Dravid was different
Dravid was a rare combination of a calm head, mental toughness, and technical excellence. Very rare cricketers are there who possess all three qualities and still remained grounded. He did not show emotions while winning and did show his disappointment while he lost.
A glimpse of his gentleness can be felt from the line he said in his interview after playing 100 tests for India " To share the dressing room with legends like Sachin Tendulkar and Anil Kumble was such an honor for me."
He further said, " I remember walking out to bat in my debut Test at Lord's in 1996, thinking that whatever happened later, I'd be a Test cricketer and that I'd fulfilled a childhood dream."
"When I look back on my career, I realize how fortunate and blessed I have been. I realize that I could not have accomplished so much without the help of many people, including my parents, wife, friends, coach, teammates in Karnataka and the Indian team, and captains under whom I have played. I take a step back and reflect on how fortunate I have been to have survived this long. I know I've done well, but I've also met the right people along the way, so I consider myself fortunate."
Dravid was the part of many great partnerships silently, why I said silently? The spotlight was always on the other batsman. He was the reason why other batter felt secured and played their strokes. Let me give you some examples.
1999 Cricket World Cup match against Sri Lanka (Dravid played a brilliant series for India)
In the 1999 world cup, India faced the defending champions, Sri Lanka, in a must-win league match. Batting first India lost their opening batsman Sadagopan Ramesh very early, at a score of just 6 runs.
Dravid walked in for India at no 3, and the partnership he had with Sourav Ganguly remained the highest partnership in the world cup till 2015. Both had 318 runs of a partnership between them as India posted a score of 373/6 in their 50 overs.
India won the match, and Sourav Ganguly was selected as Man of the Match for his performance. His 183 runs from 158 balls were in the talks in media from England to India. He broke the record of Kapil Dev for the highest run by an Indian individually at any match and in the world cup match. Sourav Ganguly's inning is still the best by an Indian in a World cup.
But in all these people, forget Rahul Dravid's innings, who provided the steadiness and balance the Indian team required at that time after losing an early wicket. Rahul scored runs from 129 deliveries with a strike rate of 112, which was almost par with Sourav Ganguly's strike rate.
But whenever there is a discussion of the 1999 world cup match, everybody remembers Sourav's innings and the towering sixes he hit against Muttiah Muralitharan or Aravinda de Silva.
1999-2000 ODI against New Zealand in Hyderabad (Dravid played a brilliant series for India)
On Nov 8th, 1999, India posted a mammoth score of 376 for 2 batting against New Zealand. After losing Sourav Ganguly early, Rahul Dravid walked into the crease. Both built a partnership that lasted for 341 runs, a record at that time. Sachin scored 186 runs from 150 deliveries and remained not out.
Sachin became the highest run-scorer for India, surpassing Sourav Ganguly, who had the previous record of 183 runs. Though Sachin failed to surpass Saeed Anwar's record of the highest individual run (194), he stole the limelight in that match. People, cricketers, talked about Sachin Tendulkar's blistering innings, but all quite just forgot that Dravid scored 153 runs from 153 deliveries.
Also Read- The Struggle Story of Rishabh Pant
Kolkata Test Against Australia (Dravid played a brilliant series for India)
After winning the 1999 Cricket World Cup, the Australia team had become very strong and were also filled with confidence. When Australia came to tour India in 2001, Steve Waugh's team had created a world record by winning 15 consecutive Tests. And wanted to create history by winning the Test series in India.
The first Test was played at the Wankhede Stadium in Mumbai, in which Australia won by 10 wickets. Now Australia's tally had reached 16 consecutive wins. Steve Waugh wanted to take this to 18 consecutive wins but this world record was broken and it was broken by India in the next match.
The second test was played at the Eden Gardens. While batting first, the Australian team had put a score of 445 runs on the board. The Indian team, who came out to bat, could only score 171 runs in their first innings. Because of this, Team India had to face the follow-on.
Although India's condition was a little better this time than last time, still Rahul Dravid came to the crease after losing 4 wickets for 232 runs, who batted for one and a half days with VVS Laxman. And there was a partnership of 376 runs, due to which India was able to declare on 657.
You can imagine the frustration of Australian captain Steve Waugh from the fact that in the second he asked his all teammates except himself and wicketkeeper Adam Gilchrist to bowl.
However, at that time many people felt that Sourav Ganguly was wrong because it happened only once in the history of cricket to win by falling on. But Sourav Ganguly's body remained correct and India became the second team to win the match by follow-on.
After the match, VVS Laxman was praised everywhere for his innings of 281 runs. He was also selected Man of the Match. VVS Laxman's innings were praised everywhere from the media.
VVS Laxman's innings and India's victory were much talked about and somewhere in Kishor, Rahul Dravid's innings did not get the attention it deserved.
Rahul Dravid biography
Full name
Rahul Sharad Dravid
Names Earned
Jammy, The Wall, Mr. Dependable
Profession
Cricketer (Batter)
Height (approx.)
Centimeters– 180 cm
Meters– 1.80 m
Feet & inches– 5' 11"
Weight (approx.)
Kilograms– 75 kg
Pounds– 165 lbs
Body Measurements (approx.)
– Chest: 41 Inches
– Waist: 34 Inches
– Biceps: 13 Inches
Eye Colour
Dark Brown
Hair Colour
Natural Black
International Debut
Test– On 20 June 1996 against England at Lord's

ODI– 3 April 1996 against Sri Lanka at Singapore
Jersey Number
#5
#19

Team
India
Scotland
Asia XI
Canterbury
ICC World XI
Karnataka
Kent
Marylebone Cricket Club
Rajasthan Royals
Royal Challengers Bangalore
Coach/Mentor
Keki Tarapore and Gundappa Viswanath
Batting Style
Right-handed bat
Bowling Style
Right-arm off-break
Date of Birth
11 January 1973 (Thursday)
Age (as of 2022)
49 Years
Birthplace
Indore, Madhya Pradesh, India
Zodiac sign
Capricorn
Nationality
Indian
Hometown
Bengaluru, Karnataka, India
School
St. Joseph's Boys' High School, Bangalore, Karnataka, India
College/University
• St. Joseph's College of Commerce, Bangalore University, Bangalore, Karnataka, India,
• St Joseph's College of Business Administration, Bangalore, Karnataka, India
Educational Qualification
Degree in Commerce
Address
Indira Nagar, Bengaluru, Karnataka
Hobbies
Reading books, listening to music, and spending time with his friends and family.
Marital Status
Married
Affairs/Girlfriends
Vijeta Pendharkar
Marriage Date
4 May 2003
Wife/Spouse
Vijeta Pendharkar

Children
Sons– Samit Dravid and Anvay Dravid

Parents
Father– Sharad Dravid (worked in a Kissan Factory)


Mother– Pushpa Dravid (Professor of architecture at the University Visvesvaraya College of Engineering, Bangalore)

Siblings
Brother– Vijay Dravid
Favourites
Cricketer
Gundappa Viswanath, Michael Holding, Brian Lara, Sachin Tendulkar, Sunil Gavaskar
Cricket Ground
Eden Gardens (Kolkata) and Lord's Cricket Ground
Food
Chicken Tikka Masala, Dal and Rice, Mango Milkshake
Actor
Tom Cruise, Aamir Khan
Actress
Demi Moore and Michelle Pfeiffer
Film
Hollywood– Braveheart and Ghost
Singer
Bob Dylan and Bruce Springsteen
Colour
Blue
Sportsperson
Roger Federer
Book(s)
'Tough times never last, tough people do' by Robert Schuller and Jonathan Livingston Seagull by Richard Bach
Sports
Hockey, Football, and Badminton
Cars Collection
Mercedes-Benz GLE 350


Porsche 911 Carrera S

Salary (approx.)
Rs. 10 Crore per annum as an Indian coach
Net Worth (approx.)
Rs. 172 Crore ($23 Million) (as in 2022)
Stats
| Format | Mat | Inns | NO | Runs | HS | Ave | BF | SR | 100s | 50s | 4s | 6s | Ct | St |
| --- | --- | --- | --- | --- | --- | --- | --- | --- | --- | --- | --- | --- | --- | --- |
| Test | 164 | 286 | 32 | 13288 | 270 | 52.31 | 31258 | 42.51 | 36 | 63 | 1654 | 21 | 210 | 0 |
| ODI | 344 | 318 | 40 | 10889 | 153 | 39.16 | 15285 | 71.23 | 12 | 83 | 950 | 42 | 196 | 14 |
| T20I | 1 | 1 | 0 | 31 | 31 | 31.00 | 21 | 147.61 | 0 | 0 | 0 | 3 | 0 | 0 |
| FC | 298 | 497 | 67 | 23794 | 270 | 55.33 | | | 68 | 117 | | | 353 | 1 |
| List A | 449 | 416 | 55 | 15271 | 153 | 42.30 | | | 21 | 112 | | | 233 | 17 |
| T20 | 109 | 101 | 7 | 2586 | 75* | 27.51 | 2271 | 113.87 | 0 | 13 | 311 | 34 | 23 | 0 |
Bowling
| Format | Mat | Inns | Balls | Runs | Wkts | BBI | BBM | Ave | Econ | SR | 4w | 5w | 10w |
| --- | --- | --- | --- | --- | --- | --- | --- | --- | --- | --- | --- | --- | --- |
| Test | 164 | 5 | 120 | 39 | 1 | 1/18 | 1/18 | 39.00 | 1.95 | 120.0 | 0 | 0 | 0 |
| ODI | 344 | 8 | 186 | 170 | 4 | 2/43 | 2/43 | 42.50 | 5.48 | 46.5 | 0 | 0 | 0 |
| T20I | 1 | – | – | – | – | – | – | – | – | – | – | – | – |
| FC | 298 | | 617 | 273 | 5 | 2/16 | | 54.60 | 2.65 | 123.4 | | 0 | 0 |
| List A | 449 | | 477 | 421 | 4 | 2/43 | 2/43 | 105.25 | 5.29 | 119.2 | 0 | 0 | 0 |
| T20 | 109 | – | – | – | – | – | – | – | – | – | – | – | – |
FAQs
Why Rahul Dravid is called wall?
Like a wall Dravid was rock solid, he faced 31258 balls in test cricket which is still a record by any batter for facing the highest number of balls.
Dravid is by nature a shy person and keeps away from media or interviews. In an interview, he said that he keeps away from social media as he doesn't want it to affect his professional or family life.
Is Rahul Dravid a CA?
Rahul Dravid studied commerce and wanted to become a CA or Charted Accountant but he found it too hard. Eventually, he dropped the idea and concentrated on his game.
Who gave Rahul Dravid the name Wall?
The term was coined by Leo Burnett India for a Reebok commercial and they also gave names to Mohammad Azharuddin and Anil Kumble but they never got famous like Dravid's.