Today, we will talk about the 9 best OTT platforms in India where if you subscribe, you will keep yourself entertained throughout the day, you will get web series, movies, TV shows. These platforms have tons of content that will take a good year to be watched.
The full form of OTT is over the top. In this, you can watch or listen to any audio, video, or media-related content on the internet or any digital platform without satellite or your cable TV provider. You can listen and watch the content from anywhere and at any time.
For this, you have to have an internet connection. OTT is a platform on which you will get to see a lot of content in one place.
Before a few months, there was no censorship over OTT platforms in India, although India's Government implemented some regulations over the OTT platforms a few months ago. Still, OTT platforms have more freedom of content creation than movie and TV serials.
9 best OTT platforms in India
The OTT platforms we will discuss are mostly video streaming services in India. Not only web series, on these platforms you can watch movies and TV shows too. So let us find out which are the best online streaming apps.
Netflix
Amazon Prime Video
Disney Hot Star
Alt Balaji
ZEE5
MX Videos
Voot
Sony Liv
ULLU
Also Read- The Sad life of Guru Dutt
Lets Discuss in details about these best OTT platforms in India
Netflix
Series
One of the few OTT platforms in India that were very famous earlier because of its Hindi and English web series is Netflix.
Sacred Games, which aired on Netflix, was one of India's first few web series to become a huge hit, starring Nawazuddin Siddiqui, Saif Ali Khan, Radhika Apte, and directed by Anurag Kashyap.
There were other Indian series in which Lust Stories is one. Lust Stories featured artists like Kiara Advani, Radhika Apte, Bhumi Pednekar, Neha Dhupia. And it was directed by 4 directors in it were Karan Johar, Anurag Kashyap, Zoya Akhtar, and Dibakar Banerjee.
Netflix series Delhi Crime got a lot of appreciation too. The story was based on the 2012 Nirbhaya rape case and can give you goosebumps while watching.
Some of the foreign web series were also very well-appreciated and watched on Netflix. Like Fauda, which was the story of an undercover agent, and Narcos, one based on Pablo Escobar's story, a real-life smuggler from Colombia.
Pricing
From 4 subscription plans on Netflix, which are Mobile, Basic, Standard, and Premium. In mobile. Recently, Netflix reduced subscription plans price in India. Plans range from ₹ 149 to ₹ 649 a month. No extra costs, no contracts.
You have to pay ₹199 of the month, and you can access Netflix on one mobile-only at a time. You can watch the same basics on mobile as well as on your laptop and TV. You need to download the Netflix app from the Google Play Store or App Store for iPhones.
But at the same time, you can access it from the same device. In the same standard, it becomes two devices, meaning you can access from two places at one time. At the same premium, it becomes 4, and in it, you also get the option of HD and Ultra HD.
Amazon Prime Video
Amazon Prime has three subscription plans. Previously Amazon Prime had only had two plans and that was ₹ 129/month and ₹ 999 annually. Amazon has increased plan rates and the new plans are:
Rs 179 for Monthly Plan
Rs 459 for Quarterly Plan
Rs 1,499 for Yearly Plan
In Amazon Prime, you also get Amazon Prime Video, Amazon Prime Music, and many features while shopping on Amazon. Now let's talk about some of the best series and movies on Amazon Prime. It is definitely one of the best OTT platforms in India.
To watch the content you need to download Amazon prime video app from the Google Play Store or App Store for iPhone. You can access the amazon prime video on your laptop by directly visiting the site.
Mirzapur is one of the most favourite web series liked in the country. Pankaj Tripathi, Ali Fazal, Rishika Dugal, Shweta Tripathi, Vikrant Massey, etc., were seen in the web series. Its two seasons have been released.
Family Man is another popular web series on Amazon Prime starring artists like Manoj Bajpai, Priyamani, Gul Panag, and Neeraj Madhav. The second season of the series is also available on the platform and it has received equally good reviews.
Breathe is also one of the popular web series released on Amazon Prime in which R Madhavan appeared in the first season, and Abhishek Bachchan appeared in its lead role in the second season.
Similarly, Panchayat starring Nina Gupta, Jitendra Kumar, Raghuveer Yadav, Pooja Singh was also very much liked by the people.
Inside Edge, based on cricket premier league, starring Vivek Oberoi, Richa Chadha, Angad Bedi, Tanuj Virwani, etc., is a must-watch Hindi web series that you should not miss. The series has been rated 8 stars on IMDb.
Apart from this, you can also watch many new and old Hindi movies on Amazon Prime, and all the movies live in the HD version, which is available.
Disney Hotstar
Disney Hotstar has 3 free plans, VIP and premium. For free, you will be able to see some of his basic content, whereas, in VIP, its contact becomes a bit more. As you will be able to watch live sports, you will watch Hotstar's special web series. With movies, animations, sports, serials and web series Disney Hotstar is one of the best OTT platforms in India.
You will also be able to watch Hindi films. And along with that, you will be able to watch Hollywood movies that are dubbed in Hindi. But movies that are not dubbed, you will only see in premium. And at a time you will be able to access one screen whether it is your mobile, laptop or TV.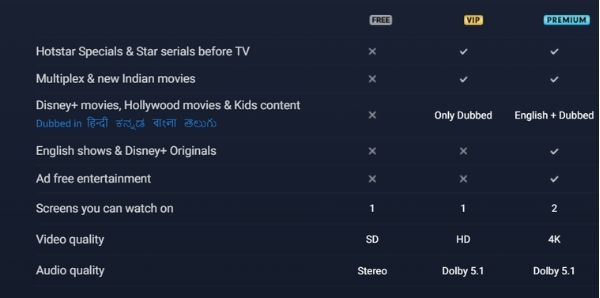 Some Web famous Web series
Special Ops on Disney Hotstar were highly praised in which KK Menon was seen in the lead role, and Sajjad Delafooz, Karan Tacker, Saiyami Kher, Divya Dutta were also seen with him. This web series's story is based on RAW, which starts with the Parliament attack in 2001.
Criminal Justice is a very popular web series on Disney Hotstar in which Pankaj Tripathi, Jackie Shroff, and Vikrant Masey played different roles.
Hostages is a very popular crime thriller on Disney Hotstar, starring Tisca Chopra, Ronit Roy, Surya Sharma, and Malhar Rathore.
City of Dreams, which is a popular political drama on Hotstar. And there were artists like Priya Bapat, Flora Saini, Atul Kulkarni, and Sachin Pilgaonkar.
Similarly, Sushmita Sen's Aryaa was also well-liked. Apart from Sen, Chandrachur Singh and Maya Sarao have also worked in this web series.
Apart from this, you can also watch upcoming IPL. Hindi movies, English movies, and animated films on Disney Hotstar.
Alt Balaji ( OTT platforms in India which is made in India)
Alt Balaji has a 3 payment option and is ₹ 100 for 3 months, ₹ 180 for 6 months, or ₹ 300 for 12 months. Alt Balaji is completely made in India and is one of the best OTT platforms in India. Apart from Balaji's web series, you can also watch Balaji-sponsored movies and music videos in Alt Balaji.
Some Web famous Web series on Alt Balaji
Sharman Joshi and Asha Negi stared Barish is a great romantic web series of Alt Balaji. In which Sharman Joshi is seen as a rich man and Asha Negi as his employee. Later, both get married, and their love remains intact even after the ups and downs.
Who is Your Daddy is a very good comedy and drama web series on Alt Balaji starring Rahul Dev and Harsh Beniwal in the lead role?
"Kahane Ko Humsafar Hain," which has Ronit Roy, Mona Singh, and Gurdeep Kohli in its lead role, has 3 seasons and is one of Alt Balaji's best web series.
Mentalhood through which Karisma Kapoor has made a come back to her acting career is also a very good web series.
The Married Woman is set in the early 1990s when being attracted to the same gender was considered a felony by the law and a joke by society, and it follows the story of a middle-class woman who is living the 'ideal' life. Astha is a college professor with a caring and settled husband (Suhaas), a successful career as a college professor, and a loving family that includes two children and caring in-laws. When she meets Aijaaz (Jamaluddin), a young man in college who supports freedom of choice and strives to blur all lines of faith, gender, and caste, the 'perfection' loses its appeal. She falls in love with him, meets his wife (Monica), and learns about her interests and identity.
Alt Balaji has some Controversial Series
"Gandi Baat," which has been released for 4 seasons on Alt Balaji, has been in the limelight. This series is made of a lot of short stories.
Alt Balaji's series called triple X was very much in the headlines because of its on-camera steamy scenes. The lead actors of this series were Ritvik Dhanjani, Kyra Dutt, Aparna Bajpai, Priyanka Talukdar, Aparna Sharma and Flora Saini.
ZEE5
ZEE5 is another subscription-based video streaming service from ZEE entertainment enterprises.
The ZEE5 subscription comes in 2 plans, the first one is ₹ 299 for 3 months and the second one is ₹ 499 for 1 year. By subscribing to ZEE 5, you will be able to see all Alt Balaji contents as well. With it, as many blockbuster movies of ZEE and as many live TV shows of ZEE will also be watched.
Show
Karenjit Kaur The Untold Story, which was made upon the life of Sunny Leone, is one of the best web series of ZEE5. It got 7.4/10 in IMDB.
Kafir starring Dia Mirza and Mohit Raina is an excellent web series. The story is about A Pakistani girl who accidentally comes to India and how she is jailed in India. Mohit Raina, a press reporter of India, helps her go back to her homeland.
Starring Jennifer Winget, Code M is a good web series that you can watch, it also stars Tanuj Virwani, Keshav Sadhana, and Rajat Kapoor along with Jennifer Winget. The series has got eight out of 10 points in IMDb.
Abhay, inspired by some real criminal cases in which Kunal Khemu is in the lead role, is a very good web series. In this, Kunal Khemu is playing the role of a police officer who can go to any extent to solve the case.
STATE OF SIEGE 26/11 is another web series on ZEE5 that you should not miss. A set of ten terrorists entering Mumbai's calm property makes it a dark town by intentionally shooting innocent people and taking the lives of several men and women. Arjun Bajwa is in the lead role in this web series along with Arjun Bijlani Mukul Dev Vivek Dahiya and Tara Alisha Berry.
The story gives a small amount of background regarding Ajmal Kasab and reveals how he is abused by culture, which leads him to become a terrorist.
The revelation is shocking and also an eye-opener about how a terrorist is born. November 9, 2008, or 26/11, since most of us know a day of sorrow and despair, we wouldn't like to watch again.
MX Videos From MX Player
MX Originals is completely free for the moment. In this, apart from your web series of Mx Originals, you can also see the web series of Alt Balaji, TVS, Sony Live, Voot, Hoichoi, etc. Apart from this, there are also many new and old movies you can see in MX Original.
MX Original has some of the best web series including Ashram starring Bobby Deol, Bhaukal, Pati Patni Aur Woh featuring Riya Sen, Hello Mini, Hey Prabhu, Chakravyuh. You can see all these web series on MX Originals.
Voot
Voot is another good OTT platform in India that has some very nice shows. It costs 99 per month or 499 per year for one screen.
A forensic specialist and his mentor are trapped in a dangerous game of cat and mouse with a psychopath murderer in Varanasi. This gripping crime thriller web series is set in two worlds: one based on forensic science and the other ruled by ancient Indian mythology. Asur, starring Arshad Warsi and Barun Sobti, premiered positive reviews from both fans and critics and has an IMDb rating of 8.4.
Crackdown follows a RAW secret service team charged with tracking down terrorist masterminds planning a terror attack in India. The rest of this gritty spy thriller revolves around their race against time to discover the dark plot and save millions of innocent lives. Saqib Saleem, Iqbal Khan, Shriya Pilgaonkar, and Rajesh Tailang star in this eight-episode series.
The Gone Game, Illegal: Justice, Out of order, and The Raikar Case are among some must-watch series on Voot select.
Sony Liv
Sony Liv is a streaming service from Sony Pictures networks India and the app is available for both TV and Mobile on the Google Play store.
Sony Live features among the best OTT platforms in India, Sony Liv costs Rs 299/ month or Rs 699/ six months or Rs 999/ year. The best is to go with an annual plan.
Shows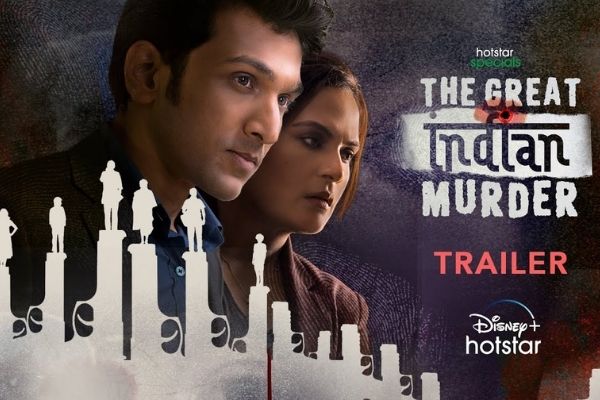 The Great Indian Murder is the latest series released on the streaming service starring Pratik Gandhi, Richa Chadha, Ashutosh Rana, Himanshi Choudhry, Sakshi Benipuri among others.
'Scam 1992′ is one of the most watchable series you can come across, inspired by Debashis Basu and his wife Sucheta Dalal's book "The Scam." The plot of the show revolves around Harshad Mehta's life. Pratik Gandhi, as Harshad Mehta, has done a tremendous job, and the show is 2020's one of the biggest hits.
Gullak is directed by Amrit Raj Gupta and Palash Vaswani and centers on a middle-class family's daily bickering and challenges. The 'Mishra' family is featured in the series, which includes father Santosh (Jameel Khan), mother Shanti (Gitanjali Kulkarni), elder son Annu (Vaibhav Raj Gupta), and younger son Aman (Harsh Mayar).
Subramaniyam S. Iyer directs the crime thriller web series Project 9191. The show is set in Mumbai and follows DCP Amitabh Sinha and his dedicated team as they work to eliminate crime from all corners of Mumbai.
ULLU
Ullu is one of the best OTT platforms in India but mostly for adult content. Ullu monthly subscription will cost you 36 per month or 99 rupees per year.
The Bull of Dalal Street is one of the best web series on Ullu featuring Falguni Shah, Iqbal Khan, and Ashmit Patel. It revolves around a bankrupt man who becomes Mumbai's most extravagant stockbroker.
Halala is another good web series featuring actors like Eijaz Khan, Ravi Bhatia, Neelima Azeem, Shafaq Naaz, and Deepika Singh Goyal. This web series made a strong statement about social issues such as "Triple Talaq" and the "Halala" ritual.
Size Matters is an adult comedy web series featuring Tejdeep Gill, Priyanka Bora, Riju Biswas, Khatija Iqbal, Poorti Arya, Momita Jaise, Meghna Dutta.
There are some other ULLU web series that has some adult content. If your choice is this kind of content then there are plenty available.
Wrapping Up OTT platforms in India
So these were some best OTT platforms in India and their best web series. which one is your favourite? If you have any comment or suggestion then write us back.