Adele is one of the most famous pop singers right now in the world. Here we will discover her life journey through a biography and other details. Adele was born in Tottenham, London, England on May 5, 1988.
| | |
| --- | --- |
| Name | Adele |
| Date of Birth | 05-05-1988 |
| Age | 33 |
| Songs | Rolling in the Deep, Someone Like You, Set Fire to the Rain … |
| Genre | Soul, pop |
| Parents | Penny Adkins and Mark Evans |
| Spouse | Simon Konecki (d. 2016-2021) |
| Son | Angelo Adkins |
| Name | Adele Laurie Blue Adkins |
| Height | 1.75 m |
| Photos and videos | Instagram |
| Current Boyfriend | Rich Paul |
Adele 30
30is the latest album released by the singer.
30 is an album that represents a significant shift in direction. Even if the album is still at times painful and linked to the experience of separation and being a single mother, it often becomes sunny with the lightness of an even mainstream pop, rhythmic and in some songs even danceable, which is an absolute rarity for Adele.
It's even more sophisticated at the end, thanks to the frequent jazz and urban textures. It is her fourth album, which was released today, and it sees the great London singer embark on a new path, moving away from the painful soul of her previous works and toward a decidedly more joyful vision of her life.
Parents
She is the daughter of Penny Adkins, an Englishwoman, and Mark Evans, a Welshman who abandoned them when she was two years old, leaving her mother to raise her alone.
Her mother encouraged her daughter's interest in music by taking her to concerts at a young age and involving her in social gatherings with friends.
She began singing at the age of four, with the Spice Girls serving as her primary influence; she stated that when her favourite Spice Girl, Geri Halliwell, left the group, it broke her heart.
Adele and her mother moved to Brighton when she was nine years old, in 1997. They moved back to London in 1999, first to Brixton and then to West Norwood. Her song "Hometown Glory," written and composed when she was sixteen years old, refers to the West Norwood neighbourhood.
In May 2006, she enrolled at the Brit School of Performing Arts in Croydon, alongside Leona Lewis and Kate Nash.
Read- Gal Gadot Miss Israel and Wonder Woman 1984 Protagonist
Singer
She possessed a foreboding and sensual voice full of nuances that piqued the industry's interest. Her vocal cords express the power of the soul, daring some jazz forays to show a poise that earned her comparisons to one of her favourite singers, Etta James, or Ella Fitzgerald.
Adele drew the attention of the record industry when a friend of hers posted a three-song production on her social networking site MySpace.
Songs of Adele
The release of her first single, Chasing Pavements, solidified it as her firm promise and propelled her to the second best-seller position. Within a year, she was invited to share the stage with Björk and Paul McCartney on the Jools Holland television show, which she had watched with her mother when she was a teenager.
In 2008, he signed a contract with XL Recordings and released his debut album, 19 (the album's title refers to his age), which debuted at the top of the charts and earned him two Grammy Awards (Best New Artist and Best Vocal Performance). More than four million copies of Pop for a Female Singer) were sold.
Her second studio album, titled 21, was released in January 2011 and featured eleven songs written by her; a month later, it was released in the United States. The album received critical acclaim and commercial success, selling 208,000 copies in the UK and 352,000 in the US in its first week, making it the fourth best-selling album of all time.
Her popularity in the United States was boosted by her appearance on "Saturday Night Live" in an episode that outperformed previous ratings; it was the night the main interviewee was politician Sarah Palin. The show attracted the largest audience in fourteen years.
The ballad Someone Like You, written for her second studio album by her and producer Dan Wilson, is about a man in his 30s who dated her for 18 months. She thought she was going to marry him, but she found out shortly after the couple split up that she was about to marry another girl. She described the writing of this song as "liberating therapy" for her.
In March 2011, the singer-songwriter equalled Madonna's record by remaining at No. 1 on the UK album chart for the ninth consecutive week, the longest period for a female solo artist. Her working relationship with the "XL" label was crucial to her success. Adele was able to choose which producers she worked with, which singles would be released, the album's cover, which interviews she would give, and whether or not she would perform at festivals. Hometown Glory, Chasing Pavements, Rolling in the Deep, Someone Like You, and Set Fire to the Rain are among her hits.
She cancelled her world tour in early October 2011, and a few days later announced that she had a serious throat infection that would keep her off the road for a while. She had surgery on November 8, the same year, to stop the bleeding of a benign polyp from her vocal cords.
Awards
She was the great winner of the 54th Grammy Awards on February 12, 2012, in Los Angeles, after winning six awards in a ceremony marked by the death of Whitney Houston.
She won every award she was nominated for after sweeping the charts with her single "Rolling in the Deep." That song was named the best song and best lyrics of 2011, and her second studio album, "21," was named the best album.
She also received three additional gold gramophones for best pop solo performance with her song "Someone Like You," best pop vocal album with "21," and best short music video ("Rolling in the Deep").
Set Fire to the Rain earned her a ninth Grammy in the category of "Best Pop Solo Performance" in 2013.
On October 5, 2012, he released a single for the film Skyfall, written with Paul Epworth, and won the Golden Globe for "Best Original Song" on January 13, 2013, in the 70th edition of the awards; later, he won an Oscar for "Best Original Song" on January 13, 2013, in the 70th edition of the awards.
Prince Charles made her a Member of the Most Excellent Order of the British Empire in 2013 at Buckingham Palace in London.
Albums to come
After a long creative hiatus, she released her new album 25, at the age of 27, in an unexpected announcement on her Facebook page. "My previous album was a breakup record, and if I had to define this, it would be a make-up record," she wrote. "I'm making peace with myself and making amends for lost time, reconciling myself with everything I did and didn't do." She apologized to her fans, saying, "I'm sorry it took so long." The launch date had been set for November 20, 2015.
In 2016, she received British Female Solo Artist, British Single for Hello, British Album for 25, and Global Success for her record sales at the 36th Brit Awards. The British singer triumphed at the Grammy Awards on February 12, 2017, by winning five awards, including best album of the year for 25, the best recording of the year, and best song, both for the song Hello.
Adele released Easy On Me, the first song from her long-awaited fourth album, 30, on October 15, 2021, ending more than five years of anticipation.
Trasformation
Adele has transformed from fat to fit.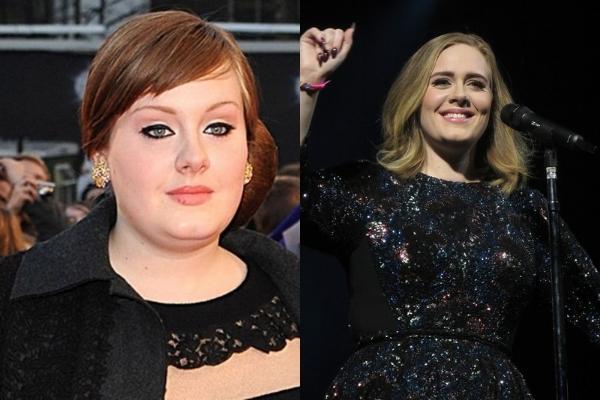 Childbirth and marriage
Adele's relationship with businessman Simon Konecki was revealed in January 2012. They announced that they were expecting a child in June 2012. Angelo Adkins, their son, was born on October 19, 2012. In early 2107, they married.
Adele Adkins and Simon Konecki's divorce after seven years of marriage and a shared child could cost the singer half of her fortune or approximately 160 million euros. The artist's representatives announced her separation from the financier, with whom she would have to share her fortune because they did not sign a prenuptial agreement for asset separation. On March 4, 2021, her divorce was finalized.
Adele began dating American Rich Paul, a representative for prominent NBA players such as LeBron James, in 2021.
Did you know that
She is terrified of performing on stage.
Despite her long musical career, she frequently suffers from panic attacks and even vomiting before her performances.
Studio albums Discography
19 in 2008,
21 in 2011
2008: 19
2011: 21
2015: 25
2021: 30
Soundtracks, EPs, and Live Albums are all available.
Itunes Live from SoHo in 2009 (2009)
London's iTunes Festival in 2011
Adele Performs At The Royal Albert Hall In 2011.
Skyfall (2012)