The stories of enmity in Bollywood must have become well-known, but Vinod Khanna and Firoz Khan's friendship made friendship famous.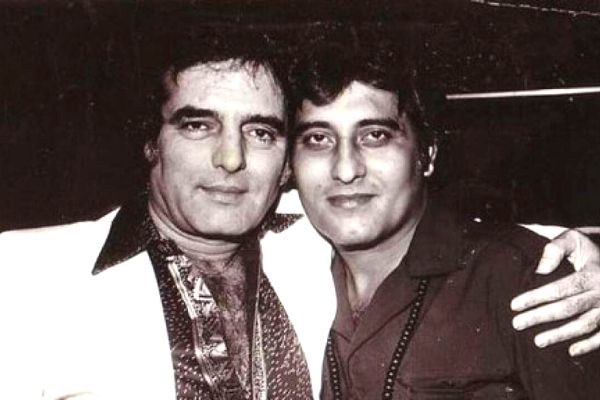 On the sets of Shankar Shambhu in 1976, the two formed a friendship. Their friendship grew stronger as a result of the film. Following this film, the two appeared in the 1980 hit film Qurbani and the 1988 film Dayawan. Feroz Khan wrote, produced, and directed both films. Vinod made a comeback after leaving the film industry with the film Dayawan. Many stories about their friendship are still widely circulated in the industry.
Vinod Khanna and Firoz Khan passed away on the same day
Actor Feroz Khan died on April 27, 2009, in his birthplace of Bangalore, exactly 8 years after Vinod Khanna died on April 27, 2017 at the age of 70. Following Vinod's death, many celebrities, including Rishi Kapoor and Sophie Chaudhary, shared this coincidence on social media.
When Vinod Khanna seeks refuge in Osho
Vinod Khanna's life, like the plot of a film, was full of ups and downs. Despite his wealth, fame, and everything else, he felt an emptiness in his life. Vinod Khanna had reached the pinnacle of his career when he made a decision that surprised everyone.
Actually, Vinod Khanna left the film industry in 1982 and traveled to America with his mentor, Rajneesh Osho, to live in his ashram. Vinod spent five years at Osho's ashram in America. Later, in an interview, Vinod Khanna stated that he had everything but was still restless on the inside. Vinod worked in Osho's ashram cleaning toilets, cleaning utensils, and gardening. However, after a few years, he returned to India, and his return to the film world was also facilitated by Firoz Khan, who produced the film Dayawan.
When Firoz Khan was barred from entering Pakistan
Feroz Khan, dubbed "Bollywood's Cowboy," got into an argument with Pakistani singer and anchor Fakhr-e-Alam at a party in Pakistan.
The anchor began speaking too much while praising Pakistan and criticizing India.
To silence Pakistanis, Firoz Khan responded to the anchor in such a way that his mouth was closed at the same time. According to Firoz Khan, every community in our India is progressing, while Pakistan, which was formed in the name of Islam, is lagging behind. Muslims live here, but they fight amongst themselves; we have a Muslim president and a Sikh prime minister. The issue became so serious that Pakistan barred Firoz Khan from entering the country after he arrived in India.
Following that, the Pakistani Foreign Ministry instructed the Pakistani High Commissioner in India not to grant this person a Pakistan visa. Firoz Khan has not returned to Pakistan since.
Cancer is also the leading cause of death in both cases
Firoz Khan died of lung cancer at the age of 69. Firoz was living in a farmhouse in Bangalore for the last time after several years of treatment. On the other hand, cancer was also the cause of death for his close friend Vinod Khanna. Vinod died on April 17, 2017, as a result of bladder cancer.
Both actors' divorces occurred in the same year
In 1971, Vinod Khanna married Geetanjali. The actor has two sons from this marriage, Akshay and Rahul, both of whom are well-known Bollywood actors. Vinod and Geetanjali divorced in 1985, after 14 years of marriage. This is also the year Firoz Khan divorced his wife Sundari.