Indira Varma was born and reared in the United Kingdom. In 1995, she graduated from RADA (Royal Academy of Dramatic Art) in London. She is a method actor who has acted in a number of films and TV shows.
Born on September 27, 1973, the actress is now 48 years but she is no less hot or bold than actresses who are half of her age.
| | |
| --- | --- |
| Name | Indira Varma |
| Date of Birth | September 27, 1973 |
| Age | 48 |
| Nationality | British, Swiss |
| Father | Indian- name not known |
| Mother | Swiss- Italian |
| Husband | Colin Tierney |
| Children | Daughter- Evelyn Tierney |
Indira Varma In Details
In 1996, Indira Varma made her acting debut in the American-Indian film directed by Mira Nair Kamasutra: A Tale of Love. The movie was caught in controversy which led to the late release of the movie.
The movie was based on the 4th-century scripture and was based on 16th-century India.
Indira Varma has remained active in the industry since then, appearing in films such as Sixth Happiness, Bride and Prejudice, Basic Instinct 2, Mindscape, and Una, among others.
Indira Varma was most recently seen in the movie Crisis along with Gary Oldman, Guy Nadon, Armie Hammer, Evangeline Lilly, Greg Kinnear, Michelle Rodriguez, Luke Evans, Lily-Rose Depp. She'll be seen in upcoming flicks such as The One and Only Ivan and Dreamland.
Read- Sarayu Rao: The Shrink Next door actress Biography, Husband, Hot and personal Details
Indira Varma has been a sought-after small-screen actor in addition to her work in cinema. In the year 1996, she began her small-screen career with an episode in the series Crucial Tales. From 2014 to 2017, she was praised for her role as Ellaria Sand in the American fantasy drama film Game of Thrones. She is presently a series regular in the neo-noir web series Carnival Row in the United States.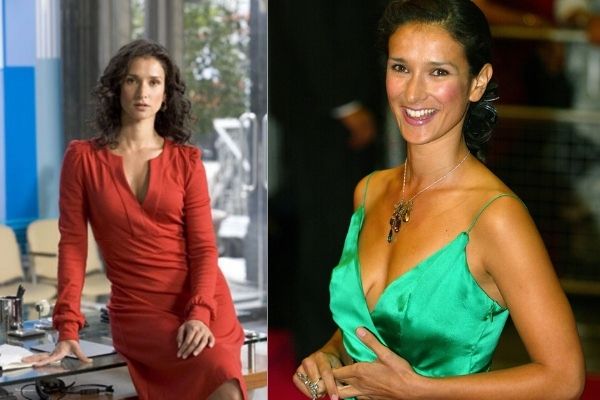 Indira Varma has been cast in the part of Kate in the American courtroom drama television series For Life. She is also a stage performer, having received critical acclaim for her portrayal of Bianca in Shakespeare's Othello at the National Theatre in London. She has appeared in a number of stage productions, including Ivanov, The Skin of Our Teeth, and Man and Superman, among others.
She was born in the United Kingdom to an Indian father and a Swiss mother. She is married to actor Colin Tierney, and they have a daughter named Evelyn.
However, Indira Varma is well-known not just in Bollywood but also in Hollywood. Indira works in Hollywood despite her Indian heritage. Indira can currently be seen in the hit HBO series 'Game of Thrones.'
Indira has been in a number of naked moments in Game of Thrones. As a result, she has entered the debate. Everyone wants to know everything there is to know about them. Indira is well-known for her audacity. Indira is garnering a lot of attention as a result of her work in this series.
Indira, 43, began her career in 1995 with 'Kamasutra: A Tale of Love.' She garnered a lot of news for her daring performances in the first picture.
Indira went on to star in a slew of Bollywood films but was never able to breakthrough. She then tried his luck in Hollywood. Indira now only appears in Hollywood films.
Indira worked on the film 'Aur Pyaar Ho Gaya' with Bobby Deol and Aishwarya Rai. However, he received the most attention from 'Kamasutra.' The people were taken aback by its offensive scenes.
The leak of a daring scene from the same film caused quite a stir. Indira has stayed away from Bollywood for the time being. Indira is one of the highest-paid actresses in the world. His annual salary is ten billion rupees.
Indira has been in a number of television series in addition to films. Since 2014, Indira has been affiliated with 'Game of Thrones.' Indira has a daughter, Evelyn, with actor Colin Tirney. Indira does modeling in addition to acting in films.
| Year | Movie | Character |
| --- | --- | --- |
| 1996 | Kama Sutra: A Tale of Love | Maya |
| 1997 | Clancy's Kitchen | Kitty |
| 1997 | Sixth Happiness | Amy |
| 1998 | Jinnah | Rattanbai "Ruttie" Jinnah |
| 2002 | Mad Dogs | Narendra |
| 2004 | Rover's Return | Zeta |
| 2004 | Bride and Prejudice | Kiran Balraj |
| 2006 | Basic Instinct 2 | Denise Glass |
| 2007 | Sex and Death 101 | Devon Sever |
| 2013 | Mindscape | Judith Morrow |
| 2014 | Exodus: Gods and Kings | High Priestess |
| 2015 | Silent Hours | Dr. Catherine Benson |
| 2016 | Una | Sonia |
| 2018 | Close | Rima |
| 2019 | Official Secrets | Shami Chakrabarti |
| 2020 | The One and Only Ivan | Dr. Maya Wilson |
| 2021 | Crisis | Madira Brower |
| 2023 | Mission: Impossible 7  | |
TV Series
| Year | TV series | Charecter |
| --- | --- | --- |
| 1996 | Crucial Tales | Manreet |
| 1999 | Psychos | Martine Nichol |
| 2000 | Other People's Children | Amy |
| 2000-2001 | Attachments | Sasha |
| 2001 | In a Land of Plenty | Sonali Ganatra |
| 2001 | The Whistle-Blower | Diane Crossman |
| 2002-2010 | Arena | Various characters |
| 2003 | Rockface | Alison |
| 2003 | The Canterbury Tales | Meena |
| 2003 | Reversals | Kathy Irwin |
| 2004 | Donovan | Cara Mathis |
| 2005 | The Quatermass Experiment | Judith Carroon |
| 2005 | Love Soup | Suzanne Daley |
| 2005 | A Waste of Shame | Lucie, the Dark Lady |
| 2005 | Broken News | Melanie Bellamy |
| 2005 | Little Britain | Various characters |
| 2005-2007 | Rome | Niobe Vorena |
| 2006 | The Inspector Lynley Mysteries | Melissa Booth |
| 2006 | Torchwood | Suzie Costello |
| 2006 | 3 lbs | Adrianne Holland |
| 2007 | The Whistleblowers | Alisha Cole |
| 2008 | Comanche Moon | Therese Wanz |
| 2008 | Law & Order: Criminal Intent | Bela Khan |
| 2008 | Bones | Inspector Cate Pritchard |
| 2009 | Inside the Box | Catherine Powell |
| 2009 | Moses Jones | Dolly |
| 2010 | Hustle | D.C.I. Lucy Britford |
| 2010 | Luther | Zoe Luther |
| 2010-2011 | Human Target | Ilsa Pucci |
| 2012 | Silk | George Duggan |
| 2012 | Hunted | Natalie Thorpe |
| 2012 | World Without End | Mattie Wise |
| 2013 | What Remains | Elaine Markham |
| 2014-2017 | Game of Thrones | Ellaria Sand |
| 2016 | New Blood | Lisa Douglas |
| 2016 | Paranoid | Nina Suresh |
| 2017 | Unspeakable | Jo |
| 2018 | Patrick Melrose | Anne Moore |
| 2018-present | Reported Missing | Narrator |
| 2019-present | Carnival Row | Piety Breakspear |
| 2019 | This Way Up | Charlotte |
| 2020-2021 | For Life | Safiya Masry |
| 2020-present | Spitting Image | Priti Patel |
| 2022 | The Legend of Vox Machina  | Lady Allura Vysoren (voice) |
| 2022 | Obi-Wan Kenobi  | |
| TBA | Extrapolations  | Gita Mishra |