Web Series Review- Human
Cast: Shefali Shah, Kirti Kulhari, Ram Kapoor, Indranil Sengupta, Aditya Srivastava, Seema Biswas and Vishal Jethwa
Writers – Mojaz Singh and Ishani Banerjee
Directed by – Vipul Amrutlal Shah and Mojaz Singh
Producer- Vipul Amrutlal Shah
OTT- Disney Plus Hotstar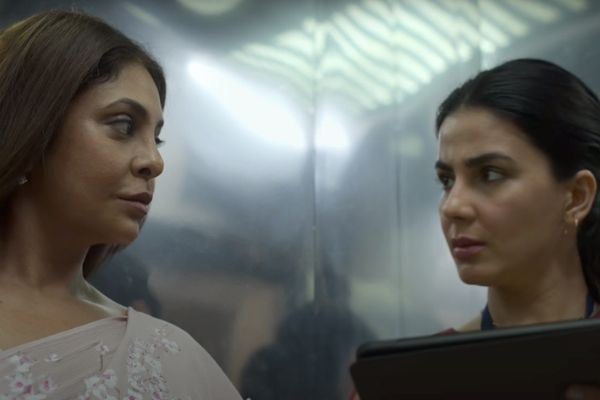 Human Web Series Review: In today's world, cinema and web series are both professions where the audience expects honesty about the subject. It is not required that the series be made in crores. It should include artists who have won both domestic and international awards. Viewers binge-watch 'Family Man' with the same zeal that they do 'Gullak,' 'Yeh Meri Family,' and 'Panchayat.' However, the first month of the year is nearly half over, and a series whose Binch Watch I can recommend to readers has yet to be released. The web series 'Human,' which debuted on Disney Plus Hotstar, is a medical thriller with the potential to become a classic series, but the subject has become completely filmy in its production.
Vipul Amrutlal Shah is a well-known filmmaker and director. Do a lot of research on the stories as well. Even thinking is different every time; they just don't have the artisans in this series to bring their ideas to life. Ishani Banerjee, who shot to fame with her novel 'Aligarh,' is part of the team behind the web series 'Human,' so it's easy to see why one of the story's main characters is gay. Mojaz Singh is also known for providing his characters with their own 'tongue.' They collaborated on a medical thriller, which Disney Plus Hotstar has been promoting as a series in the same genre. The web series 'Human' appears to be slightly better than average in terms of story, direction, acting, music, and technical proficiency.
The creators of the web series 'Human' attempted to tell a 10-episode story on a category that every OTT player is demanding from Mumbai filmmakers these days. OTT is aware that only producers whose films have previously bombed at the box office are eligible to run. It's also no coincidence that both the web series 'Yeh Kali Kali Aankhen' and 'Human,' which debuted this week, are set in BJP-ruled states. These two states also provide adequate film subsidies. However, the glimpse of law and order in Uttar Pradesh shown in 'Yeh Kali Kali Aankhen' will not make any of those who aspire to be a part of Uttam Pradesh proud. And the web series 'Human' depicts such a face of Madhya Pradesh's society and politics, which is not good for the state's branding.
Large economic losses resulted from the failure to develop a corona vaccine, a human drug trial, the Bhopal gas tragedy, a schism among groups of nurses, and a herd of poor who value sheep for money-greedy people. The same as goats. Shefali Shah, who received praise for her performance in 'Delhi Crime,' tries her hardest as an actress to play a character who has lost her inner spirit. The reason for this is also linked to the Bhopal gas tragedy, but this doctor, who has been feeling guilty for not saving his loved ones, upsets the series' balance on when, how, and where he will be deluded. Those who watched the foreign series have now accepted the story's victory by portraying each character as incomplete. However, among the Hindi-speaking audience, the wall of right and wrong remains. It will take some time for him to crumble.
Kirti Kulhari's character is at the other end of the series. Kirti is a former theatre actress. She also reveals her theatrical tastes subtly in her acting. His character's backstory adds interest to the story as well. The story is made up of the top characters of the web series 'Human,' both of whom are women, and their relationships with their husbands, but due to a lack of detail and the fact that these components are not evenly distributed across the canvas of the series, the story is not in sync with the audience. Cannot include If you want to write a review, every reviewer tries to watch the entire series, but after seeing so many depressions and storms in this series, the mind begins to fill with depression as well.
The web series 'Human' is a well-planned series that could have been a true medical thriller by involving subject matter experts and making the main characters more engaged in their professional activities. The first requirement for such stories is that the person telling the stories spends the majority of their time in the profession about which they are telling the stories. The environment is an important part of any story, and failing to consider it weakens the web series 'Human.' This Disney Plus Hotstar series has the potential to be an excellent medical thriller series, but it falls short due to its haste and gloomy atmosphere.