The well-known actress Hina Khan completes 15 million followers on Instagram and her fans are celebrating this feat by trending "HINA KHAN HITS 15M ON IG" on Twitter. This is a rare feat to achieve as there are not many Indian celebrities who have such a huge fan base that too without appearing much in movies.
Hina Khan, a TV and film actress, is one of the most talented in the industry. She studied extensively before venturing into the entertainment industry. She is also very interested in singing.
Her father passed away last year and she was very close to her. her Instagram bio still says 'Papa's girl'.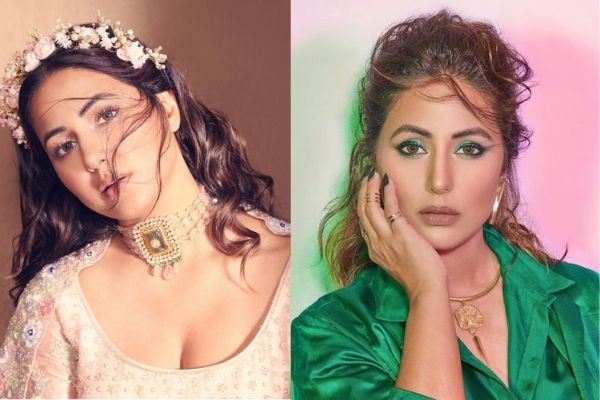 Also, Read- Ramayana Fame Chandrakant Pandya Passes away
Education of Hina Khan
Hina Khan, a well-known actress on the small screen, has now made her film debut. She has also directed a number of short films. Simultaneously, she is interested in singing. She made her debut in the entertainment industry with the superhit Star Plus show 'Yeh Rishta Kya Kehlata Hai.' She played the lead character, Akshara, in this.
Hina Khan was born in Srinagar on October 2, 1987. Aamir Khan, her brother, is the owner of a travel agency. Despite having no interest in the entertainment industry, Hina made a name for herself here.
Hina has an MBA
Hina Khan's name appears on a list of the industry's most educated actresses. In 2009, she received her MBA from the CCA School of Management in Gurugram.
Hina Khan appeared on the singing reality show 'Indian Idol' in 2008. She was able to get her name on the list of the top 30 contestants. Then, in 2009, at the request of college friends, she auditioned for the show 'Yeh Rishta Kya Kehlata Hai.'
Hina Khan has also demonstrated her strength in reality shows such as "Bigg Boss" and "Khatron Ke Khiladi."
Hina Khan's Professional Career
Hina Khan had no desire to become an actress, nor did her interest ever turn to acting, but she achieved great success in the field due to her inner talent.
In 2009, she made her television debut. She was seen as a lead actress in the serial 'Yeh Rishta Kya Kehlata Hai' at the time. She spent a long time in this serial with her co-actor Karan Mehra, who was a Bigg Boss 10 contestant. The serial Yeh Rishta Kya Kehlata Hai was also a big hit.
She left this series after working on it for about 8 years and moving on to other projects. She was also seen in a serial called Qayamat at the same time. Hina, in addition to being an influential actress, is also a very good designer, but she is better known for her acting.
Aside from these two serials, she has also appeared in Perfect Bride, Sapna Babul Ka, Waris, and other shows. She has also appeared on reality shows such as Fear Factor, Master Chef, India Banega Manch, and others.
Hina Khan's Achievements
Hina Khan won numerous awards for her role in the television series Yeh Rishta Kya Kehlata Hai. She received the New Talent Award's Best Actress Award. Along with this, the Indian Telly Award for Best Newcomer was given. In addition, she received the Star Parivar Award for Best Wife in 2010.
Husband and Boyfriend
Although Hina does not want to discuss her personal life in the media, her relationship with the serial's executive producer Rocky Jaiswal came to light while working on 'Yeh Rishta Kya Kehlata Hai.' Later, both of them admitted that they like each other and are planning to marry soon.
Hina Khan appeared on Bigg Boss 11 as a contestant.
Hina Khan has previously appeared in a number of reality shows. A recent example of his bravery was seen in Khatron Ke Khiladi season 8. In this reality show, she also made it to the top three. This time on television, the world's most contentious reality show, Big Boss, has arrived. It will now be seen during the show how Hina challenges the contestants who have come here, as well as how they interact with other people.
Scandal
Shortly after their collaboration, Hina Khan and Karan Mehra became embroiled in a feud. It is said that things were fine between the two at first, but things quickly deteriorated. They both abruptly stopped talking to each other. Later, these people did not want to be seen on screen with each other. The cause of this dispute was unknown, but it is believed that one of the major causes was a difference in mindset between the two. Another source of contention was the timing of both films' productions. Both wanted to schedule the shoot at a time that was convenient for them. As a result, the two's disagreements grew, and they both left the show.
The Hina Khan Film and Web Series
After Bigg Boss, Hina Khan received numerous awards and accolades. Following that, people saw a new Hina Khan. Hina Khan was involved in a number of web stories. Let us tell you that Hina Khan is fantastic. He has millions of fans because of his acting abilities. It will soon be seen in films as well.
Salary and Net Worth
Hina Khan charges between Rs 2.25 lakh and Rs 2.5 lakh per episode.