Farhan Akhtar and Shibani Dandekar Marriage: According to Maharashtrian customs, Bollywood actor, Farhan Akhtar will marry his long-term girlfriend Shibani Dandekar today. According to media reports, they will marry today at Khandala's farmhouse in Mumbai in the presence of close friends and family members.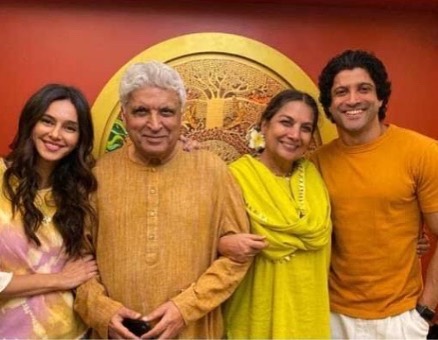 Farhan Akhtar has also invited his close friends Shah Rukh Khan and Hrithik Roshan to his wedding, according to reports. However, it is not yet known whether the two will attend Farhan's wedding.
Farhan Akhtar and Shibani Dandekar are also said to have planned a vow renewal ceremony. Both of them will be married in this ceremony by making a promise to each other. Farhan Akhtar, 48, is set to marry Shibani Dandekar, 41, today. Farhan, on the other hand, has been someone else's husband before this.
The sangeet ceremony was attended by relatives of both Farhan Akhtar and Shibani Dandekar including Farhan's father Javed Akhtar, Honey Irani, Shabana Azmi and Shibani's sister Anusha Dandekar.
Farhan previously married celebrity hairstylist Adhuna. Farhan and Adhuna first met in 1997. Farhan was a relatively unknown name in Bollywood at the time. He hadn't made any headway up until that point. In a club, the two met Farhan Akhtar's sister Zoya. After their first meeting, they both began to like each other.
Adhuna Bhabani is a well-known hairstylist and the owner of B Blunt. When Adhuna first met Farhan, she was preparing to launch her brand. Adhuna founded her own Salon Juice in 1998, which she later renamed B. Blunt.
Farhan and Adhuna married three years after they first met in 2000. Farhan made his directorial debut with the film 'Dil Chahta Hai' the year after his marriage, in 2001.
Adhuna debuted in Bollywood as a hairstylist in Farhan Akhtar's first film. Following this, Adhuna began collaborating with Farhan in all of his films.
Farhan and Adhuna are the parents of two daughters, Shakya and Akira. After being together for many years, they abruptly announced their separation in 2016. Everyone was taken aback by the news of their divorce.
Farhan and Adhuna divorced on April 24, 2017. Adhuna gained custody of both daughters following their divorce. Before the divorce, both of their names were said to be associated with someone else. According to media reports, Adhuna's name began to be associated with Dino Morea's elder brother, Nicolo Morea, before her divorce from Farhan. A year after his divorce, Farhan made his relationship with Shibani public.
Farhan's name was also linked to Shraddha Kapoor prior to the announcement of his relationship with Shibani. Let us remind you that they both appeared in the film Rock On 2.