You should not miss these best underrated Bollywood movies as they are packed with a great storyline and powerful performance. We all come across the movies that are highlighted or have stars in them but sometimes we miss really quality movies because of lack of marketing or sometimes because of the absence of any superstar.
Also read- Top 12 Prettiest Indian Actress of All Time
Best Underrated Bollywood Movies
Chaman Bahaar
Released in June, Chaman Bahar is the story of a paan shop owner who starts his shop on an empty road, far away from the city's noise, and keeps waiting for the customer all day. But leave the customer, he finds a new neighbor who is the daughter of a big government official who came to the city, after whom half of the boys from the city goes mad.
Will the shop owner earn from the crowd, or will he kick out these boys for the sake of the love. Find out in the movie on Netflix.
Cargo-2019
It is the story of a strange spaceship where after the death of a human, it is decided whether he should be sent to earth to start a new life or not. Actually, a demon here calculates the book of the whole life. You can call him Modern Yamraj, just the clothes have changed a bit. Meanwhile, Assistant Madam appears, who changes the entire thinking towards the life and death cycle of Yamraj. Does everything end after death, or is it a new beginning? You will not have to go to the space to find the answer, and you will get the answer on Netflix.
Lootcase
A poor man Nandan Kumar who repairs printing press machines lives in a chawl with his wife and son. Nandan's family is attempting to reconcile their hopes and desires with their financial realities.
A crooked official tries to pass Rs. 10 crores to another minister, along with a file containing evidence of systematic embezzlement. To carry out this mission, he blackmails local gangster Omar. However, Omar's men are ambushed by the goons of rival gangster Bala Rathore while transporting the suitcase packed with money. During the shootout, Patil's men conceal the suitcase in the hopes of recovering it later. But, on the other hand, Nandan finds the suitcase by chance, upon discovering it to be full of money, decides to take it home and hide it in his neighbour's house because his neighbour had gone to his village and given Nandan the keys while he was leaving.
To know what happens to Nandan watch the full movie on Hotstar.
Chintu Ka Birthday
It's April 2004, and allied forces commanded by the United States have been in Iraq for a year. According to the Indian government, all Indians have been returned to their homeland. However, those who entered Iraq illegally are still looking for a way out. One such family is preparing to celebrate the 6th birthday of their youngest member, Chintu. Mehdi, their benevolent Iraqi landlord, lends them a hand.
They have many problems to deal with, such as not being able to find a cake, the old cranky oven not working, issues with decoration, presents, and so on. The family, on the other hand, has vowed to celebrate his birthday no matter what. Waheed, Chintu's high schoolmate, smuggles drugs and CDs for American soldiers.
Two American soldiers enter Chintu's house and what happens next? To watch the story head to Zee5 now.
Taish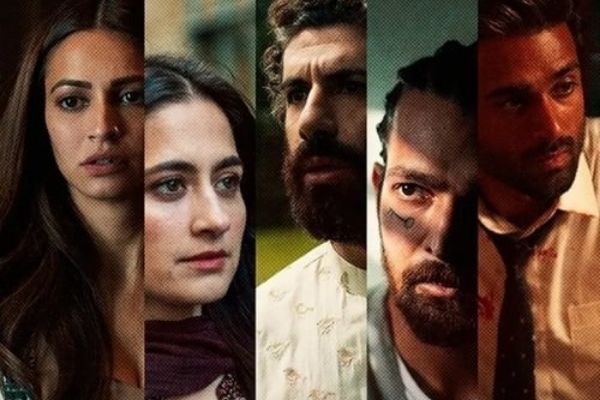 Rohan and Sunny have been best friends since they were children. Sunny travels to the United Kingdom to attend Rohan's younger brother Krish's week-long wedding on a picturesque country estate. The guys see this as an opportunity to catch up and have a good time, with unabashed and enjoyable revelry peppered throughout the week-long event.
Kuljinder, along with his two brothers Pali and Jassi, leads a violent criminal family of moneylenders in the dark grimy corners of Southall, London. Pali has been considering leaving the family business and starting a new life with Kuljnder's wife, Jahaan, with whom he has been having an affair. But destiny has something else in mind for him.
How the two stories meet and what happens next? To know, watch the full movie on ZEE5.
Bhonsle
Retired constable Bhonsle of Mumbai Police Department lives in a run-down chawl. He meets with his former superior regularly to discuss the possibility of continuing his service.
Vilas, a homeless taxi driver, is a member of a local political party that promotes cultural pride and accuses migrants from North India of stealing local jobs. He often clashes with Rajendra, who aspires to be the leader of the migrants. Instead, Vilas creates a network of powerful locals and brings them together to claim their identity. Bhonsle is well-liked in the neighborhood, but he refuses to join Vilas.
Bhonsle tries to save a girl from getting assaulted, but then a murder stuns the city. How the story unfolds after it, watch the movie on Sony Liv. It is one of the best underrated Bollywood movies, packed with a powerful performance by Manoj Bajpayee.
Halahal
Released in September 2020, Halahal puts the focus of the death of a medical student which looks like a suicide from the outside, but there are some dark secret hidden inside whose direct connection is connected to some powerful people who run the country. . A police inspector carries the responsibility of bringing justice to a helpless, weak father. The police officer is famous for being corrupt, but this time the matter is right or wrong.
Will he succeed? The story unfolds at Eros Now.
Pareeksha
The film examines India's educational system and tells the story of an ordinary rickshaw driver in Ranchi, Jharkhand, who aspires and dreams of providing his son with the best possible education by arranging for him to attend a private English medium school.
The movie is based on the true storey of IPS officer Abhayanand, who teaches and coaches children in a Naxal-affected village in Bihar in order to help them pass the IIT-JEE exams. Watch the movie on Zee5.
Ram Singh Charlie
Ram Singh, aka Charlie, performs in the Jango Circus as Charlie Chaplin, the circus' most famous act. His father was also a circus joker, and he grew up in a circus setting. He shows his school-going son the ropes and trains him in the same way.
Kajri, his wife, is also a performer and is expecting a second child. However, with the emergence of digital media, the circus has become a non-profitable enterprise. Masterji, the circus's owner, is forced to close it down by her son Nabeel, leaving all of the performers jobless.
How he copes with his life and what is stored for him. Watch the full movie on Sony Liv.
Welcome Home
One of its kind, these kinds of stories are very rare in Hindi cinema. This is a story of mystery where two girls landed and they faces something that did not even expect in their dreams. You can watch this thrilling movie on Sont Liv.
Wrapping Up 10 Best Underrated Bollywood Movies in 2020
These are 10 best underrated Bollywood movies of 2019 and 2020 and if you have not seen these movies then note down the names and watch them in the next few weekends.