Mandira Bedi, a well-known entertainment actress, and TV presenter celebrate her birthday on April 15 every year. Mandira Bedi was born on April 15, 1972, in Kolkata, to parents Virendra Singh Bedi and Geeta Bedi.
Mandira Bedi, who is frequently questioned about her fitness, is almost impossible to guess her age by looking at her. Mandira, who began her career in 1994 with DD National's famous serial 'Shanti,' covered IPL Season 2 as an anchor.
After finishing her studies in Mumbai, the actress decided to pursue a career in acting. Mandira Bedi began her career in 1994 to pursue her hobby. Mandira was a popular character in DD National's most popular serial, 'Shanti.'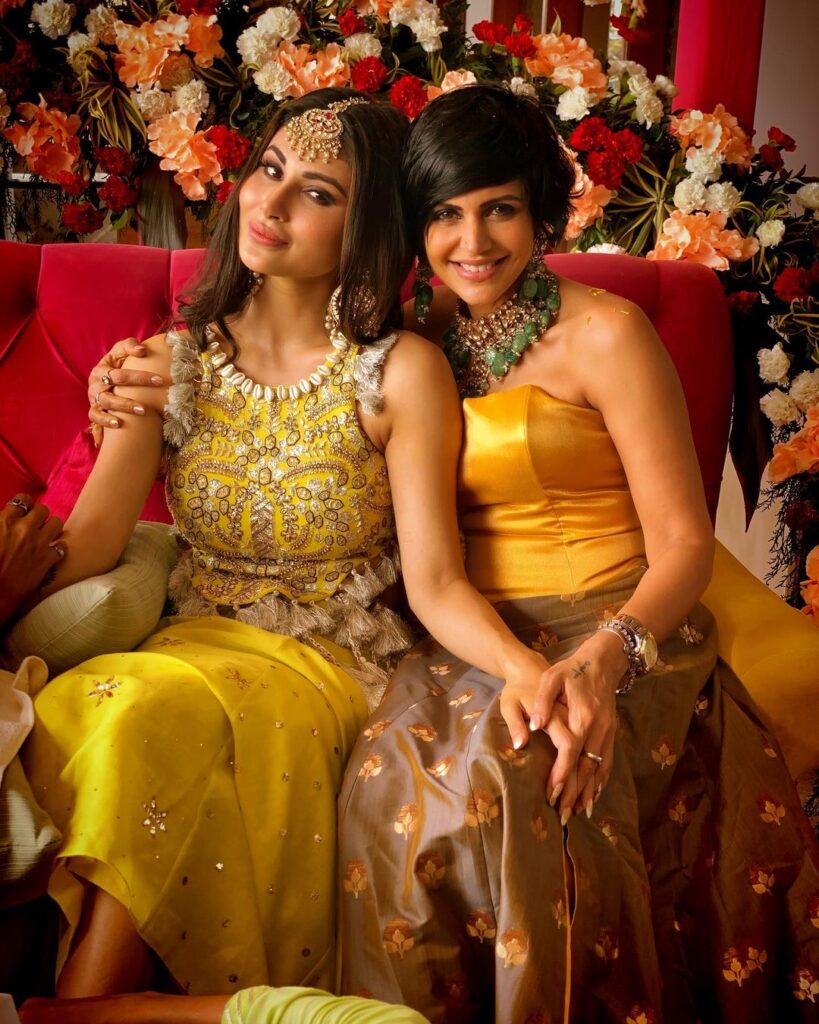 She later appeared in serials such as 'Aurat' and 'Kyunki Saas Bhi Kabhi Bahu Thi,' as well as 'Indian Idol,' 'Fame Gurukul,' and 'Deal or No Deal.'
Following this, the actress launched her Bollywood career in 1995 with the film 'Dilwale Dulhania Le Jayenge.' However, the actress did not fare well in Bollywood. Mandira appeared in 13 films over the course of her 22-year career, including two in Tamil.
Mandira tried her hand at hosting in addition to acting. He hosted the ICC World Cup from 2003 to 2007, the Champions Trophy in 2004, and the Sony Max IPL-2 in 2006. During this time, Mandira's sarees received a lot of attention, prompting the actress to open her own saree store in 2014.
Read- Tia Bajpai Age, Movies, Boyfriend, Family,, Rumours and Biography
Mandira Bedi Marriage
Mandira married filmmaker Raj Kaushal on February 14, 1999.
On January 27, 2011, the couple revealed that they were expecting their first child. On June 19, 2011, Bedi gave birth to a son named Vir at the Lilavati Hospital in Mumbai.
Mandira lost her spouse, producer Raj Kaushal, after a heart attack in June 2021. Raj had previously directed films such as Pyaar Mein Kabhi Kabhi and Shaadi Ke Laddoo. Mandira and Raj tied the knot in 1999. Tara, a four-year-old girl, was adopted by the couple in 2020.
Fitness
Mandira Bedi, who has made a name for herself in acting and hosting, is also very concerned with her fitness. Even at the age of 50, the actress can be seen competing with younger actresses. The actress stays in shape by sweating for hours at the gym. Mandira's weight had skyrocketed following the birth of her son Veer. However, with the help of the gym and yoga, the actress lost 22 kg.
Mandira Bedi has been wowing everyone with her fitness. She frequently posts photos and videos of herself doing yoga and exercises on social media. Mandira goes to the gym five days a week. She also works out at the gym, swims, and runs. Mandira is so committed to her routine that she works out even when she's on the road.
Has completed two half-marathons
When Mandira is traveling and does not have access to a gym, she exercises in her hotel room. Mandira enjoys running as well. She has completed two half marathons so far. She enjoys running on the roads in the rain. Mandira is a powerful woman. She also performs 1000 squats per day. Most people rest on Sundays, but Mandira works out on Sundays as well.
Diet
Aside from exercise, she prefers to eat simple home-cooked meals. She consumes a banana before working out and lunch consists of vegetables, lentils, and roti. She eats a light dinner and does not consume roti at night. People who want to stay fit or lose weight give up sweets first, but Mandira enjoys them. Those who are particularly concerned with their fitness should adhere to Mandira's advice.
Why did Mandira Bedi cut her hair?
Mandira says she was wary of straightening her curly hair and then re-curling it. As a result, she made the choice to chop her hair. This choice astounded Mandira's stylist as well. She questioned her hairdresser whether she was adhering to her decision two or three times.