In the 1990s, one actress entered the Bollywood profession, and her performance and attractiveness are still debated today. Mamta Kulkarni's name is also on this list; she is no longer in the film industry, but her name used to ring in Bollywood. Fans used to wait for her flicks, and Mamta used to create a stir in the audience with her daring appearance.
Today is Mamta Kulkarni's 50th birthday. The actress was born in Mumbai on April 20, 1972 in Marathi Brahmin family. Throughout her career, the actress had several hits that are still popular today. Mamta Kulkarni, on the other hand, has emerged as an unsung hero. Fans don't know anything about his current location.
Mamta Kulkarni's Career
Mamta Kulkarni began her acting career in the Tamil film 'Nanburgal,' which was released in 1991. Following this, the actress entered Bollywood and earned a name for herself with her debut film.
Mamta Kulkarni's debut Hindi film was titled 'Tiranga,' and it was released in 1992. From 1991 through 2001, the actress appeared in various hit Hindi films, including 'Waqt Hamara Hai,' 'Krantiveer,' 'Karan Arjun,' and 'Baji,' among others.
The topless photoshoot sparked concern
With Mamta Kulkarni's success, it was predicted that the actress's career would last a long time. She ruled the hearts of her admirers by releasing one-to-one smash films. However, it is also true that she was the most divisive actress of the 1990s. Mamta posed for a topless photoshoot for Stardust magazine in 1993. Her daring images caused terror all over the place. Not only that, but black-and-white copies of Mamta's photographs were also available. However, following the photograph, he was fined up to Rs 15,000.
Salman Khan was chastised
Mamta Kulkarni gave Salman and his co-actor an earful on the making of their first film together, the action-drama film Karan Arjun, for not executing their steps properly. This event occurred as Salman and his Karan Arjun costar were filming the song Bhangra Paa Le, where Mamta was nailing her steps but Salman and the costar couldn't.
Even if the steps were fine according to the film's director, Mamta was not satisfied with them. So she told them to practice their dance moves before arriving to the shoot. Because of this insult, they used to practice till 5 a.m., making certain that their steps were correct.
In an amusing turn of events, the next day while filming their song, both of the male actors aced their routines, but Mamta got it incorrect.
Tinu Verma rumored affair
Mamta and Tinnu met on the sets of China Gate, and their claimed affair began there. Mamta never confessed it, dismissing rumors of their closeness as just friendship.
But trouble started when Tinnu's wife Veena allegedly caught them together. Mamta and Tinnu were reported to have met surreptitiously on numerous occasions, and Veena was said to have caught them red-handed in a compromising situation in Mamta's make-up artist's hotel room.
An enraged Veena allegedly cursed Tinnu and Mamta and shouted expletives on them. Mamta dismissed the incident as a casual meeting planned by Tinnu, but to her surprise, the latter revealed that he not only had an affair with her, but had married her, and that she hounded him because of her insecurities. It's unclear when or how the relationship deteriorated, but it quickly devolved into a nasty war of words.
Relationship with the underworld
Mamta Kulkarni's ties to the underworld were always in the spotlight. It is also stated that the actress was only able to get so many projects due of her underworld connections. Mamta Kulkarni's anecdote was also widely publicised. It was 1998, and Rajkumar Santoshi was working on the film 'China Gate.' Mamta Kulkarni played the lead role in the film. Rajkumar Santoshi had shot half of the film with Mamta before dropping her from the project. However, when this information reached Chhota Rajan's ears. So, at Don's request, Mamta was cast in the picture once more.
Mamta Kulkarni had always referred to her involvement with the underworld as a rumour. Mamta Kulkarni, on the other hand, astonished everyone when she married drug lord Vicky Goswami in 2002. She abruptly vanished from the film industry. It is said that after her marriage, she relocated to Kenya. Mamta Kulkarni and her husband Vicky Goswami were arrested for cocaine smuggling at Kenya airport in 2016. He was later released, however.
In Mumbai, a case was filed
On April 12, 2016, at around 4.30 p.m., Thane police stopped two white automobiles and discovered that they were carrying 2-3 kgs of Ephedrine (powder), a banned narcotic under the NDPS Act.
Mayur and Sagar, the drivers of the vehicles, were detained. The package was valued more over Rs 80 lakh, and both of the suspects possessed forged identity cards issued by a pharmaceutical business. During the course of the inquiry, ten persons were detained and seven were listed as sought, including Mamta Kulkarni.
The prosecution said that in January 2016, the accused, Vicky Goswami, and a few others met at the Hotel Bliss in Mombasa, Kenya. Kulkarni was also said to have attended this conference.
A scheme was allegedly hatched by these accused that the Ephedrine powder, which was lying in Avon Life Science Company in Solapur, would be moved to Kenya to be manufactured into Methamphetamine and marketed throughout the world for the benefit of the accused Vicky Goswami and Dr Abdulla. According to the prosecution, all of the accused made a lot of illegitimate money by illegally distributing drugs.
Mamta Kulkarni now resembles this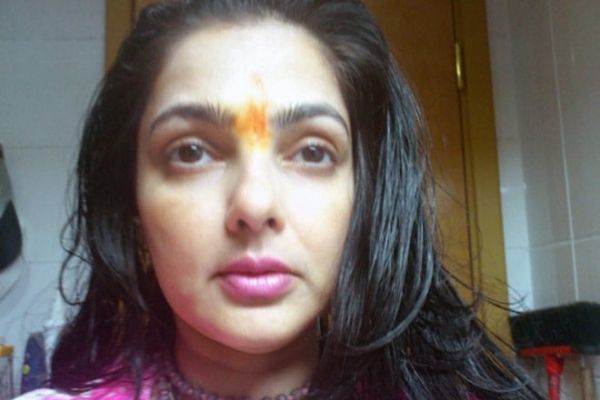 Mamta Kulkarni is alleged to have become a sadhvi. Mamta Kulkarni unexpectedly debuted in front of the world in 2014. At the time, he was launching the book 'Autobiography by Yogini,' which was based on his life. Mamta's expression astounded everyone. Mamta was dressed in saffron and had a large tika on her forehead. Mamta Kulkarni previously remarked of her decision to leave the film industry, "Some people are born for the work of the world, I am born for God."