Lara Dutta Celebrates her 44th Birthday with Pool and Bikini. Lara Dutta, the actress and former Miss Universe, uploaded a photo from her 44th birthday celebration on Saturday (April 16). To celebrate her birthday, the 'Partner' actress travelled to a magnificent yet charming house in Alibaug. Lara can be seen relaxing by the pool in a stylish yellow halter neck crochet bikini.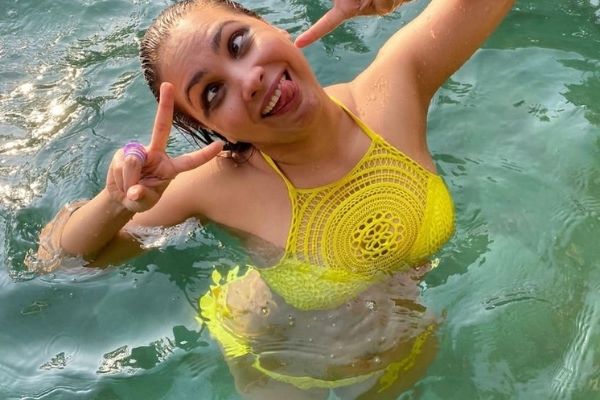 The actress uploaded three images of herself in the fashionable swimsuit, each in a different stance. She may be seen in the first photo sitting on a nice sofa chair, wearing a wayward hat. Lara is likewise dressed casually in a printed brown sarong with minimal make-up. She completed her ensemble with huge gold hoop earrings.
In the second photo, we find the actress posing like a supermodel, standing and facing away, revealing more of her incredible physique.
Lara is swimming within the pool and making a strange face for the camera in the final image.
Lara wrote "I think all the 4's looks pretty good on me!!! Another year older, not sure if any wiser! Crazier for sure!!! Curvier too! 🤪"
Her husband and tennis star Mahesh Bhupati wrote 'I Agree'.Another user Jyoti Kapur Das wrote 'Happpppiest year ahead for you, Lara!'.
Others like Divya Seth Shah, Deanne Panday, Kritika Kamra, Anya Singh, Farah Khan Ali and former Miss Universe (1998) Wendy Fitzwilliam also wished her on her birthday.