Crystal Harris, better known as Crystal Hefner, was born on April 23, 1986, in Lake Havasu City, Arizona. She is an American model, singer, and television personality. In December 2009, she was named Playmate of the Month by Playboy magazine, and on December 31, 2012, she married Hugh Hefner, the magazine's founder. On September 27, 2017, she became the widow of Playboy's 90-year-old editor.
Crystal Harris was born to British artists who were working at an England theme park in Lake Havasu City, Arizona, at the time of her birth. They returned to England after Crystal's birth, only to return to the United States and settle permanently in San Diego, California, where Crystal and her two sisters grew up. Harris was introduced to the entertainment industry by her late father, singer and songwriter Ray Harris.
Crystal Harris went to La Jolla High School and San Diego State University, where she majored in psychology. It was during this time that she began working as a model, attracting the attention of the Playboy organization.
Read- Gwen Stefani Age, Height, Personal Life, Wiki and Biography
On Halloween 2008, Crystal Harris met Hugh Hefner. She went to a party at the Playboy mansion after being invited by a friend, and then she appeared as "Co-Ed of the Week" in Playboy.com magazine during the week of October 30, 2008, under the name Crystal Carter. Harris has appeared on two seasons of the E! reality show The Girls Next Door since late 2009.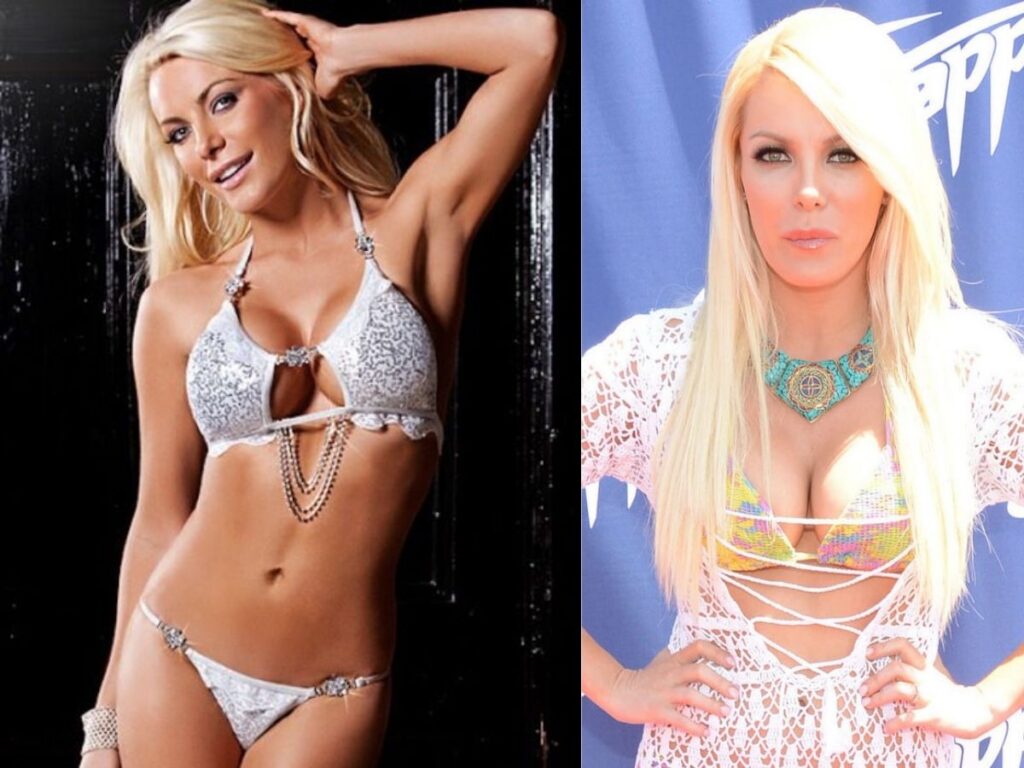 Harris signed a recording contract with Organic Music Group, a Universal division led by producer Michael Blakey, in April 2010. On June 14, 2011, her first single, "Club Queen," was released. She appeared in an episode of The Hills' second season.
After his previous girlfriend, Holly Madison left him, he began dating Hugh Hefner in January 2009, joining twins Karissa and Kristina Shannon. Hugh Hefner proposed to her on December 24, 2010, and she became his third wife.
Harris called it quits on their engagement on June 14, 2011, just five days before the wedding. Harris was featured on the cover of the July issue of Playboy in anticipation of the wedding. "Introducing the Princess of the United States, Mrs. Crystal Hefner," read the headline on the cover.
On newsstands, this was later covered up with a sticker that read: "Runaway Bride." On June 1, 2012, it was reported that Harris and Hefner had reconciled. She later confirmed the news on Twitter. Finally, on New Year's Eve 2013, the founder of Playboy magazine married his "elusive girlfriend" in a private ceremony at the Playboy mansion. On September 27, 2017, Crystal Harris became a widow when the famous editor of Playboy magazine died of natural causes in his mansion at the age of 91.
Recent message from Crystal Harris
Recently Crystal Harris posted a long message on her social media account, she wrote "  After the last handful of years staying true to myself on social media, I feel that all the people here with me at this point actually care and are invested in my life in a positive way and for that I thank you. ⁣
⁣
Over five years, my account has shifted from not always safe for work posts to my REAL safe for work life. The real me. I was living for other people before, to make others happy, suffering internally in the process. ⁣
⁣
As most of you know, I grew my following during my "Playboy" years. Certain photos grow followings fast. In short, sex sells. I don't know whether I felt empowered by dressing scantily clad, showing cleavage, etc …or if I just felt it was expected of me or what… but now I can confidently and 100% proudly say, modesty is what empowers me these days, and because it feels so much better internally, it will probably be this way for the rest of my life. ⁣
⁣
I removed everything fake from my body and deleted all my old photos. I am more authentic, vulnerable and feel that I belong more to myself. I am mine.⁣
⁣
As I made this transition, I always thought… "Will my account survive?" as I saw followers drop by the thousands every day (I use socialblade.com to check, you can type in any username and see for yourself). I was in the red. Every day. I was watching the girls that had similar pages keep posting the same scantily clad stuff and growing exponentially while I tanked hard. ⁣
⁣
But now it has shifted. Now it's in the green. Most days the count is growing. Now my women followers are giving the men followers a run for their money. Now I truly feel I have an army of supporters that care and see an actual soul behind the lens. For that I thank you. ⁣
⁣
If you follow for insight into my past life, my new one, my travels, my health hurdles, lifestyle, you name it… thank you. I will make it my mission to try and help in all ways that I can while staying true to myself. I hope all of you can stay true to yourself and to what feels right for you as well, because there's a certain power you get from that you can't find anywhere else. I love you."