Last Wednesday (01/12), Aline Campos revealed to fans on Instagram that she has Covid-19. The 34-year-old model, her 11-year-old son Nathan and her friend Guta Furlanetto will spend another 10 days in Fernando de Noronha after the diagnosis.
The brunette was one of the main names quoted by the public to participate in Big Brother Brasil 22 . Now, in the face of the famous statement, the fans who were waiting for her within the reality will prepare to see her only on social networks.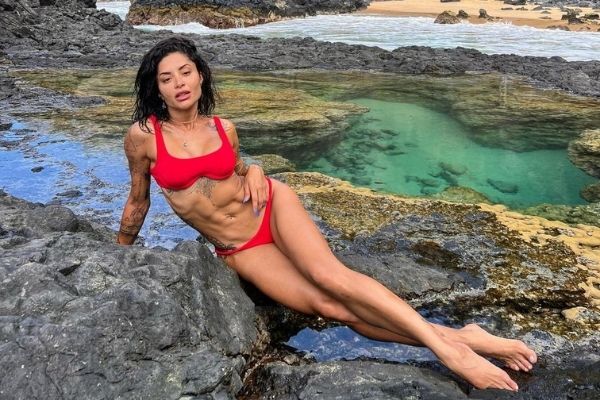 "We are positive in Covid. So we will stay here, inmates for another 10 days", declared the model. "This morning, Nathan wakes me up burning with fever. I took him to the emergency room, he took the test and he tested positive. He, Gutinha and I have Covid-19 in Fernando de Noronha. And the protocol, the asymptomatic, seven days inmates. And the symptomatic, like Nathan, 10 days", he explained.
Read- Lexa and Guimê's employee reveals that she was assaulted at the couple's residence
"Ten days to think a lot about life, to turn the lemon into lemonade. He just had a fever and now he's fine. He hasn't been vaccinated yet. He hasn't arrived for his age. Guta and I don't have any symptoms. A lot of people is positive out there without symptoms, the vaccine is taking effect", he reported.
Due to the positive result, Aline said that she had to cancel several jobs that she had scheduled. It is worth remembering that three participants of BBB 22, already confined, are also with Covid and will enter the house later, in a different way, according to Boninho.
"Accepting and accepting this situation, because for better or worse, I ended up planting and now I'm harvesting. I chose to spend New Year's Eve away from parties and came to Noronha because it's quiet, spacious and in contact with nature. I don't regret it. very grateful to be here, but I ended up having more contacts than I would have if I were at home. It's a risk that we knew we were taking. We're fine", added Aline.
Who is Aline Campos
Aline Campos is a Brazilian dancer born in Rio de Janeiro who rose to prominence as a member of the group of dancers of "Domingo do Fausto" when she went by the stage name Aline Riscado.
Aline Campos da Silva was born on October 12, 1987, and graduated from classical ballet, which she had studied since she was three years old. She stayed at 'Domingo' until 2014. She claimed at the time that she wanted to open a clothing store and devote herself to an internet variety show with her then-husband, Rodrigo Riscado, from whom she announced her divorce in October 2015.
During Carnival 2014, the brunette was the queen of drums at the Carioca samba school Caprichosos de Pilares, but she was fired the following year. Aline made a name for herself as a poster girl for a beer brand in the summer of 2015, and she was dubbed "Summer" by the public in reference to the ad.
She also worked as a reporter for the attraction on the Band program "CQC." She studied acting with actor Adriano Garib before making her acting debut in 2015 with "Vai Que Cola." He has also appeared in the films "Pânico na Band" (2016), "Os Trapalhes" (2017 remake), "Dra. Darci" (2018), "Topssima" (2019), and "Cinema Café" (2019).
Nathan, her son, was born in 2011. Her marriage to businessman Rodrigo Riscado produced the child. Then, from 2016 to 2018, she was in a relationship with Felipe Roque.