Today is the birthday of Hindi cinema's 'Mona Darling.' Bindu, also known as Bindu Nanubhai Desai, was a film actress who played the role of the Villain's favorite girl. Bindu played villain roles in the 1970s and 1980s and was born on April 17, 1941, in Gujarat.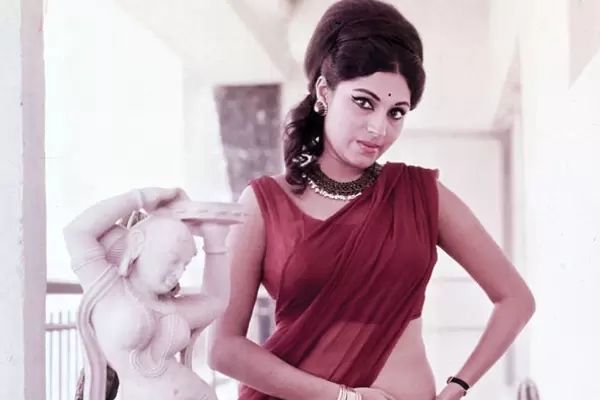 Even as a child, she was not permitted to watch movies. She used to listen to film songs on the radio and dance to them at home. Her family used to live in Gujarat's Valsad district, in the village of Hanuman Bhagada. They later relocated to Mumbai. It was here that she witnessed a sad life and then rose to a position as a result of her hard work and determination to never give up.
He learned Bharatanatyam and Kathak as a child. Her love of dance was so strong in her mind that she would dance from one room to the next.
She was the eldest of seven siblings, with six sisters and one brother. Her father died unexpectedly when she was only 13 years old. As her father lay dying in a hospital bed, she called to him and said, 'Make a promise that after I leave, you will be with your little one.' Will provide complete care for brothers and sisters.
Then he added, "When I am no longer in this world, this old man will look after you." Actually, they used to refer to Shirdi's Saibaba as Buddha.
Read- Lara Dutta Turns 44: 5 Interesting facts you never knew
People admired Bindu's acting so much that her role demanded more than that of the heroine at the time. Bindu played Mona in the film 'Zanjeer,' whom Villain Ajit referred to as 'Mona Darling.' Her name was changed to Mona Darling only after this.
Bindu Nanabhai, the daughter of producer Nanabhai and theatre actress Jyotsna, began working at a young age. Her father wished for her daughter to become a doctor, but he died when she was 13 years old. Bindu had always been fascinated by the world of glam since she was a child, and she aspired to be an artist. However, following his father's death, he became solely responsible for the entire household. In such circumstances, she married at a young age and began modeling.
Bindu's career took on a new identity after she married. She recorded 'Do Raaste' with Rajesh Khanna in 1969, just a year after her marriage. Following this, she appeared in films such as 'Ittafaq,' 'Aaya Sawan Jhoom Ke,' and 'Doli.' In 1971, Bindu was cast in the film 'Kati Patang,' alongside Rajesh Khanna. She played the character of Shabnam in this. Simultaneously, one of her dialogues, 'My name is Shabnam, and people call me Shabbo with love,' became quite popular. People began to refer to her as Shabbo as well.
Bindu chose to play negative characters rather than the main lead in films, and she was able to forge her own identity. Bindu had previously stated that she had gone to the theatre with her sister's children to see her own film. During this, the children became terrified and asked Bindu, "If you don't do this with us, why do you do it in movies?"
Let us also mention that Bandu has worked on a few documentaries. Simultaneously, in Salman Khan's 1988 film 'Biwi Ho To Aisi,' she played Farooq Sheikh's mother-in-law, who is three years older than her, and Rekha's mother-in-law, who is only four years younger. She aspired to be a heroine, but only negative characters recognized her.