Are you aware of why Karwa Chauth is celebrated and what is its significance in Hindu culture?
Karwa Chauth 2021
The Chaturthi date of Krishna Paksha of Kartik month begins at 03:01 a.m. on Sunday, October 24th, according to the Hindi Panchang. Chaturthi Tithi will end the following day, Monday, October 25, at 05:43 a.m. Because Chandrodaya Vyapini Muhurta is obtained in Chaturthi Tithi on the 24th of October, the Karva Chauth fast will be observed on the 24th of October, Sunday.
Why Karwa Chauth is celebrated
If your answer is no, then today's article will be packed with useful information for you. According to Hindu mythology, the wife's dharma is to save her husband from evil forces and wish for long life.
That is why all married women pray to God with a sincere heart for their husbands' long and happy lives!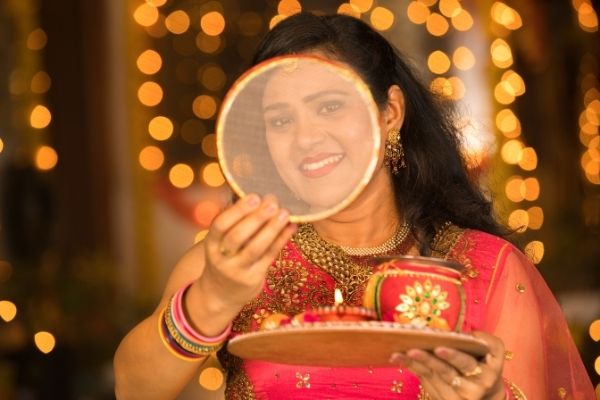 By the way, small disagreements between husband and wife occur on a daily basis in every home. But what is "Karva Chauth," a special day in the life of a virtuous woman every year? All married women fast for the long life of their husbands on this day.
Also Read- Why communication is important in 2021
The Hindu community's special festival, "Karva Chauth," is celebrated in many Indian states. As a result, if you want to learn more about this holy festival, which is celebrated to keep husband and wife love alive, this article is for you. So, let us begin by learning why Karva Chauth is celebrated.
Also Read- Why communication is important in 2021
This festival is primarily observed by Saubhagyavati (Suhagin) women. This fast begins around 4 a.m., before sunrise, and ends after seeing the moon in the night. Karva Chauth is a one-day festival observed by Hindu women every year to wish their husband's good fortune and long life.
During this fast, women must fast on an empty stomach, i.e. without taking any refreshments. As a result, Karva Chauth is the most special day of the year for husband and wife, increasing their attachment and love for one another.
Not only married women, but also unmarried girls, observe a Nirjala fast to wish for a beautiful, healthy, and lucky husband in the future.
In terms of timing, this fast is observed from sunrise in the morning until the moon rises in the night, and it is broken by offering water to the moon by the women in conjunction with the appearance of the moon at night and taking water in the hands of the husband.