Field Marshal Sam Manekshaw was born on 3 April 1914 in Amritsar, Punjab, and became Chief of Army Staff of the Indian Army in 1969. Under his command, the Indian Army won a resounding victory in the Indo-Pakistani War of 1971.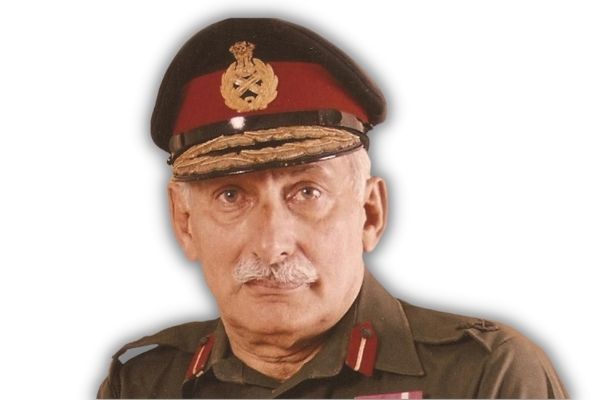 He is one of only two Indian military officers to have attained the highest rank of Field Marshal. He served in the Army for four decades, witnessing five wars, including World War II. He was among the first 40 military students at the Indian Military Academy (IMA) Dehradun, where he completed his military training in December 1934.
He first served in the Royal Scots and then as a second authorized representative of the Indian Army in the 4/12 Frontier Force Regiment. Manekshaw served as a captain with the 4/12 Frontier Force Regiment during WWII, and he also participated in the Burma Campaign.
He was seriously injured during the ongoing campaign in Burma, and after recovering, he completed a course at the Staff College in Quetta. However, before completing this course, he was sent back to Burma, where he was wounded again.
He demonstrated his strategic abilities during the Jammu and Kashmir operations of 1947-48, and he was later promoted to Colonel of the 8 Gorkha Rifles, as well as Commander-in-Chief of the Infantry School. He was named GOC-in-C Eastern Command, where he oversaw the Naga insurgency. On June 7, 1969, he was appointed as the 8th Chief of Army Staff.
Personal Life
In 1937, Sam Manekshaw met Silo Bode, who went to Lahore for a public function. This friendship of two years turned into marriage on 22 April 1939. The couple has two children named Sherry Batliwala and Maja Daruwala.
Sam Manekshaw Military service
Sam first saw combat in World War II while serving in the 17th Infantry Division, when he was seriously wounded while fighting the Japanese on the banks of the Setang River during the Burma Campaign as captain of the 4-12 Frontier Force Regiment Were.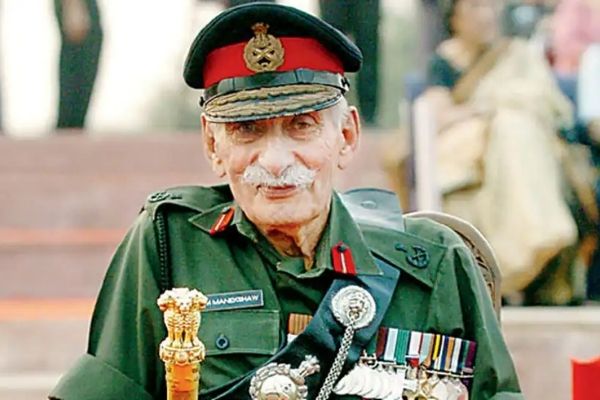 Following his recovery, Manekshaw went to Staff College Quetta before serving as a lieutenant in General Slims' 14th Army's 12 Frontier Rifle Force, once again in the jungles of Burma, where he was badly injured in a fierce battle. After WWII, Sam was assigned as a staff officer to Indo-China for the Japanese surrender, where he assisted in the rehabilitation of approximately 10,000 war prisoners.
He served as a First Grade Staff Officer in the Military Operations Directorate in 1946, and he also played an important role in the 1947–48 Indo-Pakistani War following India's partition. After India's independence, he was the first Indian officer to command the Gurkhas.
The Gorkhas were the ones who first referred to him as Sam Bahadur. As he ascended the social ladder, Sam was awarded the Padma Bhushan in 1968 for his indelible contribution to resolving the Nagaland problem.
On June 7, 1969, Sam Manekshaw succeeded General Kumaramangalam as India's 8th Chief of the Army Staff, and the time had come to put his many years of experience to the test as thousands of refugees from East Pakistan began to arrive in India, and the war was unavoidable. In December 1971, in Gaya, this fear was realized when Pakistan was defeated in front of Sam's fighting skills, and Bangladesh was born.
Following Independence
Manekshaw demonstrated his leadership abilities while working on partition-related issues, and he played an important role in planning and governance management. He also demonstrated combat abilities during the Jammu and Kashmir campaign of 1947-48.
Following the command of an infantry brigade, he was appointed commandant of the Infantry School at Mhow, as well as colonel of the 8th Gorkha Rifles and the 61st Cavalry. Following this, he was appointed commandant of a division in Jammu and Kashmir, and then commandant of the Defense Services Staff College.
In the meantime, the then-Defense Minister V.K. He had a disagreement with Krishna Menon, so a 'Court of Inquiry' was ordered against him, and he was found acquitted.
In the midst of all of this turmoil, China attacked India, and Manekshaw was promoted to lieutenant general and assigned to command the army's 4th Corps at Tezpur.
He was promoted to the rank of Army Commander in 1963 and given command of Western Command. He was transferred from Shimla to Kolkata as G-O-C-in-C of the Eastern Army in 1964. During this time, he was successful in eliminating terrorist activities in Nagaland, for which he was awarded the Padma Bhushan in 1968.
The man responsible for the 1971 win
Under Indira Gandhi's political leadership, Sam Manekshaw washed away the national humiliation of one Pakistani soldier equaling 10-10 Indian soldiers in 1971. For the first time, the victims of this fate, the Pakistanis, became aware of the truth. It is worth noting here that Indira Gandhi desired military action about eight months before December 1970.
Manekshaw flatly refused, citing the fact that India's armed forces were not yet prepared for a decisive victory. For the first time, India's Army, Air Force, and Navy worked together. The port of Karachi was burning to ashes as the army moved towards Dhaka due to an attack by naval missile boats. This was a result of Manekshaw's effective military leadership.
Indira Gandhi wanted Bangladesh on one side and West Pakistan destroyed on the other so badly that she couldn't raise her head for a long time. 'Smash Pak War Machine,' he said. Manekshaw was certain he could pull it off. This was not possible due to the Soviet Union's refusal.
With the Soviet Union providing military equipment and vetoing Security Council resolutions, India would not have been able to break West Pakistan's back on its own. The United States and China had warned the Soviet Union that if India continued its military action in West Pakistan, they would intervene. Indira Gandhi's political mission was left unfinished.
Nonetheless, Manekshaw's military leadership instilled a new sense of confidence in the nation. Remember when the enemy soldiers used to bow before India like this? There is no other instance in history of a decisive victory of Chandragupta Maurya over the Greek army of Seleucus.
Death
Sam Manekshaw died of pneumonia on June 27, 2008, at the Army Hospital in Wellington, Tamil Nadu. At the time of his death, he was 94 years old.
Biopic
The biopic based on the life of India's first Field Marshal, Sam Manekshaw, is titled 'Sam Bahadur.' Vicky Kaushal will play the title character in the film. The film is set to be released this year.