Miss America's top ten
Two contestants were picked from five groups of ten to make up the top ten.
New York, Alaska, Illinois, Massachusetts, Oregon, Alabama, the District of Columbia, Florida, Utah, and Texas ranked first through tenth.
This year, Miss America will not be broadcast on network television. Nina Davuluri born on April 20, 1989, is the Miss America host and she was Miss America 2014.
The 100th annual event will instead be aired live on Peacock. The event will be broadcast live from Mohegan Sun Casino & Resort in Uncasville, Connecticut on Thursday, December 16 at 8 p.m. EST (7 p.m. CST). It is the first time in the pageant's history that it is only available through a streaming service.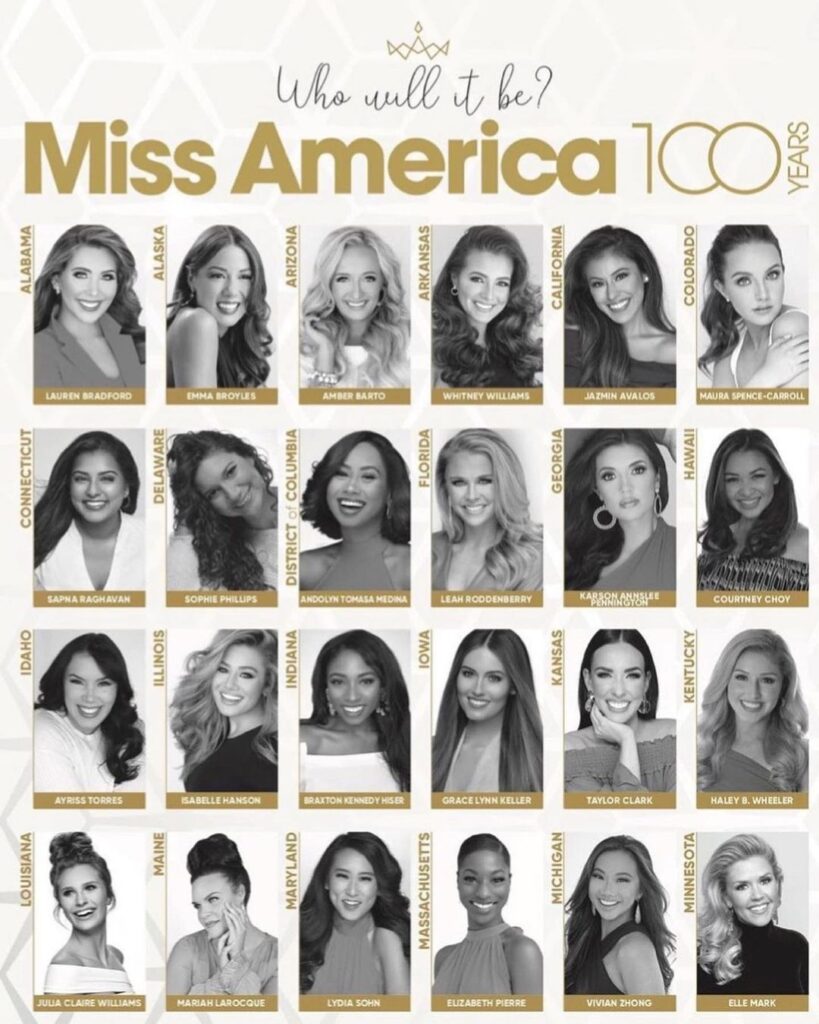 Read- Miss World 2021's global broadcast finale has been postponed indefinitely
If you're only interested in the pageant, you may sign up for Peacock for free, or you can subscribe to one of its subscription services for more material. Peacock with advertisements costs $4.99 per month to watch. You can also pay $9.99 per month to upgrade to an ad-free package with additional features.
The tournament will feature 51 ladies from across the United States. The tournament returns this year after a two-year hiatus due to COVID-19.
We've included all the information you need to watch Miss America 2021 online for free, from when it airs to where it takes place. But, before we get into that, here's what you need to know about the Miss America 2021 competition.
This year's competition represents another stage in Miss America's evolution from a "pageant" to a "competition" centred on scholarship, social impact, and women's empowerment. "Our society is undergoing a cultural revolution, with women having the bravery to stand out and have their voices heard on a wide range of topics," said Gretchen Carlson, Chair of the Board of Trustees, in a press release in 2019. "Miss America is honoured to progress as an organization and to be a part of this empowerment movement."
This change was initially revealed in 2018 when Miss America chose to eliminate the swimsuit part of the competition. "By eliminating the swimsuit competition, we provided an opportunity to redefine women's wellbeing and what it means to be a great woman today in modern America," stated Shantel Krebs, Chair of the Board and CEO of Miss America, in a recent press release. As part of the competition's "mission to helping women be the greatest versions of themselves," Miss America will now incorporate a "science-backed program" that promotes "optimal women's wellness," according to Krebs.
Continue reading to learn how to watch Miss America 2021 online for free to see how it all comes to life on stage.
When is the Miss America 2021 pageant?
Miss America 2022 will be crowned live from Connecticut's Mohegan Sun Arena on December 16, 2021. Miss America will not be broadcast on network television for the first time in the competition's history. Miss America 2021 will instead begin live online at 8 p.m. ET on Peacock.