Dua Lipa shows off her amazing figure in a revealing white bikini. She wrote Jolly Gooood and fans cant take eyes from Dua Lipa hot images.
She's been having a great time on a girls' trip in the run-up to Christmas.
On Monday, Dua Lipa continued to share photos from her country vacation on Instagram, posting a slew of hot bikini photos.
JOLLY GOOOOOD🎄 pic.twitter.com/diwdjTaKt3

— DUA LIPA (@DUALIPA) December 20, 2021
The 26-year-old singer posed in her swimwear on the grounds of Soho Farmhouse in Oxfordshire.
Dua showed off her amazing figure in a white balconette bikini top and revealing briefs.
Read- Drew Barrymore Attempts to Convince Cardi B to Go Vegan, But the 'WAP' Rapper 'Loves Meat SoMuch'
While posing with her back to the camera, the We're Good singer showed off her peach derriere.
Dua finished the look with a pair of fluffy white Moon Boots, going makeup-free to show off her natural beauty.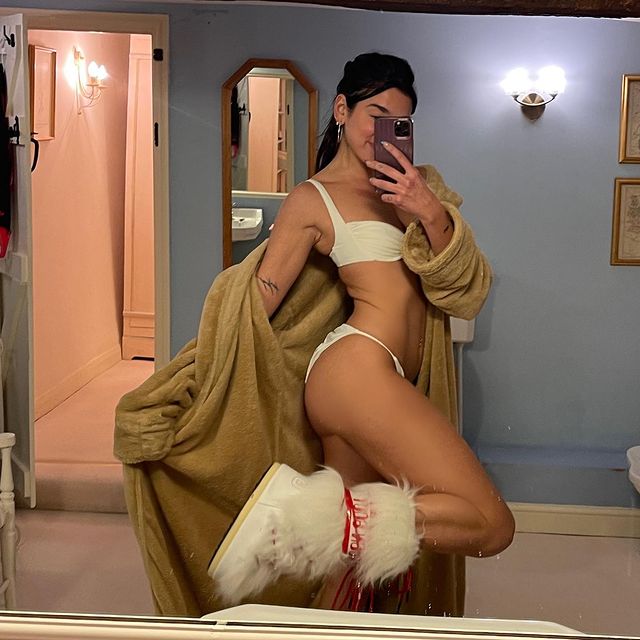 Another photo showed Dua cuddling up to a friend while dressed in face masks and pyjamas.
'JOLLY GOOOOOD,' she scribbled on the photographs.
Dua has been on vacation in order to get some much-needed rest and relaxation.
On Sunday, the singer shared a carousel of outtakes with her 76.3 million Instagram followers.
Two of them showed the actress in a tiny white bikini relaxing in a steamy hot tub with a friend.
The title of the photo collection was 'Country reset.'
Dua showed off her toned body in the revealing swimwear, posting a photo with a female friend by her side as well as a short video of herself easing into the hot water.
Her long dark hair was wet, so she clipped a section of it back. Dua spent some quality time with a small group of girlfriends at a misty countryside retreat. Dua and Sarah Lysander applied face masks while Rosie Viva and Ella Jenkin removed their makeup.
Sarah wore long pink knit socks and sat on the back of her songstress pal. The girls were photographed again, this time petting a brown and white horse. In several photos, the singer-songwriter wore a red, white, and black ensemble.
On a white chair against a foggy backdrop, the UK-born pop star experimented with various poses. Dua looked dapper in a button-up white shirt, a black Prada tie, and an unbuttoned red jacket. A light wash blue pair of jeans and furry white Hello Kitty boots completed the look.