Although Bollywood actress Divya Bharti is no longer alive, her name is constantly being mentioned and will continue to do so in the future. Divya Bharti began her career at the age of 16, and at the age of 19, she said goodbye to this world. Divya was born on February 25, 1974, in Mumbai, India to Om Prakash and Meeta Bharati.
Divya had become a super hit actress in just three years. She was always in the spotlight when it came to work, but Divya's personal life was also in the spotlight. Sajid Nadiadwala married Divya Bharti. However, no one was aware of this. Today, we'll tell you about the actress's personal life, which includes things like converting to Islam and marrying at a young age.
Read- Parveen Babi: Remembering The Bold Diva On Her Birth Anniversary
Full Name
Divya Om Prakash Bharti
Other names
Sana Nadiadwala (After Marriage)
Profession
Actress
Famous For
Dill Ka Kya Kasoor (1992) Movie
Debut In
Vishwatma (1992) Movie
Marital Status
Married
Husband Name
Sajid Nadiadwala (m. 10 May 1992-15 April 1993)
Age
19 Years (5 April 1993)
Height
In centimeters- 163 cmIn
Meters- 1.63
Feet Inches-5'4"
Weight
60kg
Measurement
34-26-36
Eye Colour
Dark Brown
Hair Colour
Black
Date of Birth
25 February 1974
Death Date
5 April 1993
Birth Place
Mumbai, Maharashtra, India
Death Place
Versova, Mumbai
Zodiac sign
Pisces
Religion
Hindu (Born)Islam (After Marriage)
Nationality
Indian
School Name
Maneckji Cooper High School, Juhu, Mumbai
College Name
None
Qualifications
9th Standard
Father Name
Om Prakash Bharti
Mother Name
Meeta Bharti
Brother Name
Kunal Bharti
Sister Name
Poonam Bharti
Cousin Name
Kainaat Arora
Source Of Income
Actress and Ads
Appeared In
21 Movies and 10 unfinished
Salary
25- 30 Lakhs
Divya Bharti's Bollywood career
At the age of 16, Divya Bharti made her acting debut in the Telugu film Bobbili Raja opposite Venkatesh. Following this, the actress made the transition to Bollywood. In no time, Divya Bharti had established herself as a hit actress in Bollywood.
Her film 'Vishvatma' was a huge success, and the song from it, 'Saat Samundar Paar Mein Tere Peechhe Peche Aa Gayi,' is still on the top songs of all time. Following this, Divya Bharti had many hits in a three-year career, including films like 'Shola Shabnam' and 'Deewana.'
At the time of her death, the actress had appeared in about a dozen films, according to the information. After her death, two of these, 'Rang' and 'Shatranj,' were released.
Aside from that, there were eight films that became stuck in the middle. These films were later completed with the help of other actresses. Among these films are 'Mohra,' 'Ladla,' 'Bodyguard,' 'Dutty,' 'Vijaypath,' 'Hulchal,' 'Dhanvaan,' and 'Andolan.' There were three films that were never released at the same time.
| | | |
| --- | --- | --- |
| Chinthamani | Chinthamani | Shelved |
| Laadla | Sheetal Jetley | Replaced by Sridevi |
| Mohra | Roma Singh | Replaced by Raveena Tandon |
| Dilwale | Swapna | Replaced by Sonali Kulkarni |
| Vijaypath | Mohini | Replaced by Tabu |
| Andolan | Guddi | Replaced by Mamta Kulkarni |
| Kartavya | Kajal | Replaced by Juhi Chawla |
| Do Kadam | Hindi | Shelved |
| Hulchul | Sharmili | Replaced by Kajol |
| Angrakshak | Priyanka | Replaced by Pooja Bhatt |
In 1993, Divya Bharti played the lead role in the film 'Ladla.' She had also completed 80 percent of the film's shooting when she died, but the film was re-shot with actress Sridevi after her departure. Divya Bharti was also cast in the 1995 film Angrakshak, but she was replaced by Pooja Bhatt.
Married at the age of 18
On May 10, 1992, Divya Bharti and Sajid Nadiadwala married. Divya and Sajid first met on the set of 'Shola Aur Shabnam.' Govinda introduced them both here. Sajid used to pay frequent visits to Divya Bharti on the set of the film, and their love story gradually developed.
Following this, Divya Bharti and Sajid married. Divya, on the other hand, had converted to Islam prior to her marriage. She converted to Islam and changed her name from Divya to 'Sana,' according to reports.
Hid her wedding
In the beginning, Divya Bharti and Sajid Nadiadwala kept their marriage a secret from the rest of the world. Sajid revealed the reason for this in an interview. 'We had hidden the marriage matter because Divya's career was at stake,' he explained.
Divya, on the other hand, was always eager to tell the world about our marriage. I repeatedly warned him not to do so. But now I realize I should not have done it.'
What happened to Divya Bharti?
On 5 April 1993, at the age of 19, Divya Bharti said her final farewell to this world. Divya had only 11 months to enjoy her married life. Everyone was taken aback by his untimely death.
According to reports, Divya Bharti was very happy before her death because she had finalized a deal for a four-bedroom apartment for herself that day. According to reports, Divya informed her brother Kunal of the good news as well. Divya returned home that day after finishing her shoot in Chennai.
It is said that his leg was also injured at the time. At around 10 p.m., Divya was on the fifth floor of Tulsi Apartment in Versova, West Andheri, Mumbai, with her friend and designer Neeta Lulla and her husband. The trio was sitting in the living room talking, and it is said that they were also drinking at the time.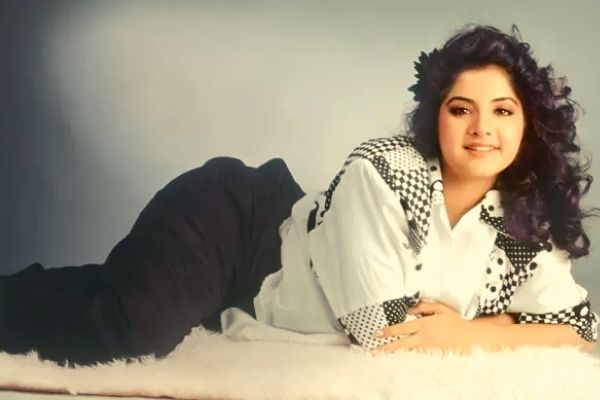 Aside from these three, Amrita, Divya's maid, was also present in the house at the time. Amrita went to the kitchen to do some work while we were talking around 11 p.m., and Neeta was watching TV with her husband at the time. At the same time, Divya Bharti went to the room's window and began speaking loudly to her maid from there.
Divya's living room had no balcony, but it had a window only without a grill. This window was wide open, and beneath it was a parking space where many vehicles were frequently parked. However, there was no car parked there on that particular day.
Divya Bharti was attempting to stand right by turning to the window when her foot slipped and she fell straight down to the ground. Divya was completely covered in blood after falling from the fifth floor. She was taken to Cooper Hospital right away, but it was too late. Divya died in the hospital's emergency department. Although it is unknown whether his death was the result of murder, suicide, or an accident. Divya may not be with us today, but she will live on in everyone's heart forever.