Shweta Sharma, a Bhojpuri actress, is well-known for both her acting and dancing abilities. She is not only a top actress and dancer, but she is also a fashion icon.
She appeared in Sagar Sinha's film "Chor No. 1" and has recently completed a new film Pyar Pukare. Shweta, who was born on November 4, is a glamorous Bhojpuri actress.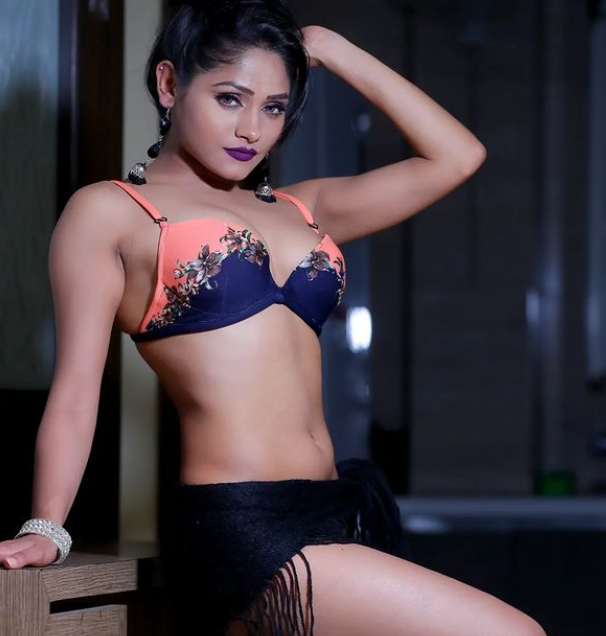 Shweta Sharma's glamorous style continues to astound people on a daily basis. Shweta is occasionally seen posing in a bikini on the beach. The images are liked by Bhojpuri actress and dancer Namrita Malla.
Sometimes she steals all the attention by doing a bikini photoshoot. Shweta, who worked with Bhojpuri actor Ritesh Pandey in 'Gajab Karhaiya,' has shared some super hot bikini photos on Instagram. She wore a scarf to complement her golden color shimmery bikini.
Shweta Sharma appears to experiment with her appearance on a regular basis. This time, she attempted to add spice to the glamorous look, and she was partially successful. The Ritesh Pandey actress is wearing a golden shimmery bikini, a ring in the nose, earrings in the ear, and a bangle bracelet in her hands.
The actress was seen making a bold lipstick pout in the bold look. Shweta Sharma was seen in bikini photos striking some perilous poses. Looking at her, it appears that she has many beautiful dreams hidden in her eyes, which she will soon fulfill.
People are still praising Shweta in the comments section after seeing her bravery. Some have referred to her as a beauty queen, while others have praised her bravery. They stated it. Now tell me what you thought of Shweta's appearance.