Russia vs Ukraine military comparison: After Russian President Vladimir Putin ordered military action, Ukraine is being bombarded with missiles. Russia has destroyed several Ukrainian military bases. In addition, the Ukrainian military claimed to have shot down five Russian planes and a Russian helicopter in the Luhansk region.
In the midst of all of this, many people are wondering how long Ukraine will be able to hold out against Russia's massive army. Who has the upper hand in both armies? Let us tell you who is going to be heavy on who…
Russia's and Ukraine's military capabilities
When it comes to the strength of Russia and Ukraine, Ukraine, despite its weakness, can fight for a long time. According to a Globefire report, Russia is the second most powerful country in the world, while Ukraine is far behind in 22nd place.
The total number of active soldiers with Russia is 8.50 lakhs. Ukraine, on the other hand, has very few active troops. However, in terms of reserve troops, Ukraine competes with Russia.
Both countries have a reserve military force of 2.50 lakh people. Russia, on the other hand, is far ahead in terms of paramilitary forces. Russia has 2.50 lakh paramilitary forces, whereas Ukraine has only 50,000.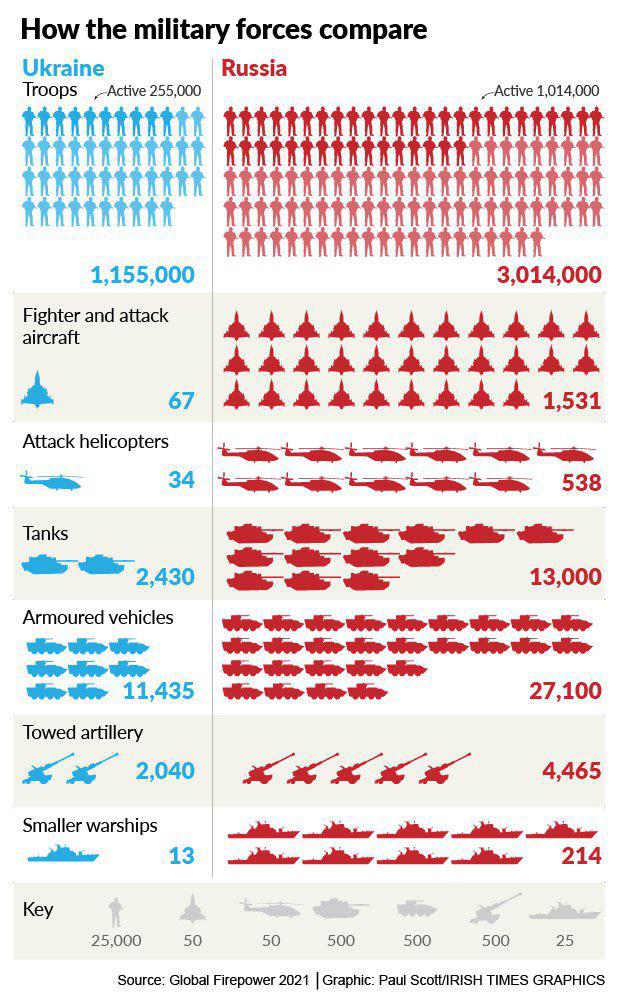 Ukraine Air Force vs. Russian Air Force
When it comes to air power, Russia ranks second in the world, while Ukraine ranks 31st. Russia has a total of 4173 aircraft, while Ukraine only has 318. On the other hand, Russia has 772 fighter jets in total, while Ukraine has only 69.
Russia has a significant advantage in ground power.
When it comes to ground power, Russia ranks first in the world in terms of tank production. Russia has 12,420 tanks, while Ukraine has 2596 tanks and ranks 13th in the world. When it comes to armored vehicles, Russia ranks third in the world, while Ukraine ranks sixth.
Although navies are unlikely to come into direct contact in this conflict, Russia still has over 600 naval ships, including an aircraft carrier, to Ukraine's 38. Russia has 70 submarines capable of attacking at sea, while Ukraine has none.
Now you know what Ukraine's power is.
Western countries have the potential to become Ukraine's power.
Oleksiy Reznikov, Ukraine's Defense Minister, was tweeting about incoming military supplies from various Western powers, including man-portable surface-to-air Stinger missiles, tons of ammunition, rifles, machine guns with optical sights, and Javelin missiles. Night vision and surveillance systems, as well as other military equipment, were also included.
US anti-tank missiles have the potential to transform Ukraine into a powerhouse.
Ukraine, on the other hand, was acquiring anti-tank missiles from the United States. Since December, Ukraine has received hundreds of Javelin missiles, which will aid the Ukrainian military in targeting Russian tanks. It is a man-portable fire-and-forget anti-tank missile that can be fired from a soldier's shoulder, and its automatic infrared guidance system will target tanks from above, the highest of any tank. Weakness.
What if NATO backed Ukraine?
Ukraine is close to NATO, and many NATO countries are sending troops to the Ukrainian border. NATO nations have begun delivering troops, weapons, and military vehicles to Ukraine's neighbors. NATO appears to be supporting Ukraine based on this information. In such a case, if NATO backs it, the consequences for Russia could be severe.
NATO is made up of 30 member countries. The collective defense system is the foundation of NATO's international military alliance. According to the organization's rules, any country that attacks a member country is considered an attack on the entire organization. On this basis, all countries will support him. Despite the fact that Ukraine is not a member of NATO, NATO can provide assistance to Ukraine if it so desires.
Britain is also supplying anti-tank weapons and armored vehicles to Ukraine. Poland has stated that it will provide Ukraine with gas and artillery ammunition, mortars, portable air defense systems, surveillance drones, and weapons, as well as humanitarian and economic aid. Romania, a NATO member, shares a border with Ukraine. Romania has been a member of the EU since 2004. Armies from the United States, the United Kingdom, Germany, and France are present.