Raveena Tandon, a well-known actress from the 1990s, is celebrating her 47th birthday today. Raveena is a model and producer in addition to being a successful actress.
Raveena did a number of successful films during her film career. Many of his films' famous songs, such as 'Tip-Tip Basra Pani,' 'Tu Cheez Badi Hai Mast- Mast,' and 'Kisi Disco Mein Jaye,' continue to make people dance even today.
Even after so many years, Raveena's performance remains as fresh in people's minds as it ever was.
Raveena Tandon Early life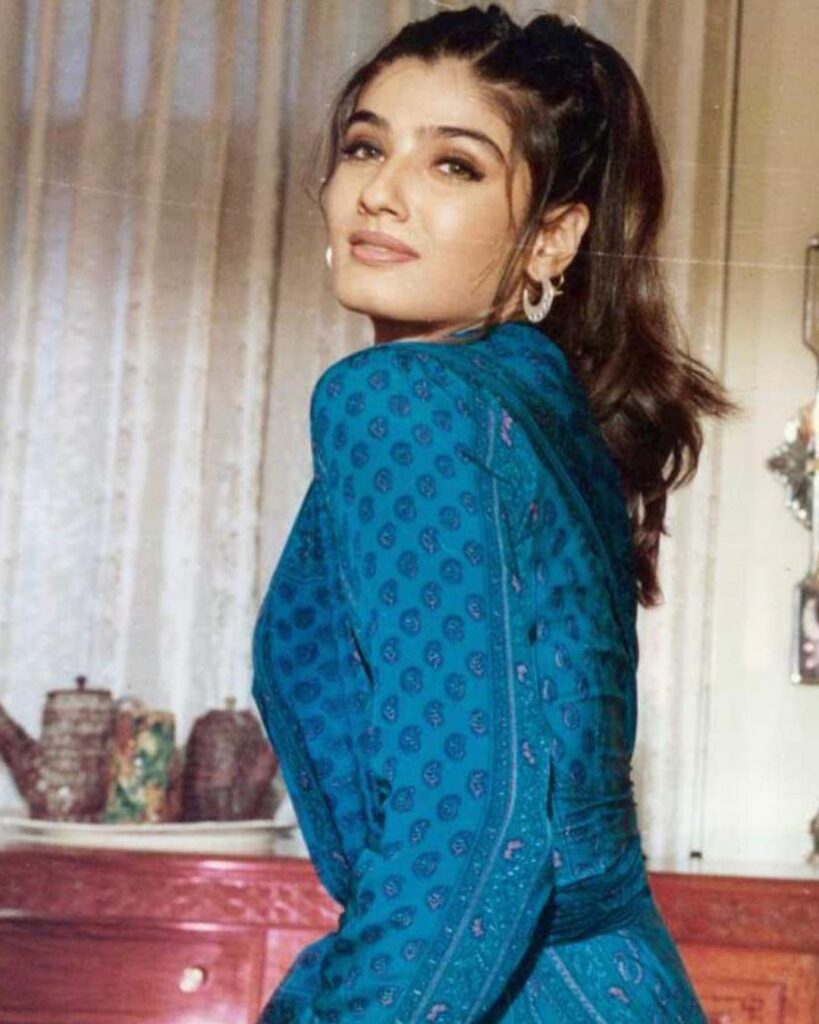 Raveena was born in Mumbai on October 26, 1974. She attended Jamnabai Public School in Mumbai's Juhu district. Following that, he graduated from Mithibai College. Raveena Tandon worked as a model before making her film debut. She began receiving modelling offers during her studies, and she dropped out in the second year.
Ravi Tandon's father is also a director. Raveena was born and raised in Mumbai. Raveena was given the name Raveena by combining the names of her father Ravi and mother Veena. His maternal uncle, Actor McMahon, bestowed the nickname 'Munmun' on her.
Raveena Tandon's film career began with superstar Salman Khan. 'Pathar Ke Phool' was her debut film. This film did not do well when it was released in 1991, but its songs like 'Kabhi Tu Chalia Lagta Hai' were well received.
For this film, she also received the Filmfare New Face of the Year Award. Raveena Tandon's career included more than one hit film. Among them, 'Mohra,' 'Dilwale,' and 'Ladla' were big hits. Raveena was also acted in the comic riot movie Andaz Apna Apna alongside Aamir Khan, Salman Khan, Karishma Kapoor, Paresh Rawal etc.
She was offered roles as Rani Mukerji in 'Kuch Kuch Hota Hai' and Karisma Kapoor role in 'Dil To Pagal Hai,' but she turned them down.
Also Read- Elena Roxana Maria Fernandes Biography, Age, Height, Movies
Affair and marriage
Raveena's personal life, in addition to her films, received a lot of attention during that time period. Actually, there was a lot of talk about Raveena Tandon and Akshay Kumar's affair back then. Raveena Tandon revealed in an interview that she had secretly accepted the engagement at the temple. However, due to Akshay's 'Dilfenk' mood, this relationship could not progress.
Raveena began dating film distributor Anil Thadani after her divorce from Akshay. Anil had a divorce. They married on February 22, 2004, in Udaipur. Rasha and Ranbir are the couple's children. Aside from that, Raveena had adopted two daughters prior to her marriage (Chaya and Pooja).
Despite the fact that her first few films were flops, Raveena Tandon's name was included among the well-known actresses of the 1990s due to her acting and glamorous style. She has also won a National Award for her work as an actress.
She won the Best Actress Award for her performance in Kalpana Lajimi's offbeat film 'Daman.' Raveena has worked in both Bollywood and Tollywood. She co-starred in the film 'Agnisakshi' with South actor Nagarjuna. Raveena has also appeared in a number of other Telugu films.
Also read- Malavika Mohanan Biography, Family, Age, boyfriend