You must have read our 24 Superb Hindi Movies To Watch On Netflix This Weekend. Now let discuss some best thriller movies Bollywood ever produced which will gue you to your seat and you may end up biting all your nail.
Best Thriller Movies Bollywood Ever Produced
Mahal- 1949
Mahal is such a story where you will get to see rebirth, ghosts, suspense, and all this. But this story is about ghosts, rebirth, or something, or you will come to know at the end. When Shankar moves into his new bungalow, his Gardner tells him about the tragic history of it.
His gardener says that 40 years ago, two lovers were staying in this bungalow, but both have died. Shankar is surprised when he sees the photo of the owner of the bungalow hanging on the wall, which is exactly like him. Shankar then sees a girl in the mansion who tells him that she was his lover in the previous life.
The main cast of this movie was Madhubala, Ashok Kumar, Vijayalakshmi, Kannu Roy and M Kumar. Kamal Amrohi gave its direction, and its producer was Ashok Kumar himself. Its story and screenplay were of Kamal Amrohi, and Khemchand Prakash gave its music. The song Aayega Aanewala sung by Lata mangeskar was a big hit. It is one of the best thriller movies made at that time, which earned more than 15 times of its budget.
Woh Kaun Thi? -1964
On a rainy night, when Dr Anand is going to drive in his car, he meets a woman standing on the side of the road. Doctor Anand gives her a lift, but as soon as she sits inside the car, Dr Anand feels something strange. Then he drops her near a cemetery.
Dr. Anand is about to get a lot of property from his distant relative, but the condition is that Dr. Anand's mental state should be balanced because there is a tradition of mental illness in his family.
Dr. Anand's colleague Doctor Lata is very much in love with Anand but Anand loves Seema. One day, Seema dies suddenly, and the cause of death is cyanide injection. The whole doubt goes to Doctor Lata and his father Doctor Singh.
On day 1, Dr. Anand gets a call and in emergency he is called to see the patient. When he reaches that bungalow there, he sees that Patient Already is dead. But they go to the square to see that it is the same woman whom they gave a lift in their car that day.
When he tells this point to the police, the police inform him that many doctors have complained the same before. And a paper shows the news that the girl was killed in a train accident. Anand's marriage is fixed to a girl named Sandhya. But Anand has never seen her, only his family has fixed the marriage. When Anand sees her face for the first time after the marriage, he gets shocked to see that his wife is the same woman he gave a lift in the car that day. Then to know what happens next, you must watch this movie once.
The main cast of this movie was Manoj Kumar, Sadhana, Helen, Prem Chopra, Mohan Choti, K.N Singh, Dhumal and Raj Mehra. Raj Khosla directed the film, and Roop Chatterjee wrote its story, and Madan Mohan gave its music. The songs of this film were all superhit, and the people still remember the special "Lag Ja gaale" which was sung by Lata Mangeshkar.
Gumnaam – 1965
Khanna, a rich man, hires an assassin to assassinate Sohanlal, his competitor. Khanna then calls the victim's niece, Asha, to tell her of his death. As Asha cries, an attacker breaks in and kills Khanna.
A few days later, Asha and six other people, Barrister Rakesh, Dharamdas, Kishan, Dr Acharya, Madhusudan Sharma, and Kitty Kelly, win a trip to a foreign country by a lucky draw. The plane carrying the six winners and crew member Anand is forced to land on an unknown island. However, the plane takes off as soon as Anand and the other passengers disembark, leaving everyone stranded on the island.
They stay in a mansion where a servant is present. All goes well for the first few days, but then the killing starts one by one. And it is not known who the murderer is. Everyone doubts each other. But the needle of suspicion that goes on the person becomes next victim.
The movie starred Manoj Kumar, Nanda, Pran, Helen, Mahmood, Dhumal, Madan Puri, Tarun Bose and Manmohan. The direction of this film was given by Raja Navathe and Dhruv Chatterjee wrote the story. The music of this movie was given by Shankar Jaikishan.
Many songs of this film were super hit like "Jaan Pehchan Ho" in which Lakshmi Chhaya and choreographer Herman Benjamin were seen.
"Gumnaam Hai Koi" was also the theme song of this film sang by Lata Mangeshkar. And "Hum Kaale Hain To Kya Hua Dilwale hai" sang by Mohammed Rafi and the picturization that took place on Mahmood and Helen.
More than 55 years has been passed since the movie released but Gumnaam is still counted as one of the best thriller movies Bollywood has produced till now.
Red Rose -1980
Anand, a successful businessman, marries Sharda, a regular store salesgirl. When she discovers a deadly truth about Anand's criminal record, things take a turn for the worse. Anand preys on young women and he has a history but what is it. watch the movie to know the full story.
The lead actors of this movie were Rajesh Khanna, Poonam Dhillon, Om Shivpuri, Satyan Kapu, Anjana Mumtaz, Aruna Irani, Padmini Kapila, Sasikiran and Rupesh Kumar. Bharathiraja gave the direction of this film, and Chandradas Shokh and music wrote RD Burman gave its script.
100 Days- 1991
Devi is a girl who sees the future of her sister. One day she sees that her sister is bloodied, and she gets scared. Her friends Sunil and Sudha explain to her, but she remains scared. Then she calls her sister, and when she finds out that her sister is alive, she feels relaxed. But shortly after, as seen by Devi, her sister gets murdered, and the murderer hides her sister's corpse in the wall of a mansion. Devi's sister Rama disappears, and her family slowly assumes that Rama is no longer in this world.
After some time, Devi gets married to Ram Kumar, who is a huge businessman. How Devi gets her sister's murderer, how she reaches them, and how the mystery is revealed, this is the story of this film.
The lead roles of this film were Madhuri Dixit, Moon Moon Sen, Jackie Shroff, Javed Jaffrey, Shivaji Satam, Laxmikant Berde, Vijay Arora, Jai Kalgutkar, Ajit Bachani, etc. Partho Ghosh gave the direction of this film, and Ram Laxman gave the music.
Khiladi- 1992
Raj, Neelam, Boney and Sheetal are all four good friends who study in college together. Once due to a challenge between Boney and raj, these people go to a cottage and stays there and pretend to kidnap Sheetal. Along with this, they also ask for money from his father for the release of Sheetal, who they were about to return after completing the challenge. But meanwhile, Sheetal gets murdered, and all three leave the cottage and run away.
Raj's elder brother, who is a police inspector, is the one who is assigned this case. And then the investigation begins. So who is the killer? After all, it is revealed at the end of the film?
The main cast of this movie were Akshay Kumar, Ayesha Julka, Johnny Lever, Shakti Kapoor, Sabia, Anant Mahadevan, Beena Banerjee, Prem Chopra, Tinu Anand, Deepak Tijori, Guddi Maruti, etc. The film was directed by Abbas-Mustan and its music director were Jatin-Lalit.
Baazigaar- 1993
Madan Chopra is a very big businessman who has two daughters, Seema and Priya. Ajay develops a relationship with Seema, later he also forms a love relationship with his sister Priya. Later Ajay convinces Seema to commit suicide, and Seema first considers it a joke, but Ajay gets a letter written by her stating that she is committing suicide on her own will. And then Ajay pushes her off the roof. From the police to Seema's father, everybody is convinced that Seema has committed suicide. But Priya is not ready to accept this thing and together with her police friend, she tries to find the murderer.
So why is Ajay pretending to be a lover of Madan Chopra's both daughters? And why did he kill Seema? What is his motive behind this, and what is the story, it is revealed at the end of the film itself.
The main cast of this film was Shahrukh Khan, Kajol, Shilpa Shetty, Rakhi Gulzar, Dalip Tahil, Johnny Lever, Anant Mahadevan, Dinesh Singh, Adi Irani etc. Abbas-Mastan directed the film and the music was directed by Anu Malik.
Gupt- 1997
The police arrested Sahil in the murder of his stepfather and state governor Jai Singh Sinha. But Sahil Sinha denies the accusations of this blood, but all the evidence goes against him, and he is sentenced to jail. Sahil loves Esha Diwan, but his marriage was fixed to Sheetal Chaudhary, who also loves him. Then Sahil escapes from the prison with the help of Sheetal Chaudhary, but Inspector Udham Singh is determined to catch him. How does Sahil reach the real murderer, and who is the real murderer? This is the story of this film.
The lead actors of this film were Bobby Deol, Manisha Koirala, Kajol, Raj Babbar, Paresh Rawal, Sadashiv Amrapurkar, Prem Chopra, Om Puri, Kulbhushan Kharbanda, Dalip Tahil, Mukesh Rishi, Tej Sapru, Ashok Saraf, Anjan Srivastava, Dinesh Singh, Priya Tendulkar etc.
The direction of this film was given by Rajiv Rai and the music was given by Viju Shah, many songs of the film were big hits.
Sangharsh- 1999
Reet Oberio, a CBI officer, learns about Lajja Shankar Pandey, a religious extremist who kidnaps children and kills them. She then teams up with an inmate Professor Aman Verma to save a child who has been abducted by Pandey.
The main cast of this film were Preity Zinta, Akshay Kumar, Ashutosh Rana, Aman Verma, SM Zaheer, Arif Zakaria, Madan Jain, Krishna Bhatt and Alia Bhatt. The film was directed by Tanuja Chandra, and the writer of this film was Mahesh Bhatt and the music of this film was given by Jatin Lalit.
Manorama Six Feet Under -2007
Satyendra, who is a junior engineer in the PWD department, gets suspended due to taking a bribe and a departmental inquiry runs over him. One night a woman arrives at her house who introduces herself as the wife of the Irrigation Minister and tells Satyendra to keep an eye on her husband as she suspects that her husband is having an affair with an outsider.
Satyendra starts to monitor, but in the meantime, he comes to know that the woman who came to his house that night was not the minister's wife. Then one night, Satyendra and that woman meet again, and that woman says her name is Manorama, but the same night she dies in an accident. Satyendra further investigates his death. So many secrets come before him, which startles him.
The lead actors of this film were Abhay Deol, Gul Panag, Raima Sen, Sarika, Vinay Pathak, Kulbhushan Kharbanda, Nawazuddin Siddiqui, Brijendra Kala, Yana Gupta, Jogi Malang and M Rajesh.
The direction of this film was given by Navdeep Singh, Devika Bhagatwrote this story and music were given by Jayesh Gandhi and Raimond Mirza.
Karthik calling Kartik- 2010
Karthik, an introvert, is often mocked by his manager and has had many setbacks in his life. However, one day, he receives a phone call from an unknown caller who promises to change his life forever.
When he asks the name of that caller, he tells his name is also Karthik. He then tells him new tricks, whether it is to get back his position in the office or get the girl Karthik loves. But with this, he also has a condition that he will not tell anyone about this call. But one day, he shares these things with his girlfriend, then watch this movie to know what happens next.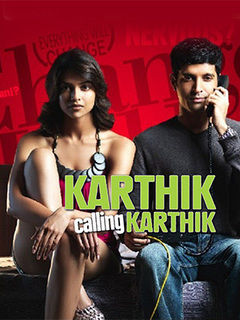 The film stars Faran Akhtar, Deepika Padukone, Ram Kapoor, Shefali Shah, Vipin Sharma, Dewan Bhatena, Brijendra Kala, Tarana Raja, Kanchan Pagare, Vinay Jain etc. It was directed by Vijay Lalwani and the music was by Shankar Ehsaan Loy.
Talaash: The Answer Lies Within -2012
Inspector Surjan Singh Shekhawat and his wife Roshni Shekhawat are stunned when their son dies. While his wife openly struggles to deal with her loss, he distracts himself by solving the mysterious death of an actor. So what inspector solves the case of Shekhawat and says what are the hindrances in it, how do they do that year, this is the story of the film.
The main cast of this film are Aamir Khan, Kareena Kapoor, Rani Mukherjee, Nawazuddin Siddiqui, Rajkumar Rao, Shernaz Patel, Sheeba Chaddha. The direction of this film was given by Reema Kagti, and it was written by Farhan Akhtar and Anurag Kashyap. The music of this film was given by Ram Sampat.
Ugly- 2013
Kali is a 10-year-old girl whose mother Shalini is a depressed housewife. Shalini's second husband Soumik Bose is the police commissioner, Shalini's first husband Rahul who is the biological father of her child is an actor.
On a Saturday, Rahul takes Kali for a ride and he stops his car at one place and waits for his casting director. But Kal remains seated in the car, after some time his casting director Chetan comes and tells Rahul that Kali is not in the car. When both of them come back to the car, they see that Kali is not really in the car.
The lead actors of this film were Rahul Bhatt, Ronit Roy, Girish Kulkarni, Siddhant Kapoor, Tejaswini Kolhapure, Vineet Kumar Singh and Surveen Chawla. The film was directed by Anurag Kashyap and the music was by Prakash Kumar.
Drishyam- 2015
Although this movie is a remake of a Malayalam movie, whether you are the Malayalam or Hindi one, this movie will keep you glued to your seat.
Vijay Salgaonkar is an orphan who left school in the fourth grade. He is now a Goa-based entrepreneur who runs a cable television service. He is married to Nandini and has two children, Anju, his adopted daughter who is in class twelve, and Anu, who is in class six. His only pastime is watching movies. He has gained a lot of notoriety and support in his community for assisting people using techniques he learned from movies.
A secret mobile phone camera records Anju removing her clothing and showering in the bathroom while at a nature camp. Sameer Deshmukh, the perpetrator, is the son of Meera Deshmukh, the Inspector General of Goa Police. Sam tries to blackmail Anju, and mistakenly, Anju kills him. How Ajay Devgan saves his family from the police is the story of the movie.
Wrapping Up Best Thriller Movies Bollywood
These are some of handpicked best thriller movies that Bollywood has produced, and many of them were made in an era when high-end technology was not a part of filmmaking. Still, the stars' performance and the direction with the storyline have made these movies evergreen thriller movies of Bollywood.