Alexis Skyy is over the rumours about her body's cosmetic enhancements.
The Instagram model took to the platform to put an end to all of the rumours about her body that her fans and detractors have spread. Many people have come up with their own stories about Skyy's nip-and-tuck procedure since she actually had work done and took years to come clean about it.
Alexis Skyy usually ignores the nonsense, but on Friday, December 17, the 27-year-old decided she couldn't ignore the lies any longer. "I never did anything more to my butt y'all like I gained like 10 pounds and my ass got bigger…," she wrote on her Instagram story. I've never had a bbl a day in my life, only my boob, and yes, I had ass shots about ten years ago, so please, no more surgeries."
Read- Why does Carmen Villalobos have so many Instagram followers?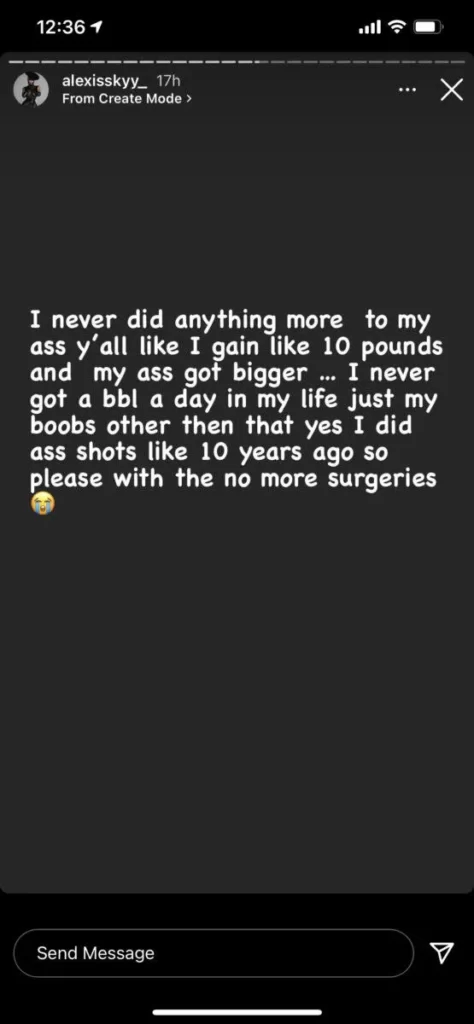 Many commenters claimed Alexis Skyy's statement was a fabrication. "She got the hood BBL," one said. "You ain't gotta lie to us," said another, "that lie as big as the one you told on Fetty Wap about him being the dad on national TV." This individual was referring to a time when Skyy claimed her then-boyfriend was the father of her soon-to-be four-year-old daughter, Alaiya.